Bitcoin price is back at $46,000 after a few month reset back to $30,000 and slightly below. A more than 50% collapse from the current all-time high of $65,000 had the cryptocurrency community calling for a bear market, but according to a trend strength indicator, bears are nowhere in sight.
In fact, the tool, called the Average Directional Index suggests that bulls are now back in control over Bitcoin price action on every major timeframe.
Bitcoin Ready For Final Push According To ADX Indicator
Bitcoin is an unusually bullish asset that has only truly known a secular bull market despite the recurring 80 to 90% drawdowns that end each cycle. These so-called "bear markets" barely turn technical indicators bearish, and result in new highs less than four years later.
Instead of a bear market, these phases could better be described as a return to mean after a bubble phase – a bubble phase that hasn't yet completed, according to a trend-strength measuring tool.
The tool in reference is the Average Directional Index, created by J. Welles Wilder who also is the creator of the Relative Strength Index, Parabolic SAR, and other popular indicators today.
The ADX is easy to read, and suggests a trend is blossoming when readings reach over 20. What this particular reading doesn't tell you, however, is which side of the market is in charge: bears or bulls.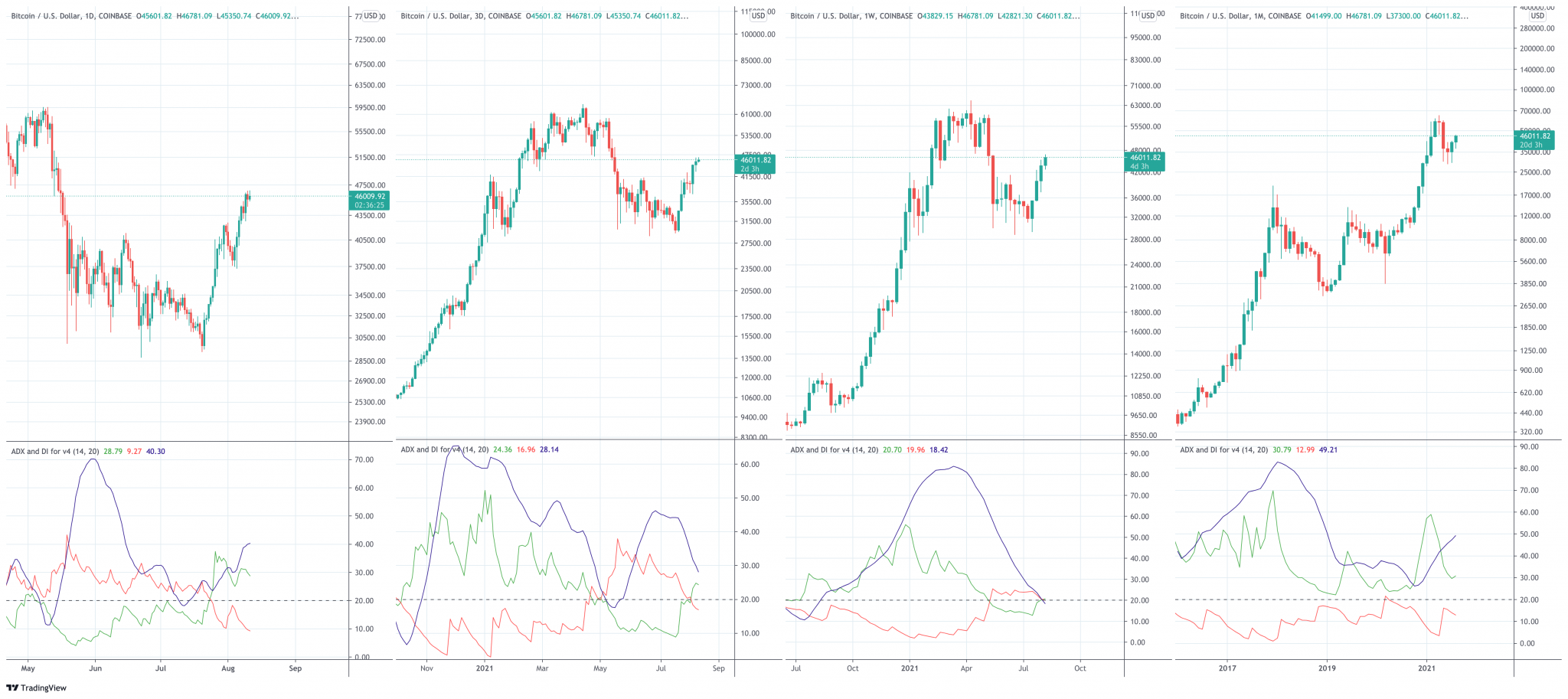 Bulls have control over BTC on every major timeframe BTCUSD on TradingView.com
Bulls Are In Control Of Crypto On All Major Timeframes
The Average Directional Index typically comes equipped with a positive and a negative directional indicator. These indicators fill in the missing piece of the puzzle and clues in analysts which side is winning before the trend begins to strengthen.
If bears are in charge and the ADX begins to trend, then crypto is doomed to deeper lows. If bulls are in charge, then charge they will to new highs.
The chart above shows that on the daily timeframe bulls have control over Bitcoin. On the three-day timeframe, the short-lived bear phase is ending, and bulls just got the upper hand. Next in the row of BTC charts, is the weekly, which only narrowly has turned bullish. This could suggest a little more downside on this timeframe, but elsewhere the direction should be up.
Finally, the last chart depicts the BTCUSD monthly, which not only shows that bulls never even really close control in the first place, but that the bull trend reached nowhere near past peaks, and this could indicate the rally will march forward in the days ahead – at least that appears to be what the ADX is suggesting based on the bevy of bullish signals.