Tron is a decentralized platform dedicated to content creators. Content creators can directly interact with their fans via this platform. It aims to eliminate the commissions charged by middlemen and make it cheaper on the customer front as well. Let us look at the technical analysis of TRX.
Past Performance
On September 14, 2021, TRX opened at $0.10. As of September 20, 2021, the closing price of TRX was $0.09. Thus, in the past week, the Tron price has not been very volatile and has not given any strong movement. In the last 24 hours, TRX has traded between $0.087-$0.098.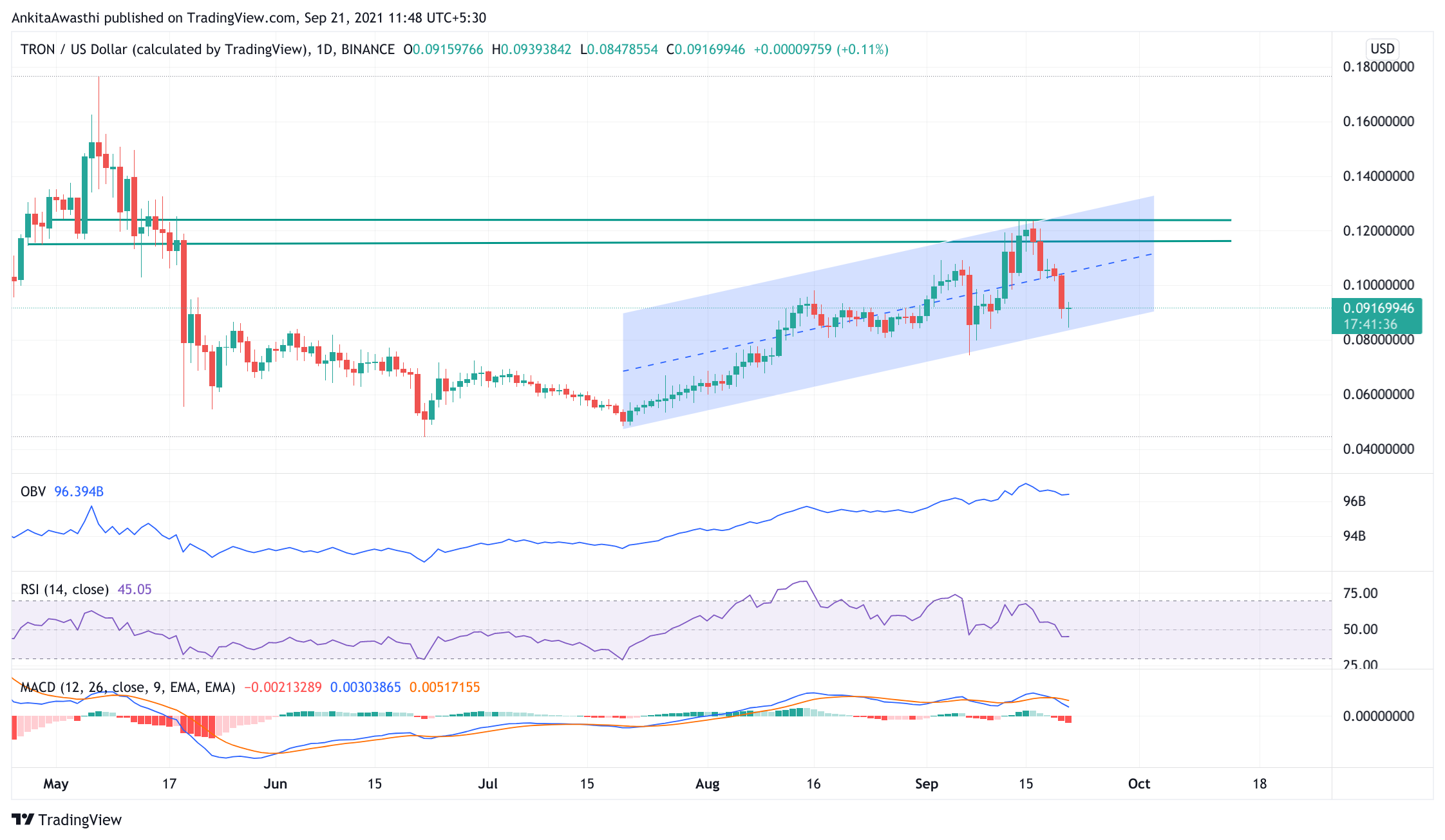 TRX Technical Analysis
At the time of writing, TRX is trading at $0.092. The price is down by 4.31% from the opening price and forming a bearish candle for the day. Thus, indicating high selling pressure in the market. However, TRX is forming a really narrow range on the daily chart, a breakout on either side will give us a better outlook. We have to closely watch the demand zone and see if the price breaks the long-term support or not. If the price does break the support level of $0.085, a bear trend will be confirmed.
On the daily chart, the MACD and signal lines are above the zero range suggesting a buy. However, we can see a bearish crossover by the MACD line over the Signal line. Thus, the overall market momentum seems bearish, and we can expect the TRX price to fall for a day or so.
The RSI is below the equilibrium on the daily chart. It is taking support at the 45.09% mark after falling from the 55% mark, which has acted as a resistance in the past. Thus, it indicates that the selling pressure is mounting up in the market and is taking over the buying pressure. Hence, we can expect the price to fall for the rest of the day.
Day-Ahead and Tomorrow
TRX is trading above the Fibonacci pivot support level of $0.085, which has acted as strong support. We can expect the price to hold at this pivot level. However, if the selling pressure remains the same, the price might break the support to fall more. Here, an opportunity for a short position arises.
Traders can short position once the price breaks $0.085 by keeping the target of $0.078 and stop-loss at $0.095.