Tezos and Numeraire prices are rejecting lower prices. XTZ and NMR bulls might therefore drive them to $8.5 and $90, respectively.
Tezos (XTZ)
The smart contracting platform, Tezos, is self-amending and uses XTZ as the internal currency.
Past Performance of XTZ
At the time of writing, the Tezos crypto is up eight percent versus the greenback.
Notably, the XTZ coin is trending in new H2 2021 highs and above a crucial resistance line as per the Tezos technical analysis in the daily chart.
Day-Ahead and What to Expect
Technically, the XTZ token price is firmly in an uptrend. Overall, buyers are back—easily unwinding losses of mid this week.
The upswing is notably with high trading volumes, is uniquely wide-ranging, and aligning buyers with the August 2021 trend.
As it is, Tezos token prices could quickly surge to new 2021 highs, breaking above $8.5 in the short to medium term.
Tezos Technical Analysis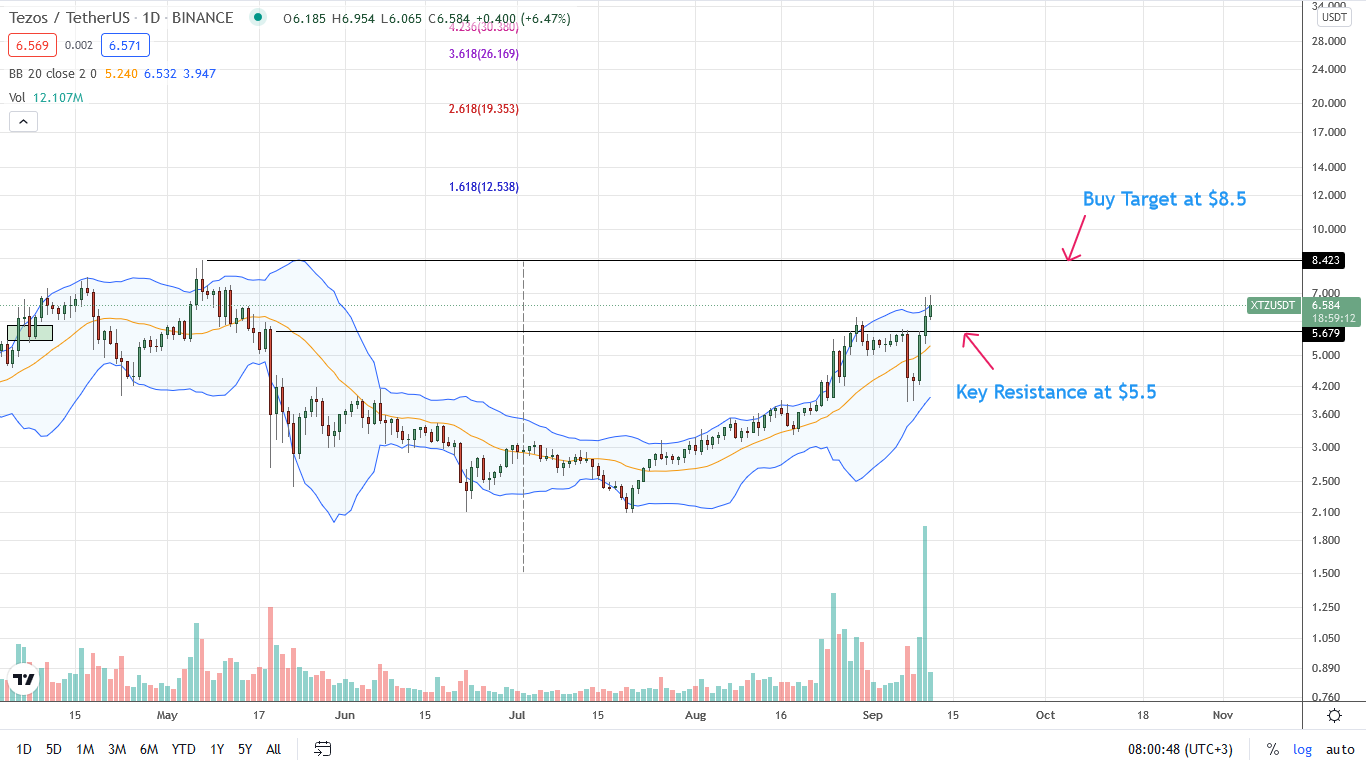 The path of the least resistance is defined. Tezos buyers are in the driving seat.
Albeit the short-term weakness of the first half of the week, the recovery of the last three days cements XTX buyers' conviction for more upsides.
At spot rates, every dip above August 2021 highs of $5.5 may eventually drive Tezos to $8.5 in a buy trend continuation pattern.
Numeraire (NMR)
The Ethereum project is a platform, Numeraire for data scientists to build machine learning models on a reliable layer. NMR is the primary token.
Past Performance of NMR
Overall, there were hints of weakness.
However, the sharp rebound of September 10 is realigning price action in favor of buyers, lifting NMR six percent on the last trading day.
There is a three-bar bullish reversal pattern, as the NMR technical analysis of the daily chart reveals.
Day-Ahead and what to Expect
Numeraire crypto buyers are snapping back strongly, rewinding losses of the mid-week.
From the NMR token chart, bulls might find entries on dips in a breakout pattern above $50.
In that case, NMR coin prices could nearly double to $90—H1 2021 highs.
Numeraire Technical Analysis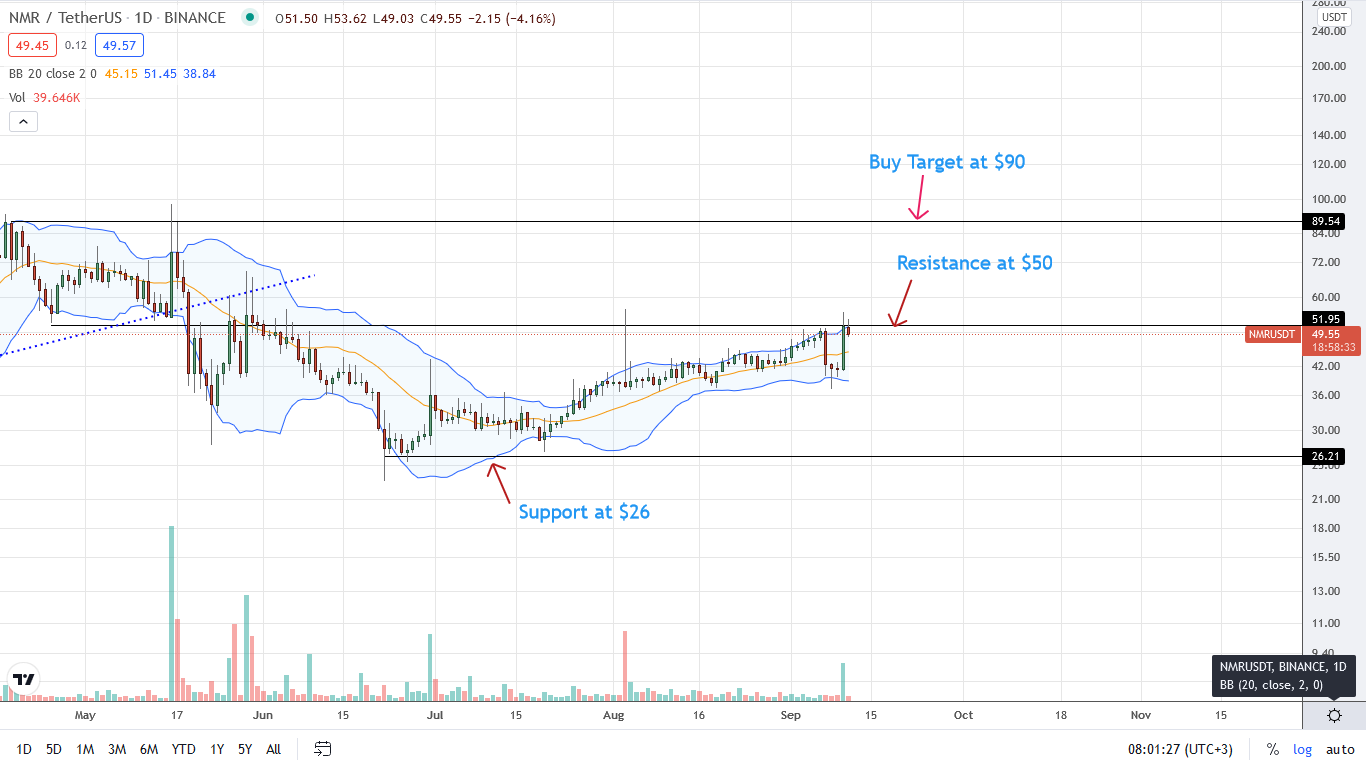 Over the weekend, NMR token prices might close above the multi-week resistance level of $50.
It is after three months of higher highs and notable rejection of lower lows following September 10 gains.
The noticeable bull bar has above-average trading volumes, yanking NMR back above the 20-day moving average, cementing buyers' outlook.
From the daily chart, Numeraire crypto prices might retest $90—Q1 2021 highs in a trend continuation pattern.