Synthetix (SNX) allows everyone from around the globe to trade in derivatives. It offers a variety of tradable Defi-based assets and allows exposure to anyone. Users can also earn by providing collateral to the synthetic protocol. Let us look at the technical analysis of SNX.
Past Performance
On Aug 31, 2021, SNX opened at $11.10. On Sep 6, 2021, SNX closed at $13.56. Thus, in the past week, the price has increased by approximately 22%. In the last 24 hours, SNX has traded between $12.55-$14.29. Thus, indicating high volatility in the market.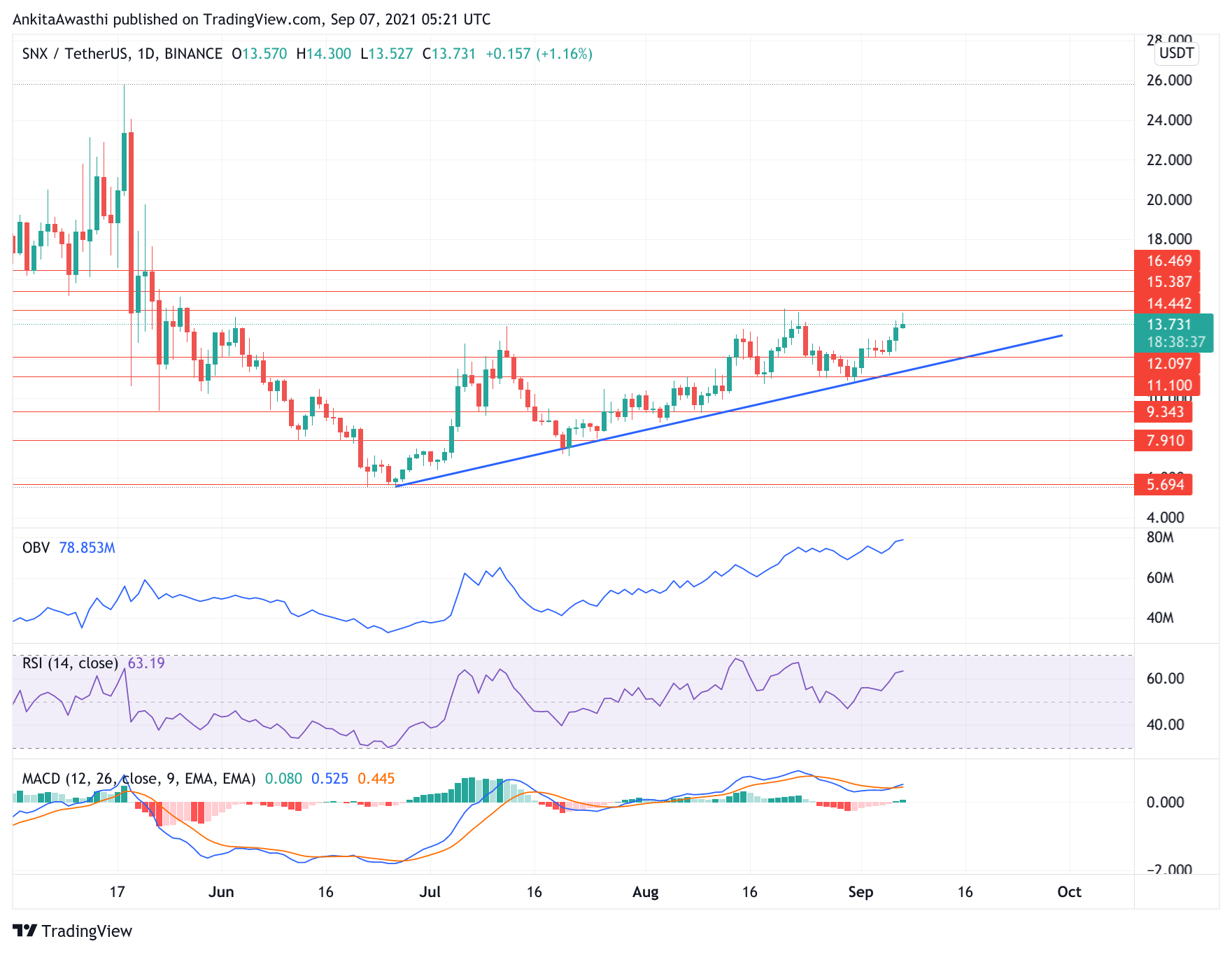 SNX Technical Analysis
The important price levels are plotted on the chart. And, SNX is currently forming higher highs and higher lows on the chart. Thus, the overall market momentum seems bullish. Moreover, after Ethereum 2.0, the Defi sector expects to see another bull run. Let us see what the technicals for SNX look like:
The MACD and signal lines are still in the positive zone. However, they are close to the zero range. It is forming a bullish crossover by the signal line over the MACD line. Thus, the overall market momentum is turning bullish. Hence, we can expect the price to rise further.
Currently, the RSI indicator is at 62.89%. The RSI has maintained support at the 53% mark. As the RSI breaks below the support level, buying pressures will slowly mount. We have to wait and watch if buying pressures become strong enough to break the resistance level of $14.44.
Day-Ahead and Tomorrow
In short, when we look at both oscillators, we can say that the SNX price may continue to trade between two levels, $14.42 and $12.74. A breakout from these price levels will give us a confirmation for any trade. Till then, as per the RSI and MACD traders can scalp on the short side.
Also, we cannot rule out the possibility of a trend reversal. We have to wait and watch if an intermittent price rise is a corrective action or the beginning of a positive trend.