Rarible and Raydium prices are tanking. RARI might shrink back to $15, while RAY could retrace deeper to $10 in the short term.
Rarible (RARI)
The community-owned NFTs marketplace uses RARI for governance.
Past Performance of RARI
The Rarible crypto is on shaky grounds following the price shocks of September 7.
At the time of writing, the RARI token is down 10 percent against the USD.
Even so, Rarible coin bulls are confident, expecting a recovery and realignment of price action in favor of buyers.
Day-Ahead and what to Expect
As per RARI technical analysis, Rarible bulls are losing control. This was expected–after steady gains in the last six weeks, the upswing seems exhausted.
Accordingly, there is a chance that RARI coin prices might continue dropping as price action in the daily chart reveals.
In that eventuality, RARI token prices might sink even lower in the short term.
RARI Technical Analysis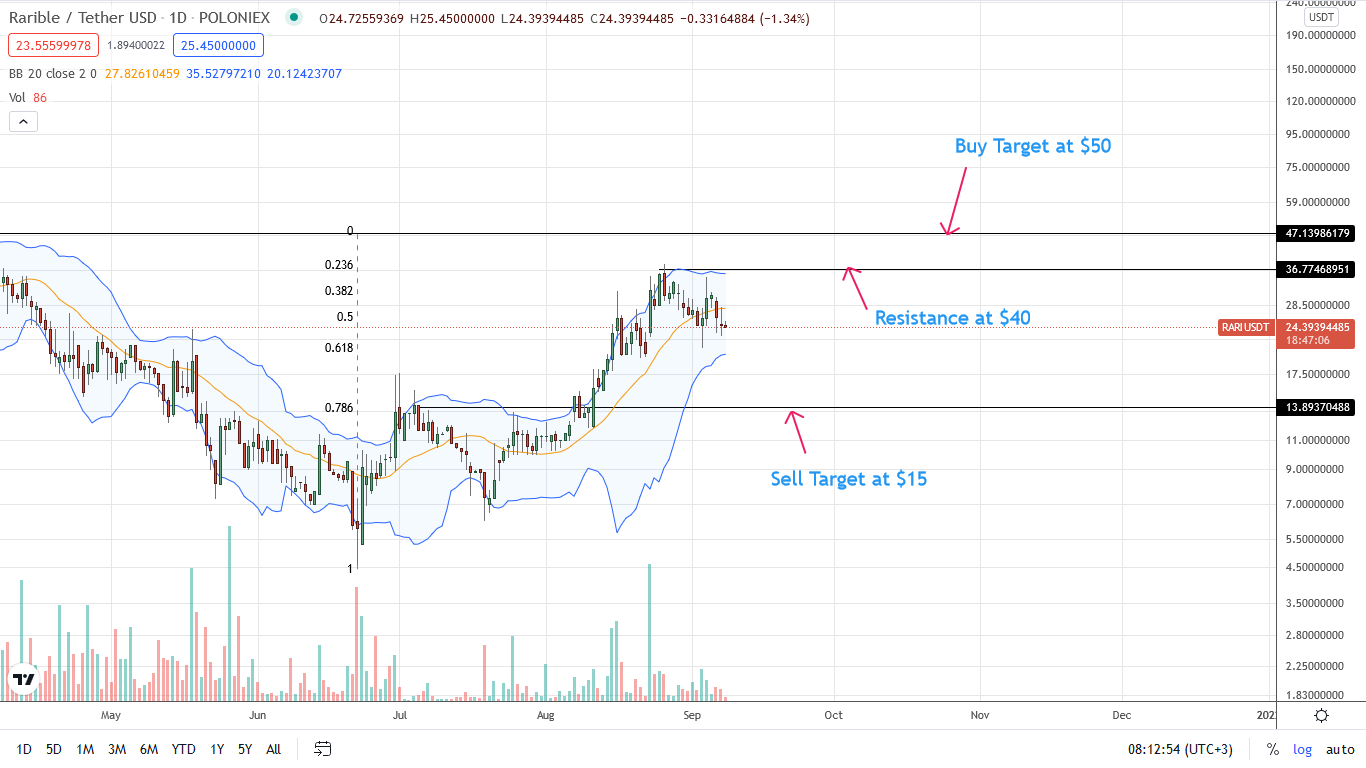 Buyers might have a chance in the medium term.
However, presently, there are lower lows of RARI crypto prices relative to the upper BB.
This points to weakness in price action, a base for bears to dig in.
A firm close below the middle BB may open RARI for deeper losses towards July highs of around $15 in a correction.
On the flip side, gains above $40 would see RARI tear higher, drawing even more demand.
Raydium (RAY)
The liquidity provider based on the AMM model runs on the Solana blockchain for Serum. RAY is the protocol's governance token.
Past Performance of RAY
It has been a near perpendicular parabolic rise for RAY prices, reading from the Raydium technical analysis in the daily chart.
At present, RAY crypto is down six percent versus the USD following the losses of September 7.
Day-Ahead and what to Expect
After posting tremendous results, RAY coin prices might correct mirroring BTC, ETH, and SOL performances in the last 24 hours.
Even so, a close above yesterday's highs might see RAY token bulls flow in, driving the coin to new all-time highs.
Raydium Technical Analysis
The August 2021 rally thrusting RAY crypto to prominence appears to be over.
September 7 bearish engulfing pattern signal weakness which might also spill over to today, forcing RAY crypto prices even lower.
With high trading volumes of September 7, RAY token traders might unload on a pullback, targeting September 6 lows of around $10.