By using Overledger, Quant is aimed at bridging the existing gap between different blockchains. The Overledger network serves as the backbone of the project, which Quant describes as the foundation for the future digital economy ecosystem. Developers can build multichain applications using Overledger for their customers. To build a Mapp on the network, developers need to hold a certain amount of Quant. Since users are looking for optimal ways to transfer value between blockchain networks, interoperability is becoming an increasingly important concept within the cryptocurrency ecosystem. The price of Quant (QNT), a distributed ledger technology project designed to help enterprises integrate and operate distributed ledger technology, has soared to an all-time high. Let us look at the technical analysis of QNT.
Past Performance
On 3rd September the price opened at $186.46 and closed at $393.54 on the 10th of September, there is a high level of volatility in the price of QNT in the last seven days. The current price of QNT is $383.82, which is up by 20.99% in the last 24 hours.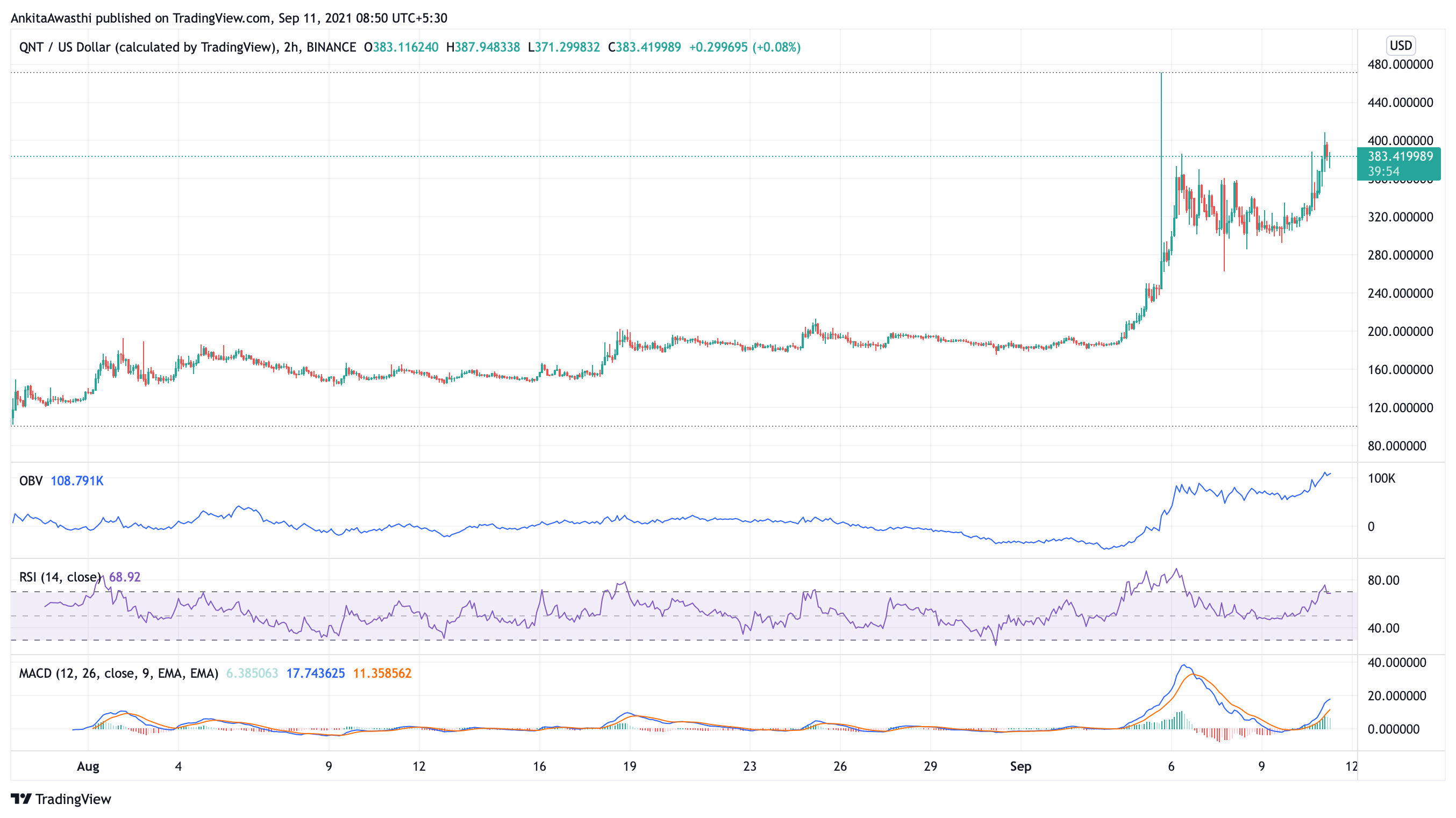 QNT Technical Analysis
This sudden rally is attributable to three factors: its recent protocol upgrades to Overledger 2.0.5, the launch of the Quant developer program, and increased access to its supply after listing on the largest crypto exchanges.
The RSI is currently at 69.47%. After taking support, it is making another high on the chart, thus it seems the buying pressures are high on this horizon. We might expect the RSI to re-enter the overbought region soon, given the high level of buying pressures.
On the daily chart, the OBV is sloping upwards indicating the increase in the volume of QNT.
MACD and EMA lines are above the zero range, suggesting a buy. Moreover, we are witnessing a bullish crossover. We can assume the price will rise for the rest of the day and tomorrow.
Day-Ahead and Tomorrow
The price is appreciating on the chart. The FIB resistance level is at $400.94. If the price breaks out of this level, it will highlight the next resistance level at $432. At the current price, the traders can take a long position. By keeping a stop loss at $361.
However, if the price falls, it will try to gain support at $335.14, and if it falls below this level, it is a good opportunity to short. Traders can take a short position by keeping the target at $323, and the stop loss at $343.