A popular crypto trader and analyst says he plans to scale out of Bitcoin once BTC hits a certain level.
Kaleo, a trader who has amassed a large following in the current market cycle, tells his 329,900 Twitter followers that Bitcoin will likely surge more than 520% from its current value of $34,658 by the end of the year.
Still think it tops out w/ a nice wick around $185,000 – $215,000, but my goal isn't to snipe the top."
Amid his mega bullish outlook for the leading cryptocurrency, Kaleo says he will start selling once Bitcoin breaks below his price target.
"Basically, my game plan is to be uber bullish until Bitcoin breaks above $150,000. I'll start exiting there and flip uber bearish when it breaks back below $150,000."
Although Bitcoin continues to trade sideways between $30,000 and $40,000 while sentiment remains largely bearish, the crypto strategist posits that BTC is correlated with the tech industry. By comparing the price of Bitcoin to the NASDAQ 100, he predicts that the king crypto will eventually catch up to the tech industry's rapid expansion in the last two months.
"Bitcoin vs. Tech.
Most of you will be too lazy to read this, but for those who aren't I think you'll find some useful data.
Pay attention to the two red boxes.
Bitcoin will catch up and close the gap to the growth we've seen in tech, and when it does, it'll happen rapidly."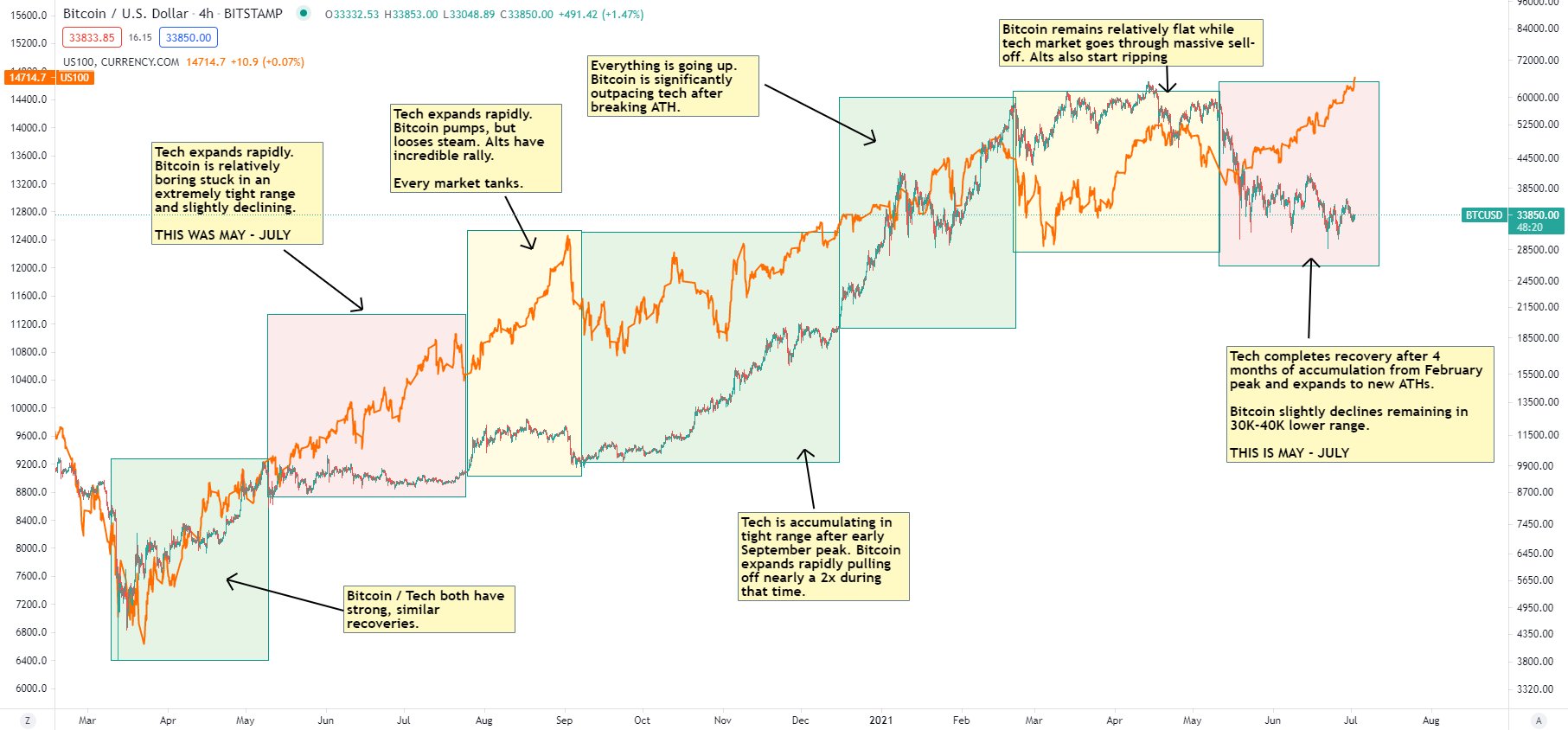 According to Kaleo's chart, the tech industry has been a reliable indicator of Bitcoin's future price action since the coronavirus-induced sell-off in March 2020. He also predicted that the leading cryptocurrency will significantly outpace the tech industry once the next leg of the bull market resumes.
"When they realize the market is bubbling out of control (aka tech bubble 2.0 narrative). Bitcoin will catch up to tech, and once again will outpace it at the peak of the madness."