As of the beginning of June, Perpetual Protocol had captured 83% of the market share for decentralized perps exchanges. Announcement of the launch of the Perpetual Ecosystem Fund to further cement the position as the protocol to use when transacting with Perpetual Protocol was made last month. Moreover, funds from the partnership allocation of the Perpetual DAO are used to support the Perpetual Ecosystem Fund with 3 million $PERP (worth more than $30M). Let us look at the technical analysis of PERP.
Past Performance
The price has depreciated by 2.97% in the last seven days. In the last 24 hours, the PERP price has depreciated by 5.35% and traded between $7.16-$22.82, this indicates the price faced major fluctuations in the last 24 hours.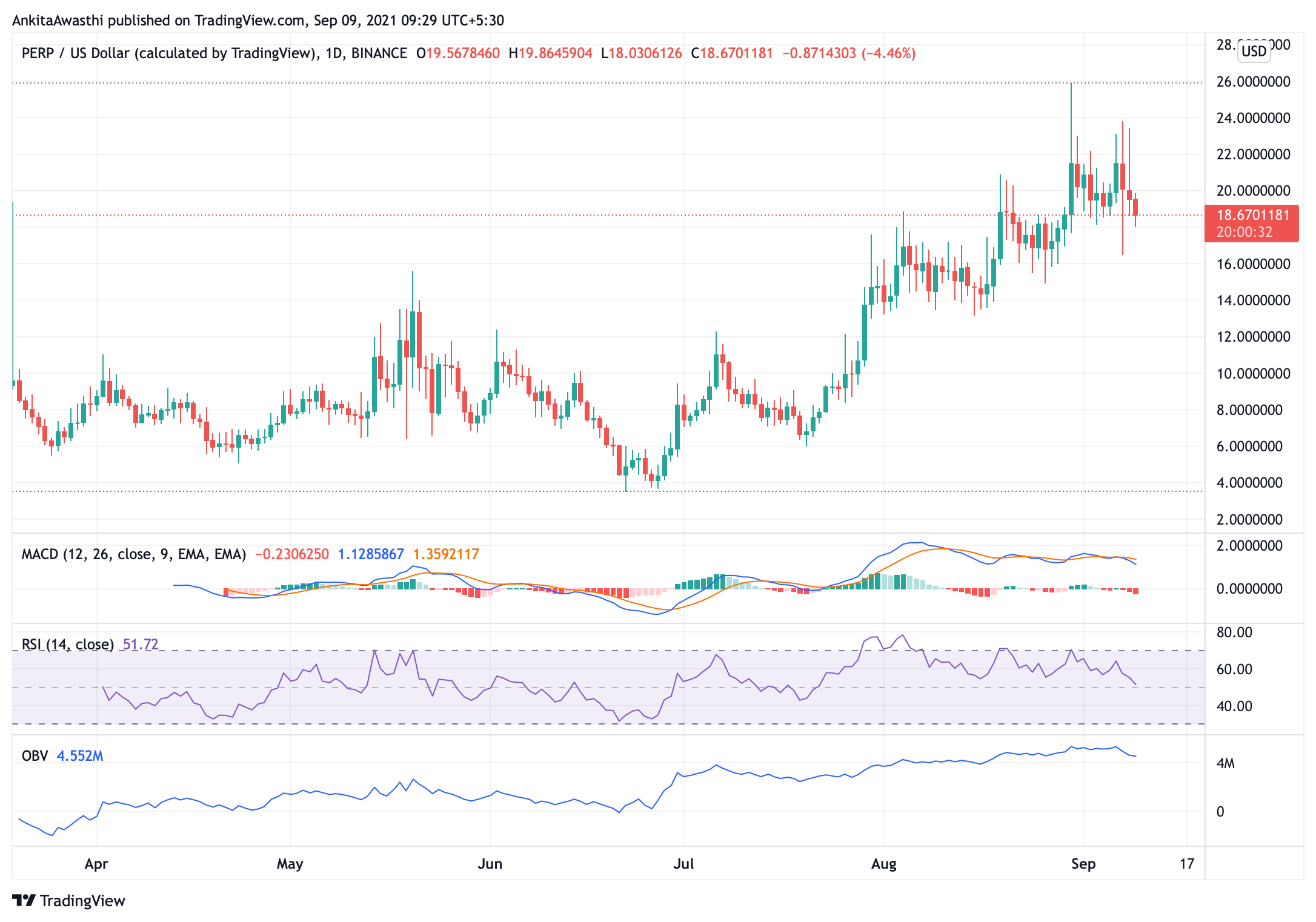 PERP Technical Analysis
The current price of PERP is $18.67, after sharp price fluctuations in the last 24-hour.
MACD and EMA lines are above the zero range. However, there is a bearish crossover on the chart. The MACD lines are witnessing a downtrend, suggesting the selling pressures are high on this horizon. On the daily timeframe, the market looks bearish for PERP.
The RSI is currently at 51.40%. After facing rejection at 64.05%, it took a sharp downswing and is making a further downtrend. Thus, it indicates the selling pressures are very high on this horizon. Moreover, the market seems to be bearish for today as well as tomorrow, a tremendous volume increase in the buying pressure will shift the bearish trend. Therefore, we would expect a bearish trend to stay for tomorrow as well.
On the daily chart, the OBV can be seen falling, indicating that investors are losing their interest in PERP.
Day-Ahead and Tomorrow
On the chart, the PERP price is falling, however, we might expect the price to find support at the immediate FIB pivot level of $17.88. But, if the price finds support, it will bounce up. However, if the selling pressure prevails in the market, the price will further break down this support level.
Therefore, the traders must watch the price levels closely as $17.88 will be the crucial support level that will decide the further momentum in the price. If the price breaks down from this level, it will highlight the next support level at $18. The traders can take a short position accordingly.
However, if the bulls take control of the market, the price will rise up and break out of the immediate resistance level at $20.18. Thus, traders can go long by placing a target sell at $21.58 and stop-loss at $19.08.