Formerly known as OmiseGo, OMG Network provides Ethereum with a layer-2 scaling solution that is non-custodial and non-proprietary. The OMG Network is an Ethereum scaling solution that allows users to transfer ETH and ERC20 tokens much faster and cheaper than when transacting directly on the Ethereum network.
OMG Network believes that Ethereum's significant speed and cost barriers will need to be overcome before mainstream businesses will consider building products and applications on it. Let us look at the technical analysis of OMG.
Past Performance
The current price of OMG is $8.69, which is up by 20.13%, resulting in an equivalent increase in the market cap of OMG by 20.13% in the last 24 hours.
Moreover, in the last 24 hours, OMG traded between $7.20-$9.08.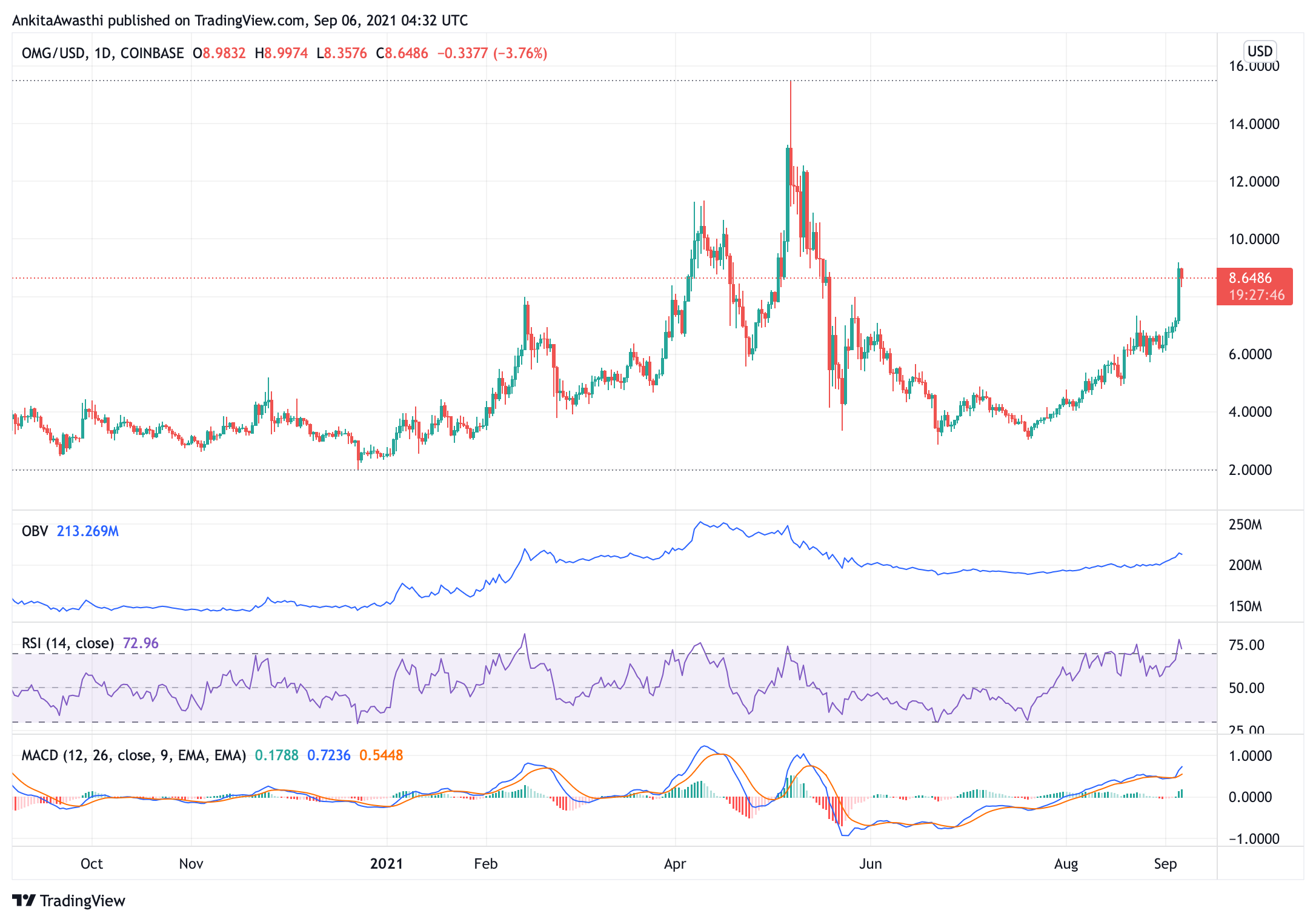 OMG Technical Analysis
After touching 77.98%, the RSI took a downswing and is currently at 72.70%. The crucial support level of RSI is near the equilibrium. Until it breaks down from the support level, the token will be in a bullish trend. The RSI is in the overbought region, although the selling pressures are increasing, suggesting the fall in the RSI.
On the daily chart, the OBV broke its uptrend and has taken a slight dip, indicating depreciation in the volume of OMG.
There is a bullish crossover and the EMA and MACD lines are rallying above the zero range suggesting a BUY.
Day-Ahead and Tomorrow
On the chart, the price is falling. However, the immediate support is formed at $8.61. At this level, the price is expected to find support. If the buying pressure overtakes the selling pressures, the price is expected to rise and break its immediate resistance level of $9.1. Traders can take a long position here.
However, if the price falls further down from the support level, there is another immediate support formed at $8.58. An opportunity for a short position arises.