The NEAR Protocol is a decentralized proof-of-stake protocol designed to facilitate the adoption of blockchain technology by providing faster transaction speeds at a lower cost.
NEAR Protocol is a decentralized application platform for delivering apps over the web. Smart contracts on NEAR can be used to build almost any kind of decentralized application. Utilize an ecosystem of components backed by cutting-edge technology. Let us look at the technical analysis of NEAR.
Past Performance
After dropping to a low of $5.44 on Sept. 7, the price of NEAR surged 100% to a new record high of $10.79 on Sept. 8, as its 24-hour trading volume surged 260% to a record $2.27 billion.
The price is again depreciating on the chart. The price of NEAR has downgraded by 12.85% in the last 24 hours. The current price of NEAR is $9.01.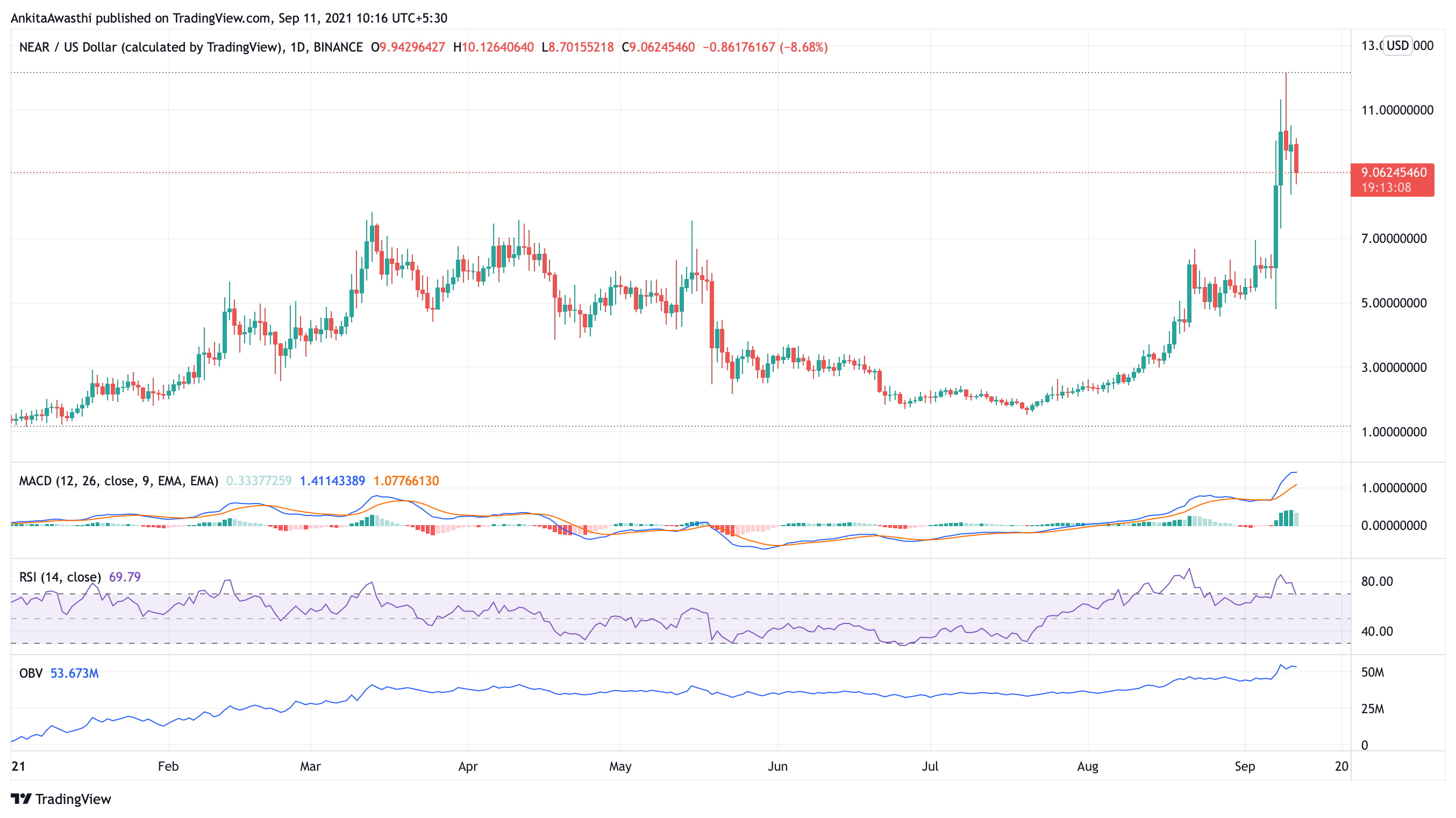 NEAR Technical Analysis
MACD and EMA lines are above the zero range, suggesting a buy on NEAR. There is a bullish crossover on the chart and the MACD is hovering above the EMA, suggesting the buying pressures are high on this horizon.
The RSI is currently at the 69.90% mark. The RSI is making a downtrend on the chart, it touched 85.23% and took a downswing. The RSI tried to find support at 78.60% for a brief time, however, the increase in the selling pressures pushed the RSI further down. The selling pressures are overtaking the market.
On the daily chart, the OBV is downward sloping, suggesting the depreciation in the volume due to loss of interest of investors.
Day-Ahead and Tomorrow
The NEAR price has successfully broken its recent high at $8.62. On the chart, the selling pressures are overtaking the market, and we might expect the price to further depreciate. However, the price might try to find support at $7.76, this is the crucial support level that will further decide the momentum of the market.
After making a base, we can expect the price to move up, in this case, the price will test at the FIB retracement level, which is formed at $9.72. This is another crucial test level as if the price breaks this level, it will move up till the next retracement level, which is formed at $12.89, giving the traders a position to go long.