Terra (LUNA) is a fiat-pegged stablecoin that seeks to be unique. It claims it combines the benefits of cryptocurrencies and the price stability of fiat currencies. The algorithm that adjusts stablecoin supply according to demand ensures it keeps its one-to-one peg.
It does this by encouraging LUNA holders to swap and stabilize coins at profitable exchange rates to expand or contract stablecoin supply to meet demand.
Terra's native token is used to stabilize prices for the protocol's stablecoins and holders can also submit and vote for governance proposals.
Past Performance of LUNA
LUNA coin price faces a short-term retracement in spite of this, the bullish rally represents an uptrend.
On September 06, 2021, LUNA token price opened at $34.48. On September 12, 2021, the price closed at $39.27. Thus, in the past week, the LUNA coin price has increased by approximately 13.83%.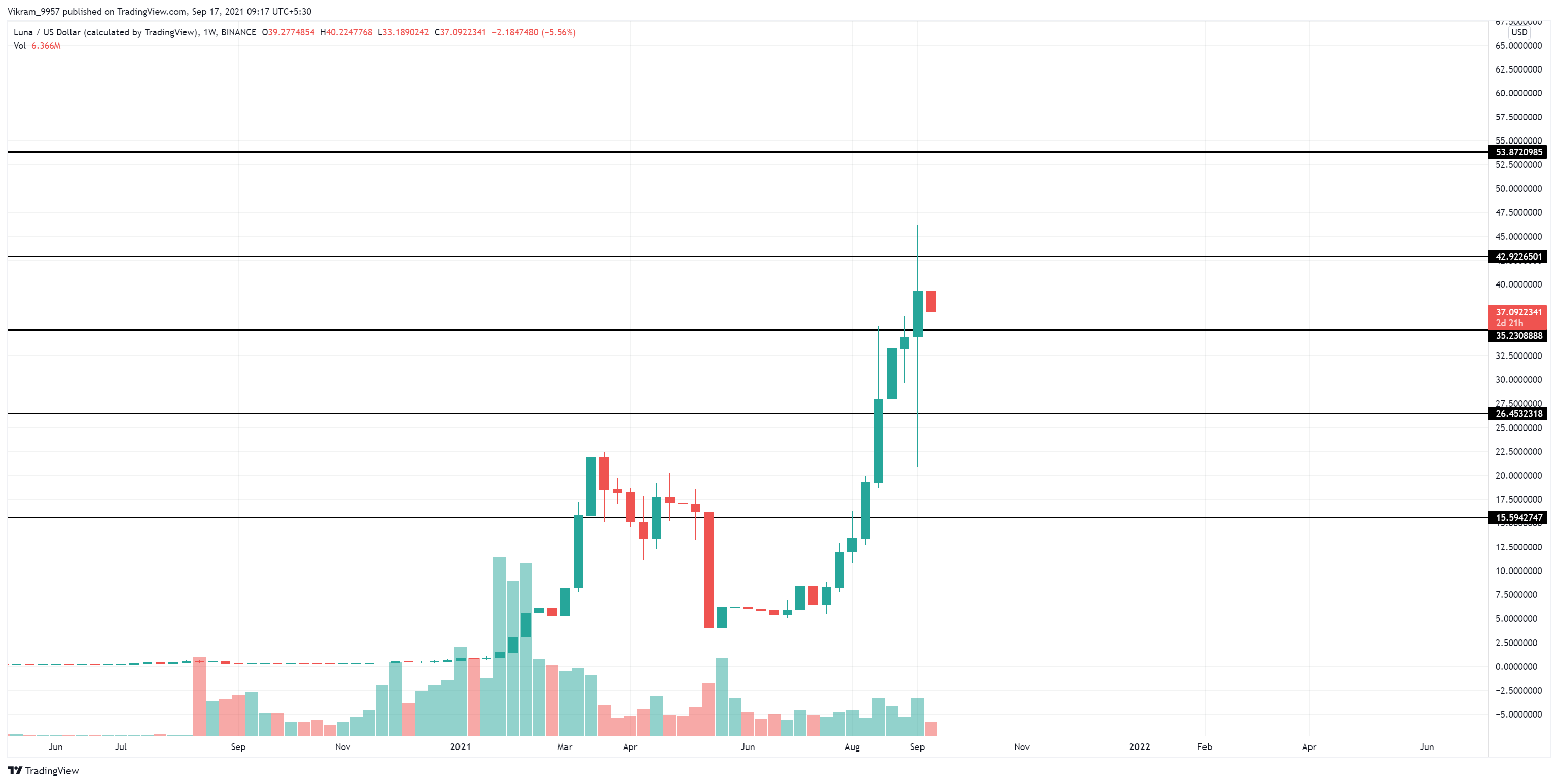 Source – Tradingview
LUNA Technical Analysis
LUNA coin price is trading at $36.82 at the time writing with a rise of 3.83% in the past 24 hours. The solid uptrend has found numerous demand spots on the support trendline. These frequent rises in demand have pushed the coin prices higher.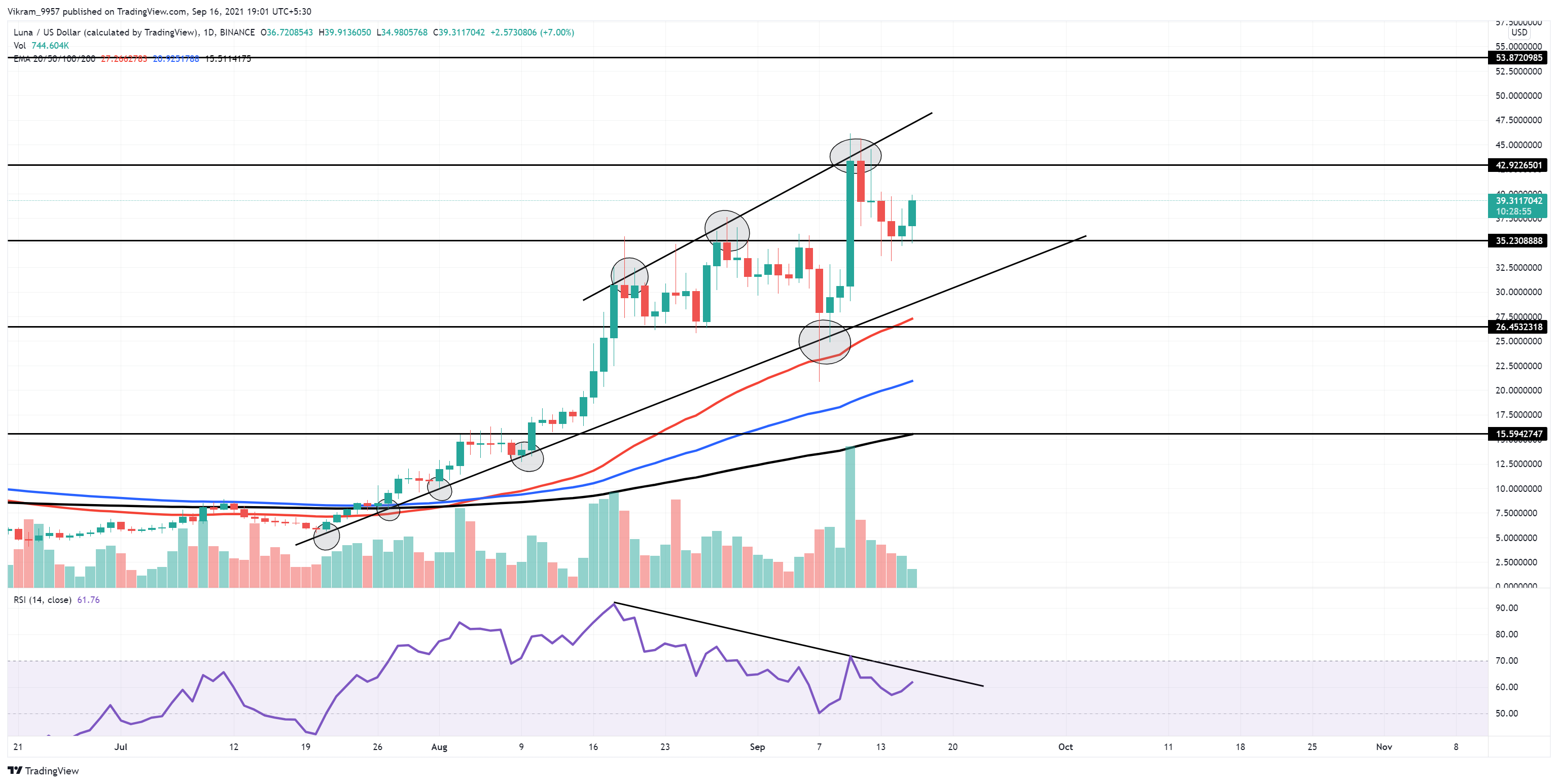 Source – Tradingview
The strong uptrend of the LUNA coin is pushed with a solid support trendline that has pushed the price higher more than 4 times marked in the chart. Furthermore, the recently made lower price rejection near the $35 mark indicates a successful retest. The breakout of the $40 level may catalyze the bullish rally and help reach the $60 mark.
As per the pivot points, the coin price may find resistance near $50 and $60.
And the support levels are at $35 and $30.
The exponential moving averages of 50, 100, and 200-days rise higher in the bullish formation. They may act as support levels in case of an unexpected downfall.
Currently, the RSI indicator is residing at 58% as it falls resulting in a bullish divergence pattern. The divergence forecasts a dip back to the support trendline.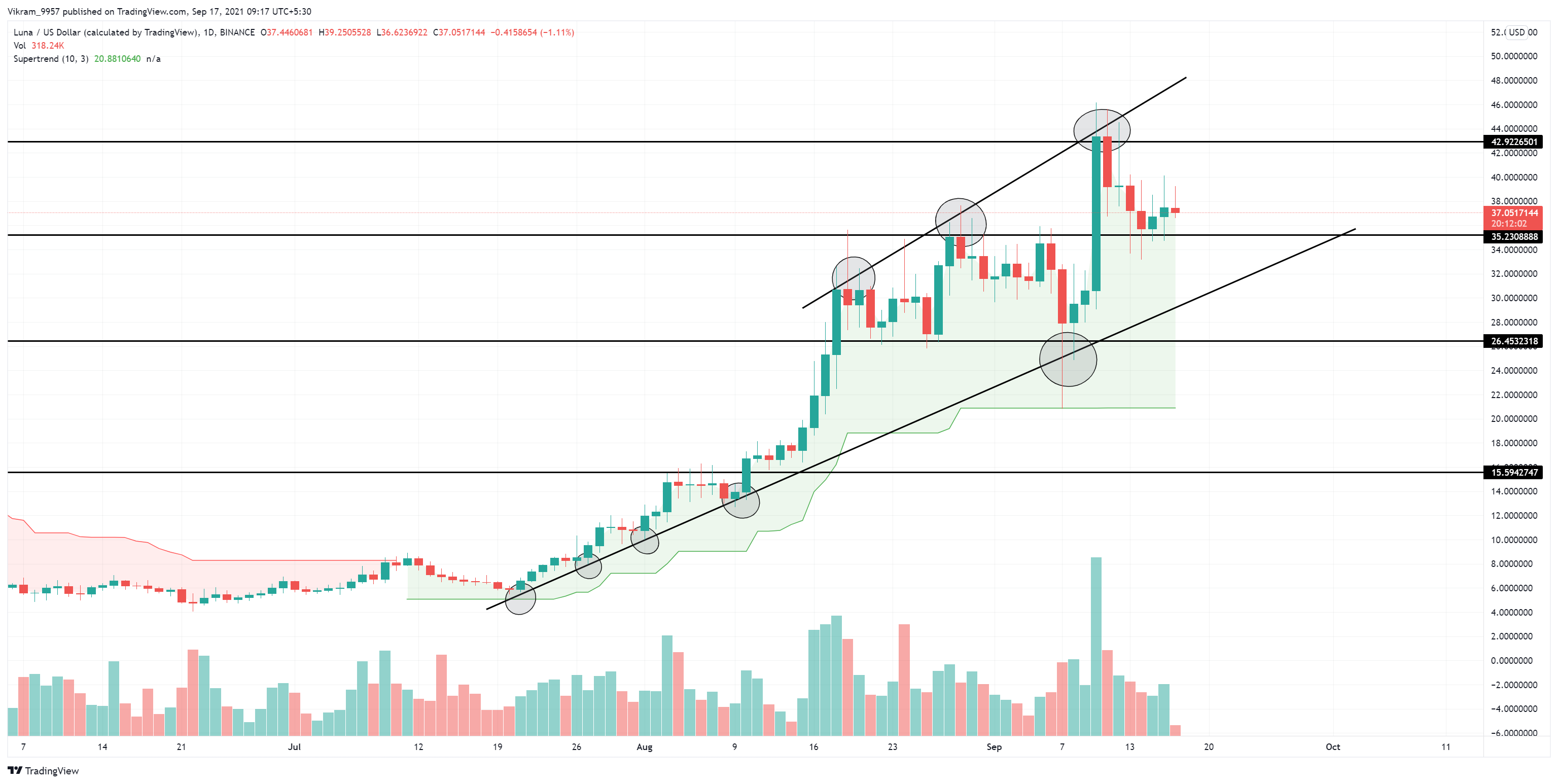 Source – Tradingview
Furthermore, the LUNA coin price is moving above the bullish cloud of the Super Trend projecting an uptrend in motion. The uptrend grows stronger as the price makes lower lows.
Day-Ahead and Tomorrow
LUNA token price grows in an uptrend by breaking various key resistance levels. The recent breakout of the $40 level serves as an excellent entry spot upon retest with minimum risk. Investors can also wait till the price retraces back to the support trendline for a safer opportunity.