As the bull rally continues, some Bitcoin technical indicators may suggest the biggest BTC buy signal since April 2020 is here.
Bitcoin Closes Above 21 Week MA And 200 Day MA
As pointed out by a CryptoQuant post, the cryptocurrency has made a weekly close above the 21-week and 200-day moving averages (MAs).
The Bitcoin moving average is a method used to smooth out the price data by taking the average price over a specific period of time.
For the 21-week MA, data from the past 21 weeks is used, while for the 200-day MA, prices from the last 200 days are used.
This method "smooths out" the price curve in the sense that it eliminates the many small up-down fluctuations of the price that aren't relevant to long-term analysis. This results in a easier to look at curve without any sudden spikes.
Now, here is a chart that shows how the current BTC price stands against these two indicators: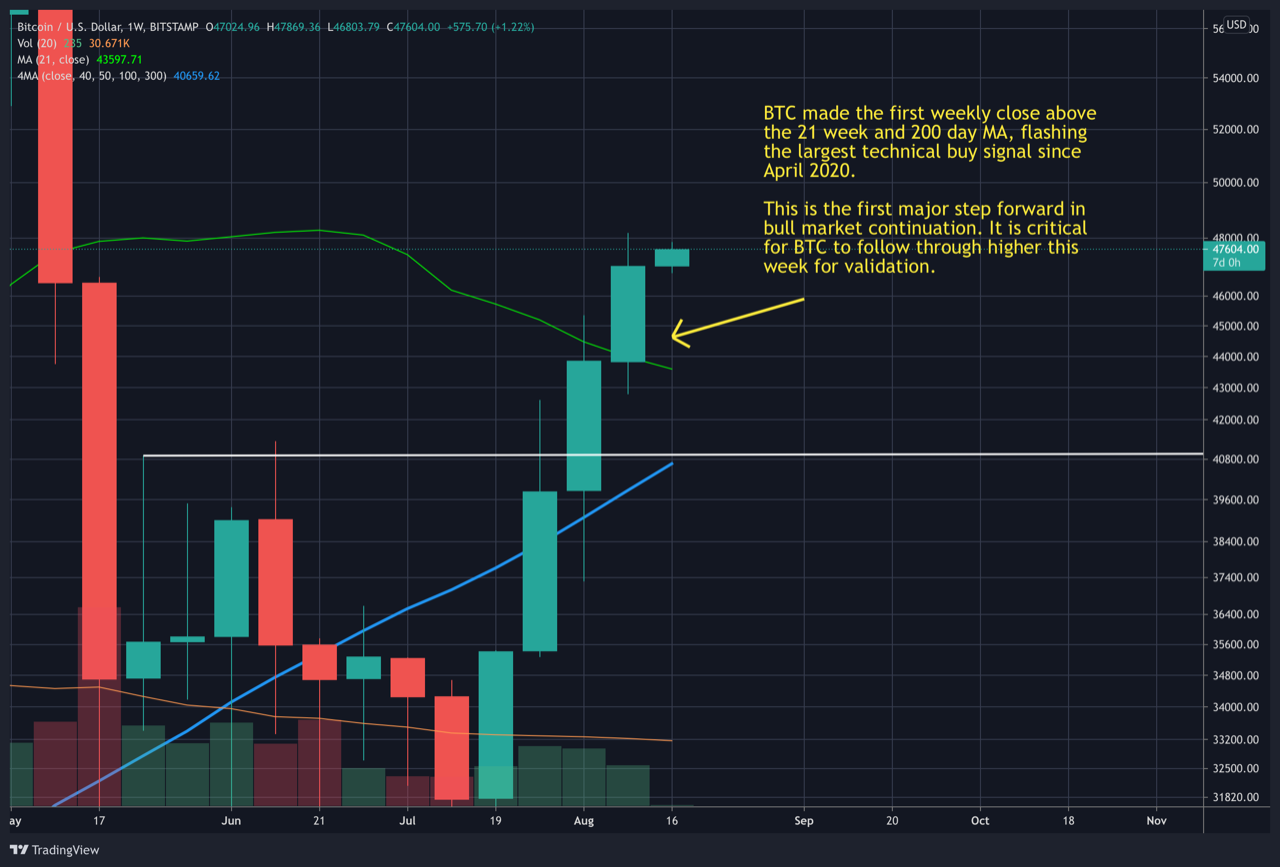 BTC price finishes above the 21-week and 200-day MAs | Source: CryptoQuant
As the above chart shows, Bitcoin's price has closed above the two indicators, flashing a buy signal not seen since April 2020.
The current price trend might also suggest that the coin is following the "Wyckoff Accumulation" pattern. In short, the Wyckoff Accumulation curve forms when Bitcoin enters a period of consolidation in a trading range.
Right now, Bitcoin seems to be in Phase D of the pattern, which is the last one with price moving up and down within a range. If the pattern truly holds, BTC might soon test $50k after a bit more consolidation as it enters Phase E.
Another indicator, the spot exchange netflow, seems to be showing sharp negative spikes right now. The netflow metric curve shows the net amount of BTC entering or exiting exchanges.
A positive value means more inflows, while a negative value implies more outflows. The below chart points out the relationship between these spikes and BTC price movement during the weekend.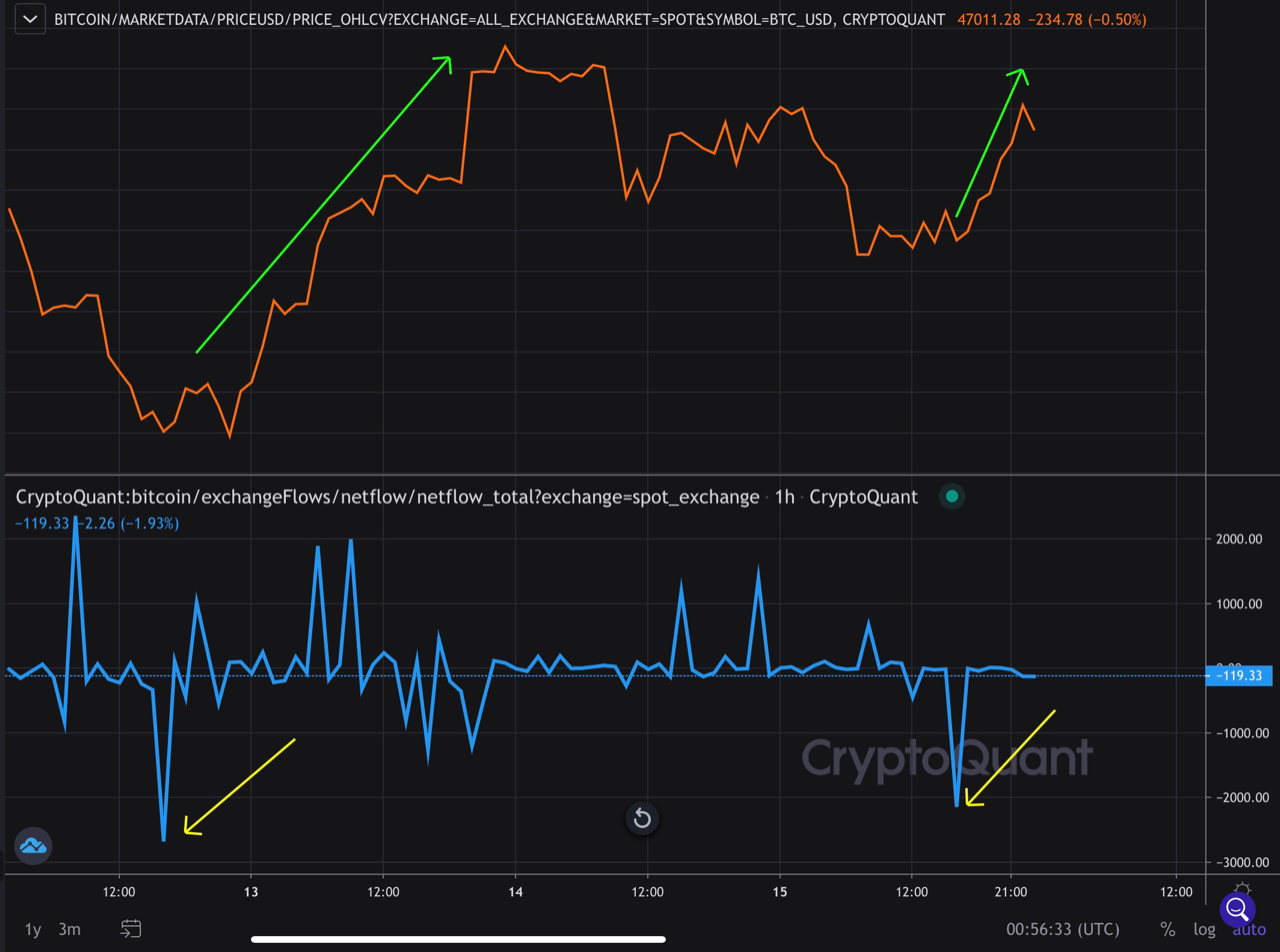 The negative spikes correlate with the an upwards price trend | Source: CryptoQuant
BTC Price
At the time of writing, Bitcoin's price is around $47k, up 4% in the last 7 days. Over the past month, the value of the crypto has increased by almost 50%.
Here is a chart showcasing the trends in the price of the coin over the last three months: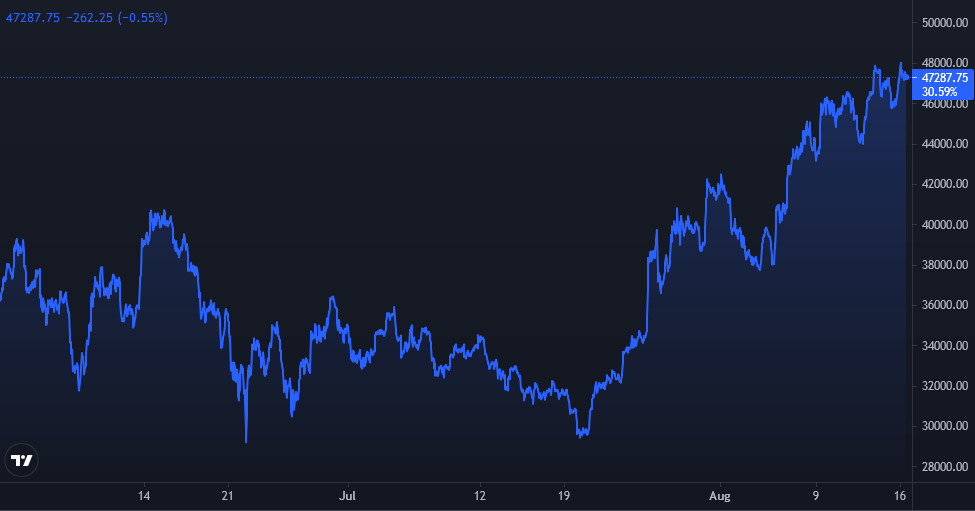 BTC continues to rally up | Source: BTCUSD on TradingView
Bitcoin's price seems to have slowed down a little as the coin bounces back and forth between the $47k and $45k range. However, if the indicators mentioned above are anything to go by, signs seem to be bullish for BTC.
Nonetheless, nothing is clear at the moment and the crypto could very well take a bearish turn instead.