First of all, the previous trading week in the HBAR market was quite emotional. Buyers once again managed to test the global trend line of the growth channel, in which the HBAR price moves from 30 December 2019. Last week's candle closed with a pin up in high volumes. Buyers were able to break an important range of $0.33-$0.36, which caused euphoria in the market and dreams of accelerating the growth trend.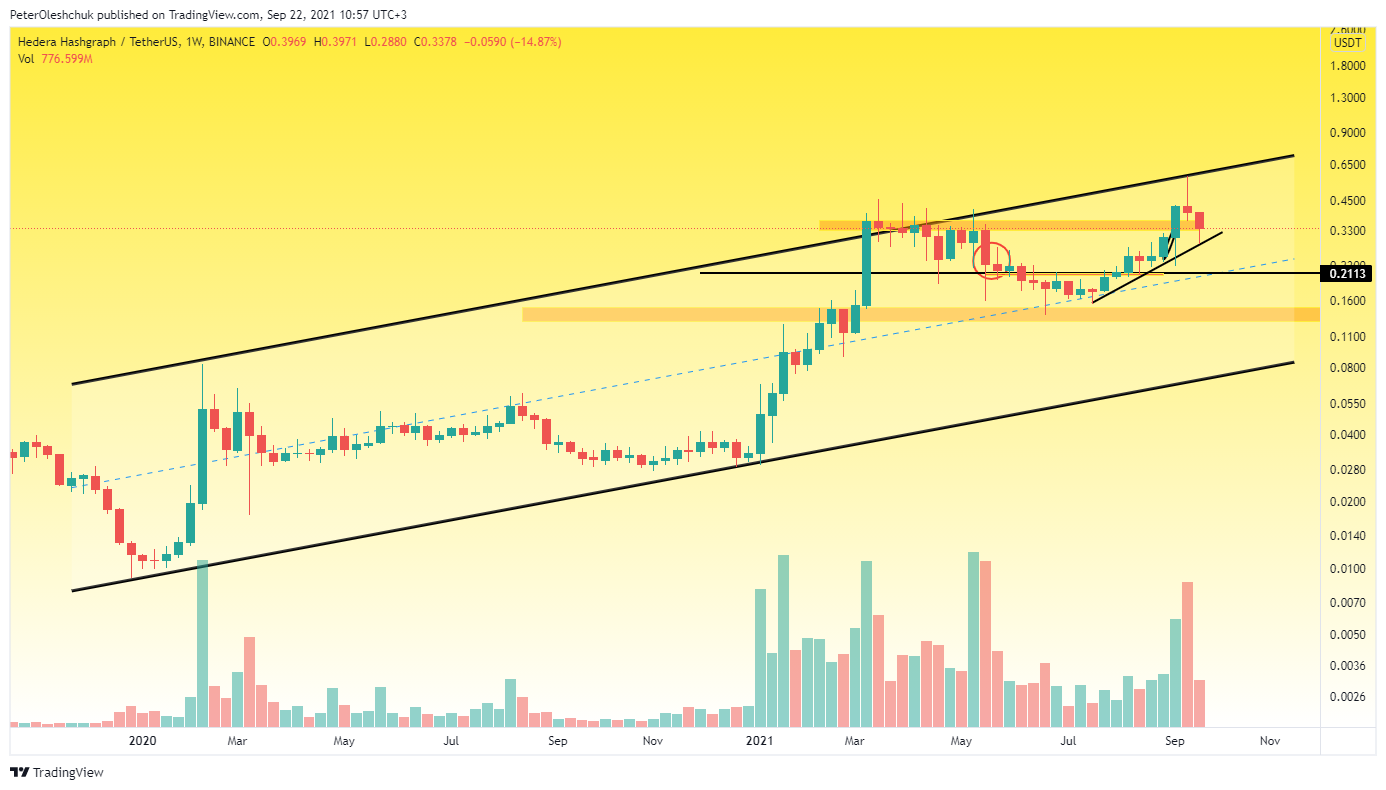 However, this week, we see that HBAR buyers are not ready to keep the price during the Bitcoin correction. On the one hand, all cryptocurrencies began to correct after the BTC fall to $40,000. But, if you analyze the AVAX or EGLD, there is a great interest of buyers. Sharp rebounds and the constant search for a trading situation for a local growth trend are what the HBAR market is currently lacking.
A local growth wave that began in late July at risk of change. The HBAR coin price already this week checked the trend line of buyers for strength and after a second attack, buyers will not have the strength to maintain control. The best-case scenario for the HBAR market at the moment is the beginning of consolidation in the range of $0.33-$0.36. If buyers manage to buy out the entire offer of sellers in this range during the unfavorable situation in the cryptocurrency market – the HBAR price will continue to grow with the first target of $0.5.
Technical Analysis of HBAR in the Daily Timeframe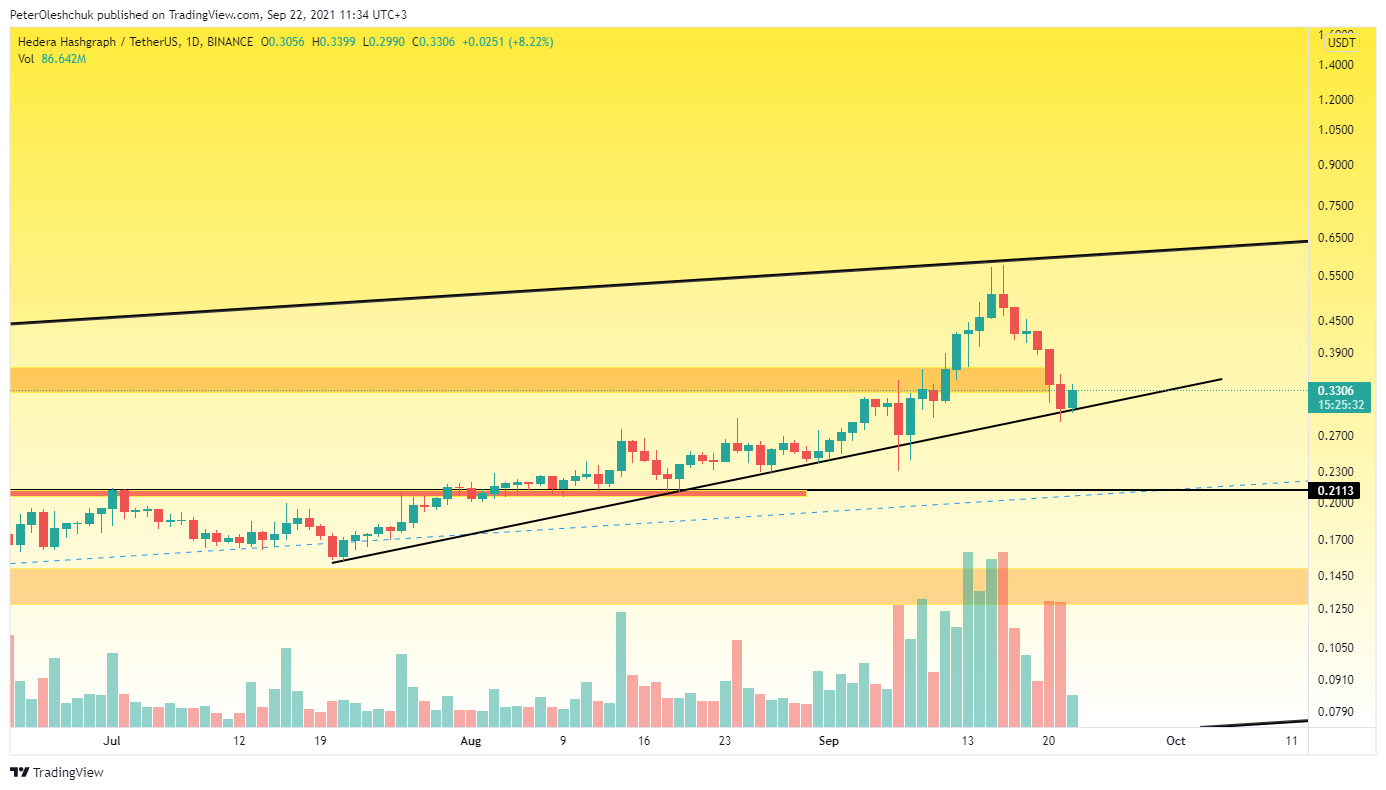 Analyzing the HBAR daily chart, it can be seen that the correction, which began on 16 September, was as sharp as the previous growth wave. At the same time, trading volumes were increased, which indicates the strength of sellers and readiness to form their own local trend. After such emotional swings, consolidation often begins, where market participants are measured by forces and decide on future price movements.
In the worst case, after breaking $0.3 down, the powerful correction will continue with the first target of $0.2. In the previous analysis, we wrote about the possibility of starting a correction to $0.15. Though, at that time such a target seemed unrealistic.
HBARBTC Price Is Trying to Stay Above the Important Range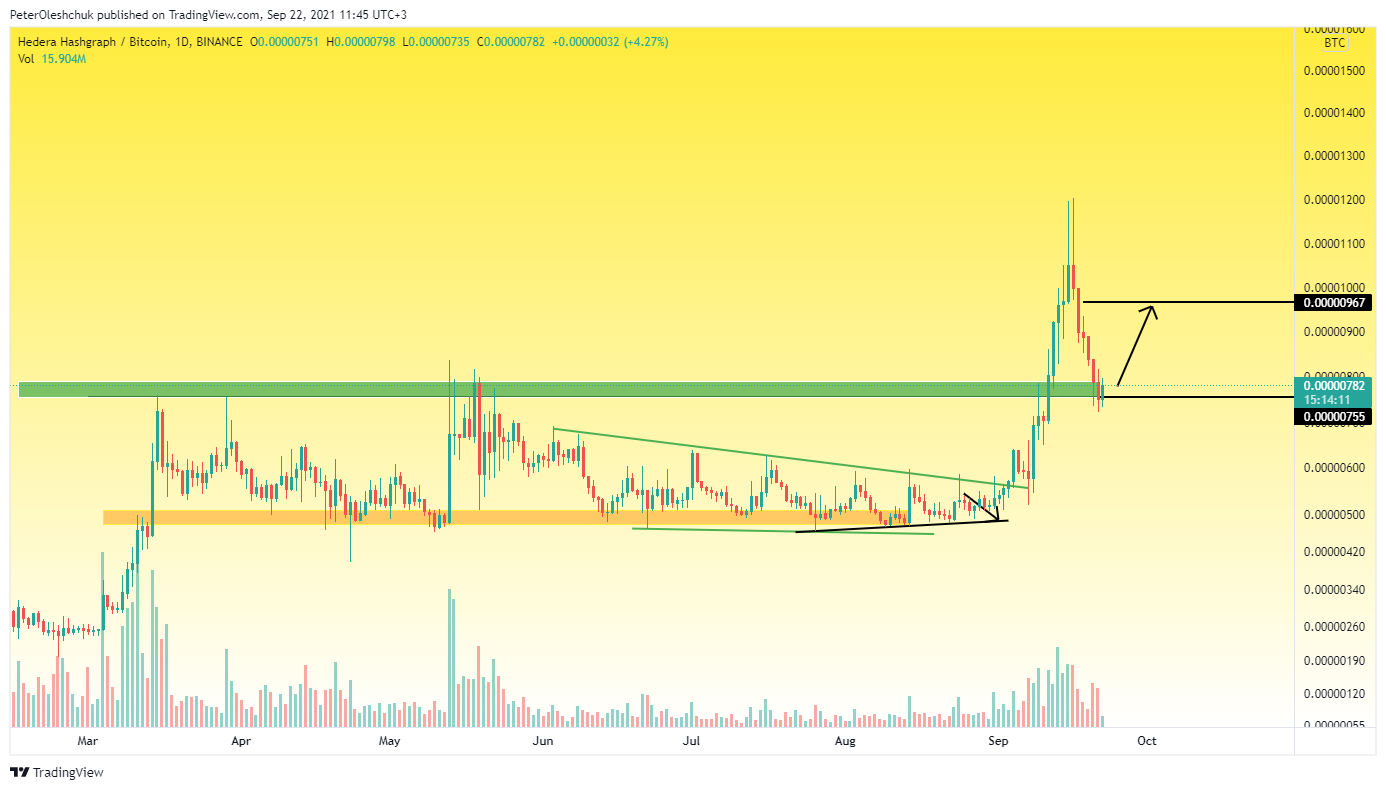 So, on the chart of the HBARBTC trading pair, we see a fairly clear picture. After a strong growth impulse, sellers began correction. The price stopped near the liquidity range of 0.000000756-0.000000787. In history, we see that this range has kept the HBAR growth trend since March 2021. If buyers manage to keep this range under their control, we will expect a local price rebound up by 25%-30%. It is this local growth that will help fix the HBAR market and increase buyers' chances to continue the global growth wave.