FIL is governing token of a decentralized storage system. It was started to provide a peer-to-peer storage network. The project was described in 2014 as a "storage for humanity's most important information" and raised $205 via Initial Coin Offering (ICO) in 2017. Let us look at the technical analysis of FIL.
Past performance
On September 10, 2021, FIL opened at $60.82. On September 16, 2021, FIL closed at $57.96. Thus, in the past week, the FIL price has decreased by approximately 5.30%. In the last 24 hours, FIL has traded between $56.89-$61.51.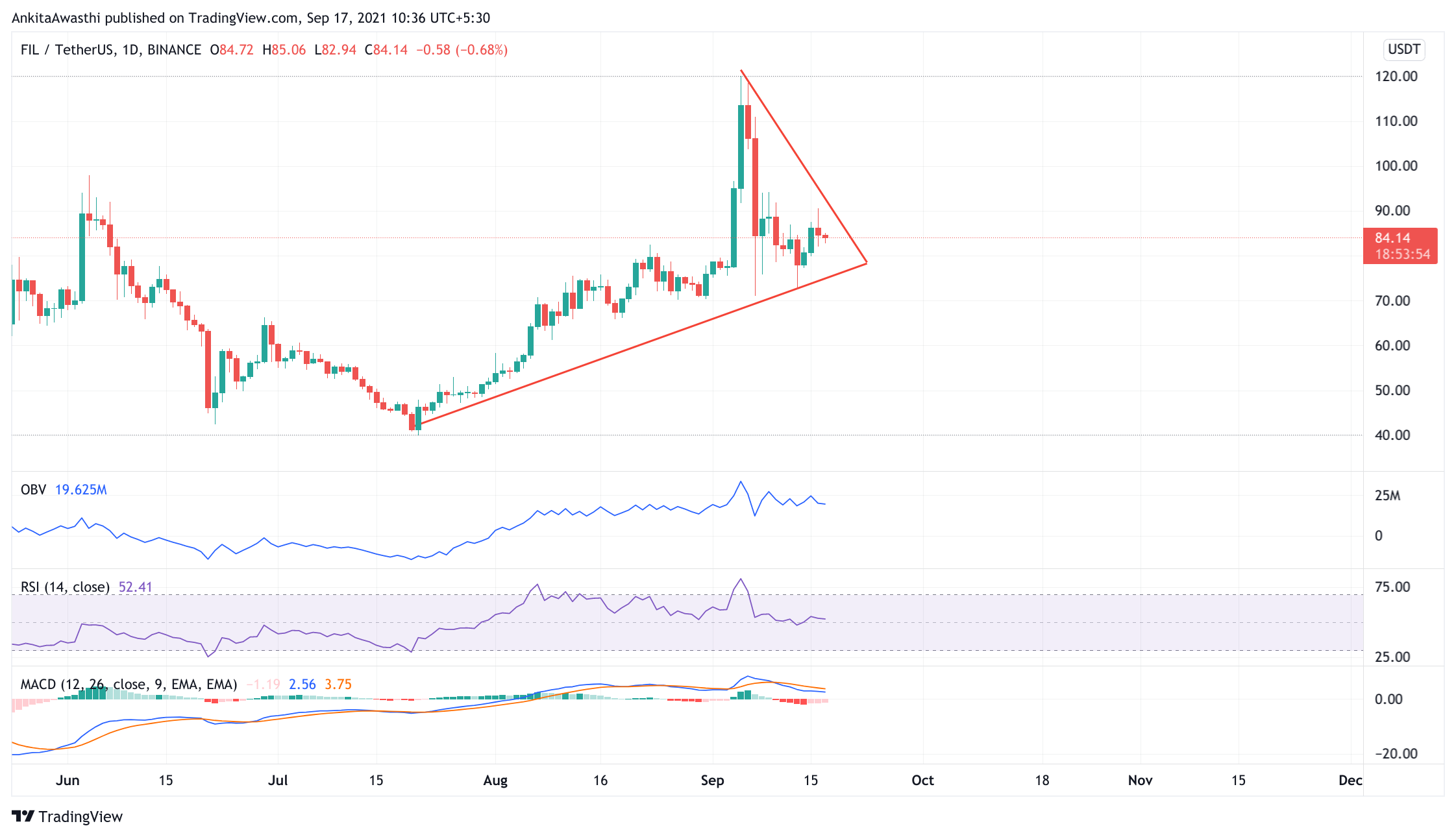 FIL Technical Analysis
The price is trading in a very narrow range. It can give a decisional breakout any time soon. A breakout on the upside will give it a bullish trend. However, a breakdown on the downside will let the price test new support zones. To predict the future of FIL we will have to wait and watch to see the breakout of the price. Until then we will see what the indicators are suggesting for the day ahead and tomorrow;
Currently, FIL is trading at $58.47. The price has decreased from the day's opening price. Thus, the market gives a bearish outlook.
The MACD and signal lines are currently above the zero range. However, a bearish crossover by the MACD line over the signal line has occurred. Thus, the overall market momentum is bearish. Hence, on the daily timeframe, the price may decline further and try to take support.
Currently, the RSI indicator is at 53%. It faced rejection at 46.97% and dropped to this level. Thus, selling pressures are slowly mounting. We have to wait and watch if buying pressures become strong enough to bring about a bearish trend reversal.
The OBV indicator has been on a roller coaster ride. It is also forming a narrow range, a high buying pressure will make OBV breakout on the upper side. Which will turn the whole momentum bullish.
Day Ahead And Tomorrow
The price is trading near the Fibonacci support point of $78.80. If the bears remain strong till day end, then the price is likely to fall below the first and second support levels of $70.32 and $63.38 respectively.
The price has tested and fallen below the 38.2% FIB retracement level of $90.89. It may soon fall below the 23.6% FIB retracement level of $90.86. Thereafter, we have to wait and watch if the price retests and breaks out of these levels. In that case, the price upswing is likely to continue tomorrow as well.