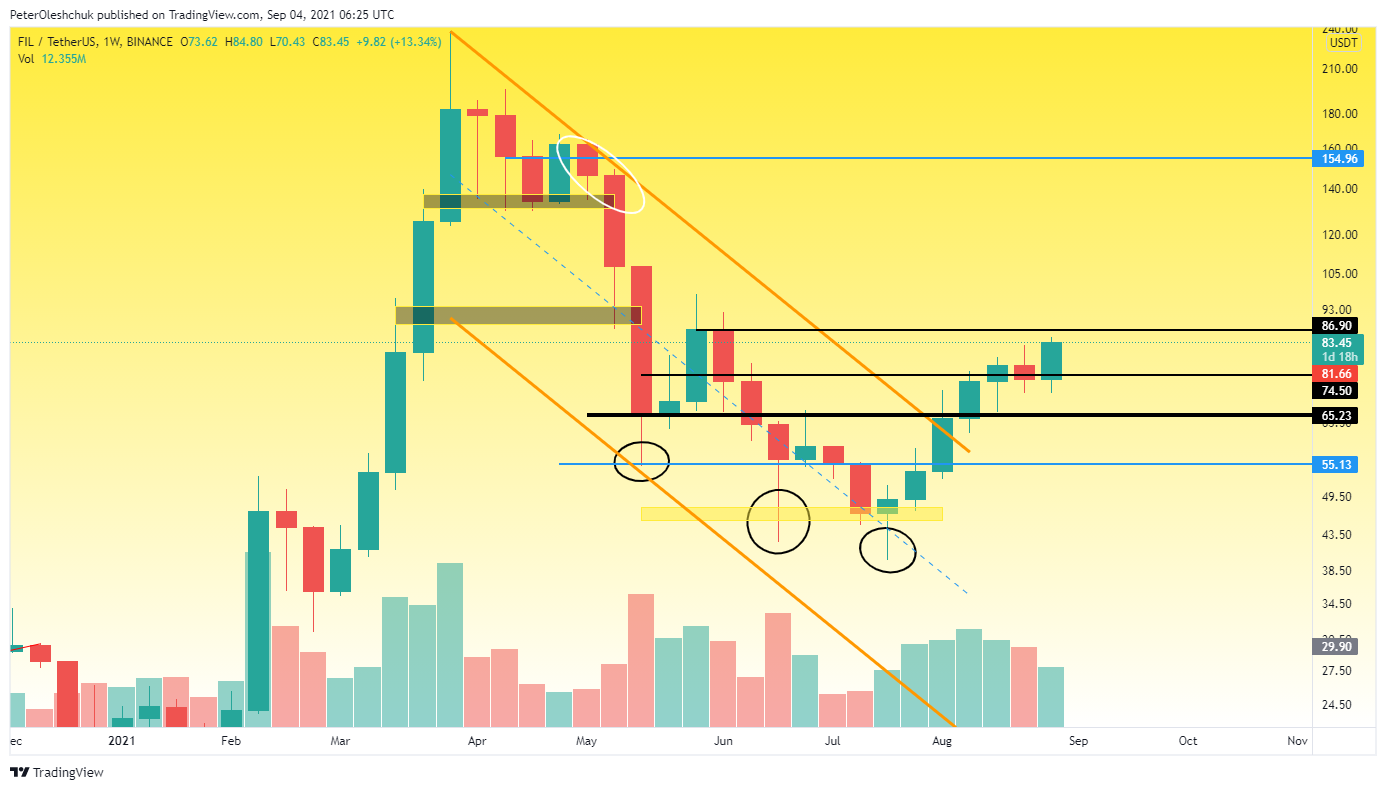 Therefore, good preconditions for the start of the correction in the FIL market were not successfully implemented by sellers during August. Closing the monthly candle at increased volumes and absorbing the July one gave good prospects for buyers in September. Buyers were able to use the 3-week FIL price stop at around $75 for their own purposes and gather local forces to continue price growth.
So this week, buyers have updated the local high and are moving to the next critical range of $86-$96. In the previous analysis, we wrote that to continue the FIL price growth to this range, buyers need to keep the mark of $65. However, as we see in the chart, buyers did not even allow such an opportunity and kept the price within $75.
FIL Technical Analysis on the Daily Timeframe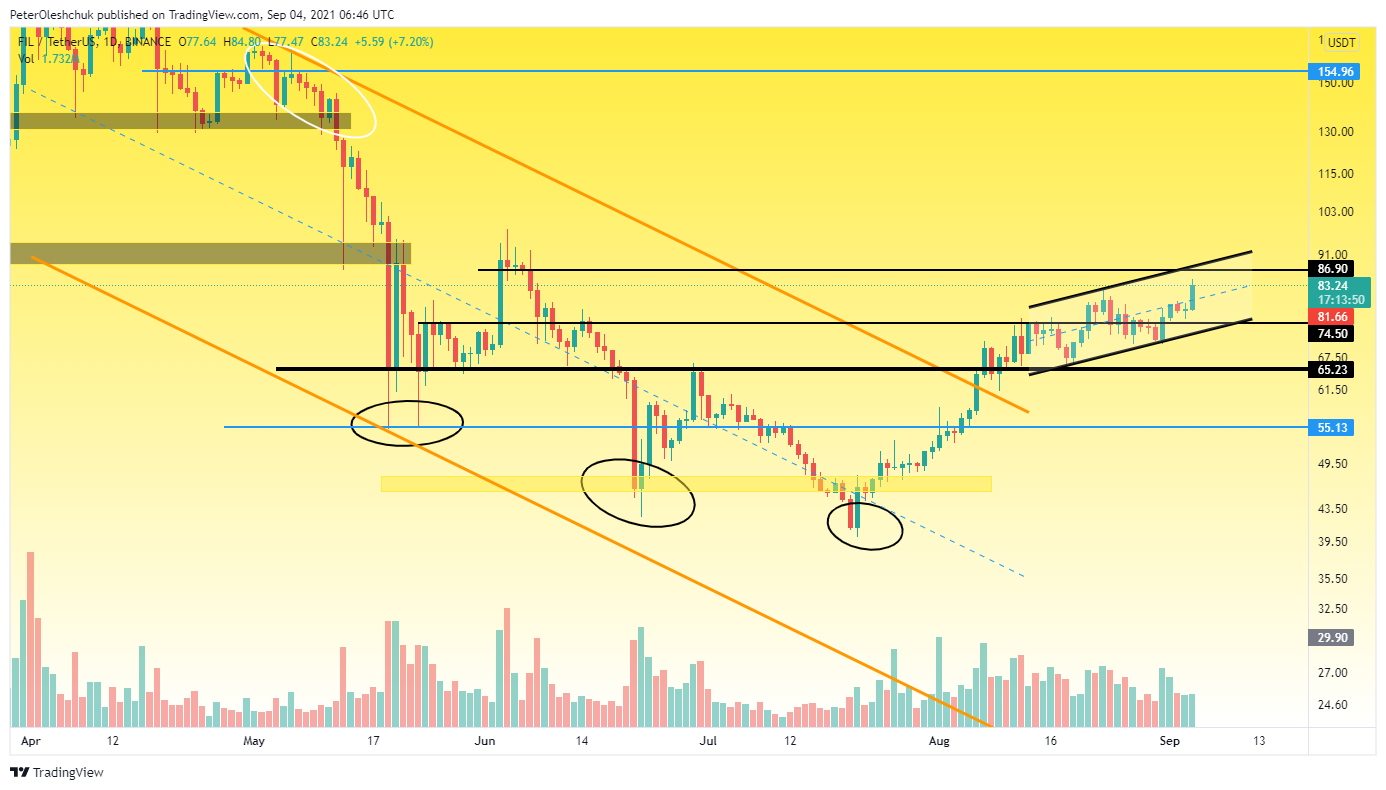 The fact that the local correction of the FIL price after a strong growth wave from July took place in the growth channel testifies to the incredible strength of buyers. Suspension of price growth instead of its correction says that buyers prepare for a new powerful impulse with the target of $130. The trading volumes are high enough to assume the interest of buyers. And their stability indicates the high probability of realization of the growth continuation scenario. By the way, the critical point for this scenario is around $75.
Most likely, after the $87 test, buyers and sellers will try to catch the lower limit of the black correction channel of growth. If we keep the $75 mark, we will expect a strong growth impulse, with a final target of $130. It is at the bottom of the correction channel that there will be an ideal chance to invest in FIL with minimal risks and maximum possible return.
The FILBTC Price Is Preparing for the Reversal of the Global Downward Trend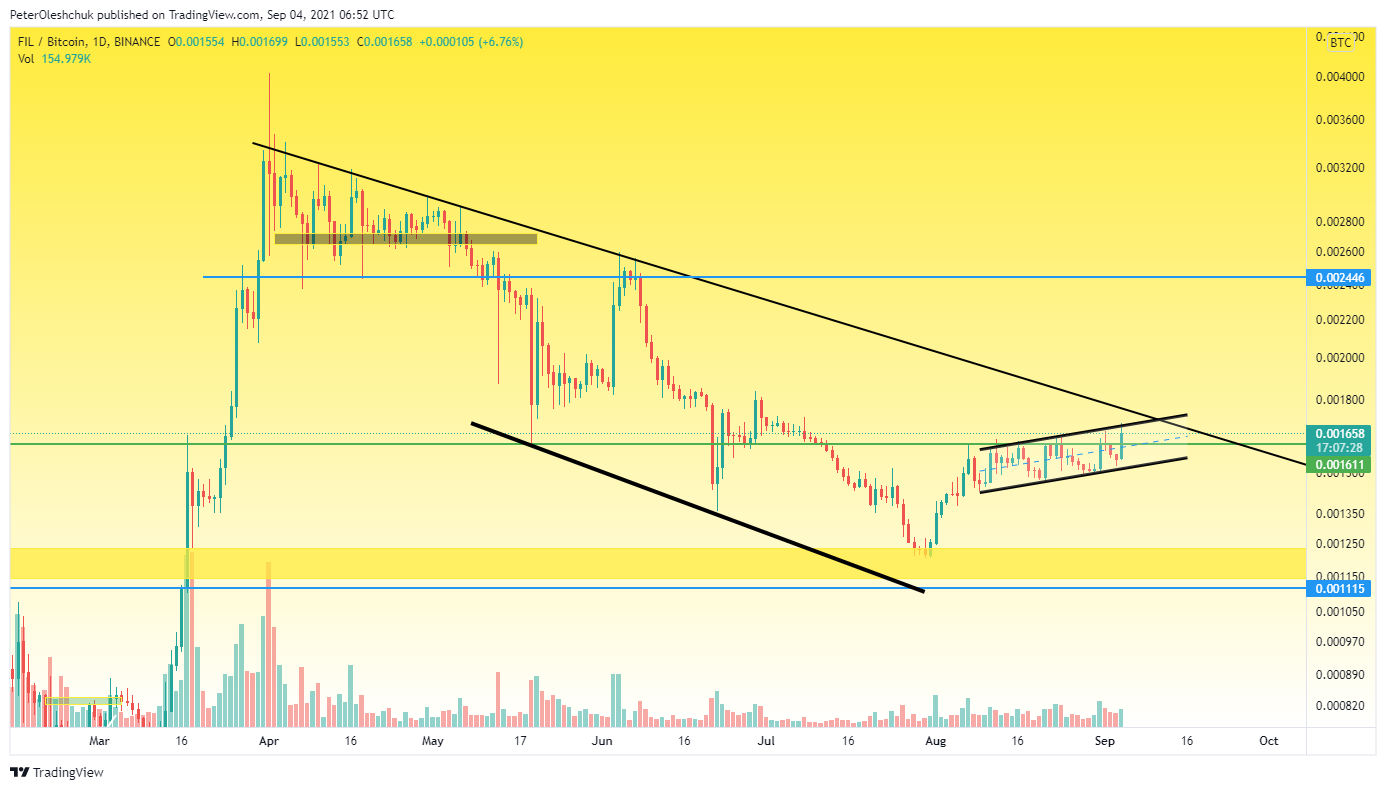 Analyzing the FILBTC chart, it becomes clear that after a six-month downward trend, buyers are forming forces to break it. Consolidation, which aims to fix the FILBTC price above 0.016, accumulates enough strength to break the upward trend line. Moreover, this fact only confirms our basic scenario of a time bomb. Given the favorable background of the cryptocurrency market and the low percentage of Bitcoin influence, September should give good returns to its investors.