DASH is focused on offering fast and affordable global payments networks. As it is based on blockchain technology, it is decentralized in nature. DASH, which is a shorter form of Digital Cash, is built on the fork of Litecoin. Let us look at the technical analysis of DASH.
Past Performance
On September 13, 2021, DASH opened at $203.19. On September 20, 2021, DASH closed at $168.61. Thus, in the past week, the price has increased by approximately 17.34%. In the last 24 hours, DASH has traded between $160.67-$182.11.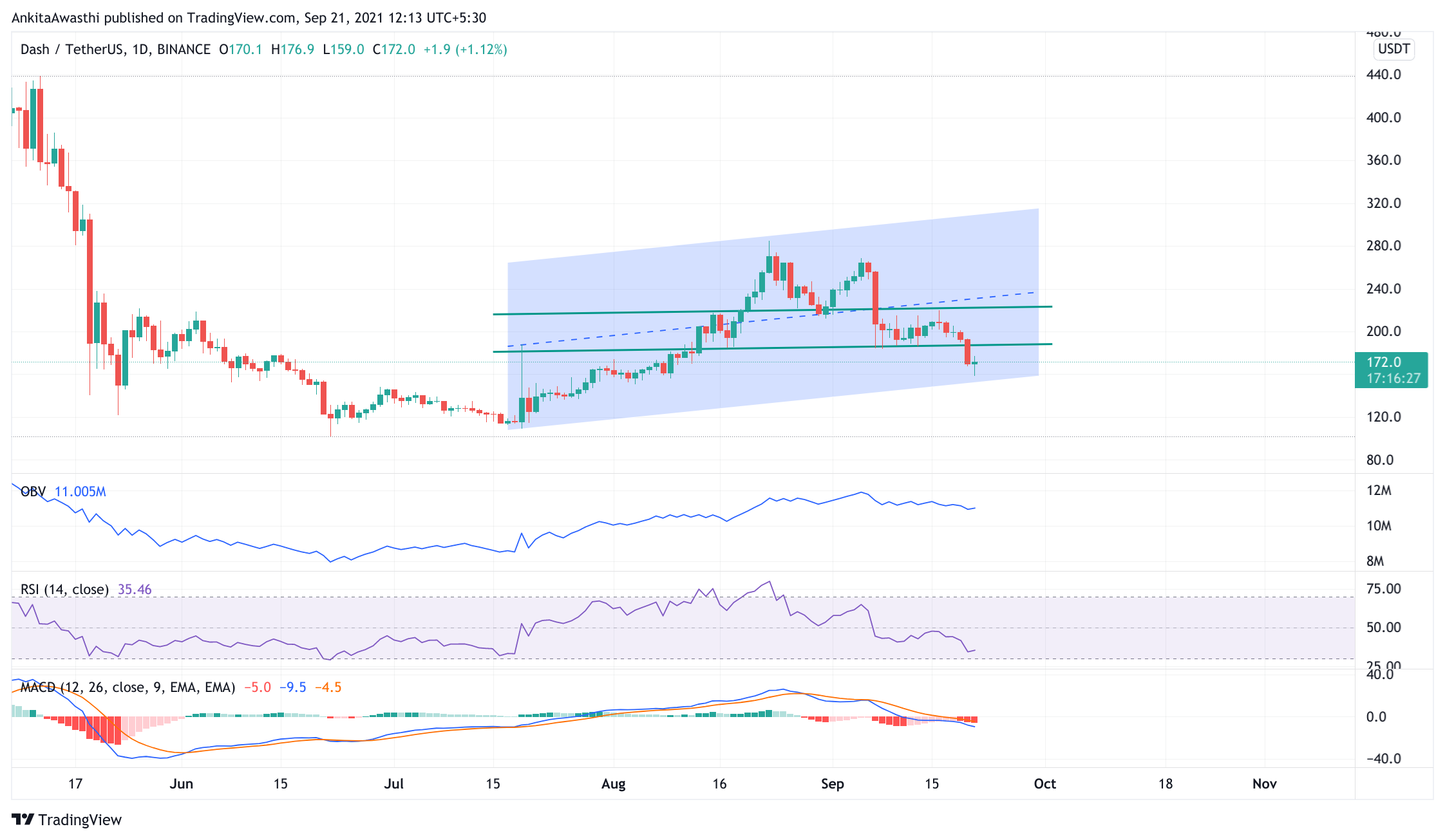 DASH Technical Analysis
Currently, DASH is trading at $172.05. The price has decreased from the day's opening price. Thus, the market seems bearish.
The MACD and signal lines are negative. Moreover, a bearish crossover by the MACD line over the Signal line has occurred. But, the overall market momentum is bearish. Hence, the price may decline further.
Currently, the RSI indicator is at 35.12%. It faced rejection and fell to this level. Thus, it indicated that selling pressures are slowly mounting. We have to wait and watch if selling pressures become strong enough to bring about a trend reversal.
The OBV indicator is sloping downward. Thus, selling volumes are higher than buying volumes. High selling activity will exert downward pressure on the DASH price.
In short, when we look at all three oscillators, we can say that the price may continue to fall. However, we cannot rule out the possibility of a trend reversal. We have to wait and watch to see if an intermittent price rise is a corrective action or the beginning of a positive trend.
Day-Ahead and Tomorrow
Currently, the DASH price is below the second Fibonacci pivot point of $223. If the bears remain strong till the day's end, then the price is likely to fall below the first, second, and third support levels of $188, $181, and $171, respectively.
The price has tested and fallen below the 38.2% FIB retracement level of $223.66. It may soon fall below the 23.6% FIB retracement level of $118. Thereafter, we have to wait and watch if the price retests and breaks out of these levels. In that case, the price upswing is likely to continue tomorrow as well.