Jurien Timmer, global macro director at financial giant Fidelity, says Bitcoin could be following gold's coming of age footsteps during the 1970s.
Timmer tells his 61,400 Twitter followers that Bitcoin is an "aspiring asset class," full of potential much like gold was 50 years ago. Timmer explains that during the 70s, the yellow metal went through a turbulent phase.
Even though it was a known commodity, gold was extremely volatile on its way to a 20x return and suffered large drawdowns quite regularly."
Looking at Bitcoin, Timmer says the leading cryptocurrency has more upside than gold had in the 1970s due to BTC's provable scarcity and network effects. However, the Fidelity global macro strategist highlights that Bitcoin's upside potential comes with larger drawdowns.
Bitcoin, on the other hand, is a relative newcomer, with scarcity and network effects. So it makes sense to me that the upside of bitcoin is greater than gold, as are its drawdowns. That is the definition of price discovery. /3— Jurrien Timmer (@TimmerFidelity) July 29, 2021
Timmer traces Bitcoin's price action over the last two years and compares it to gold's rise in value five decades ago.
"Below, I show Bitcoin since its 2019 low against gold during the '70s. Price analogs are highly subjective, but clearly, gold's price discovery was highly volatile, much like Bitcoin today. By this measure, Bitcoin's current 50% drawdown could be seen as a bump in the road."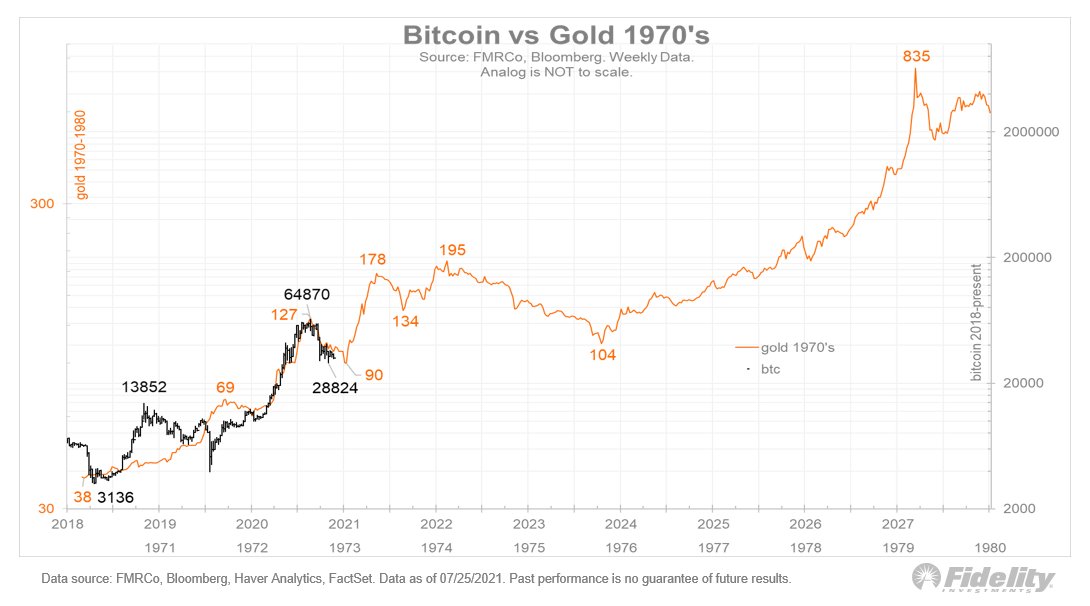 The Fidelity executive also unveils his BTC supply and demand models, which he says suggest that the current Bitcoin boom cycle has more gas left in the tank.
"At the risk of cherry-picking, the timing of the above chart fits with my supply/demand models below. Both charts suggest that Bitcoin is not done with its current bullish phase."