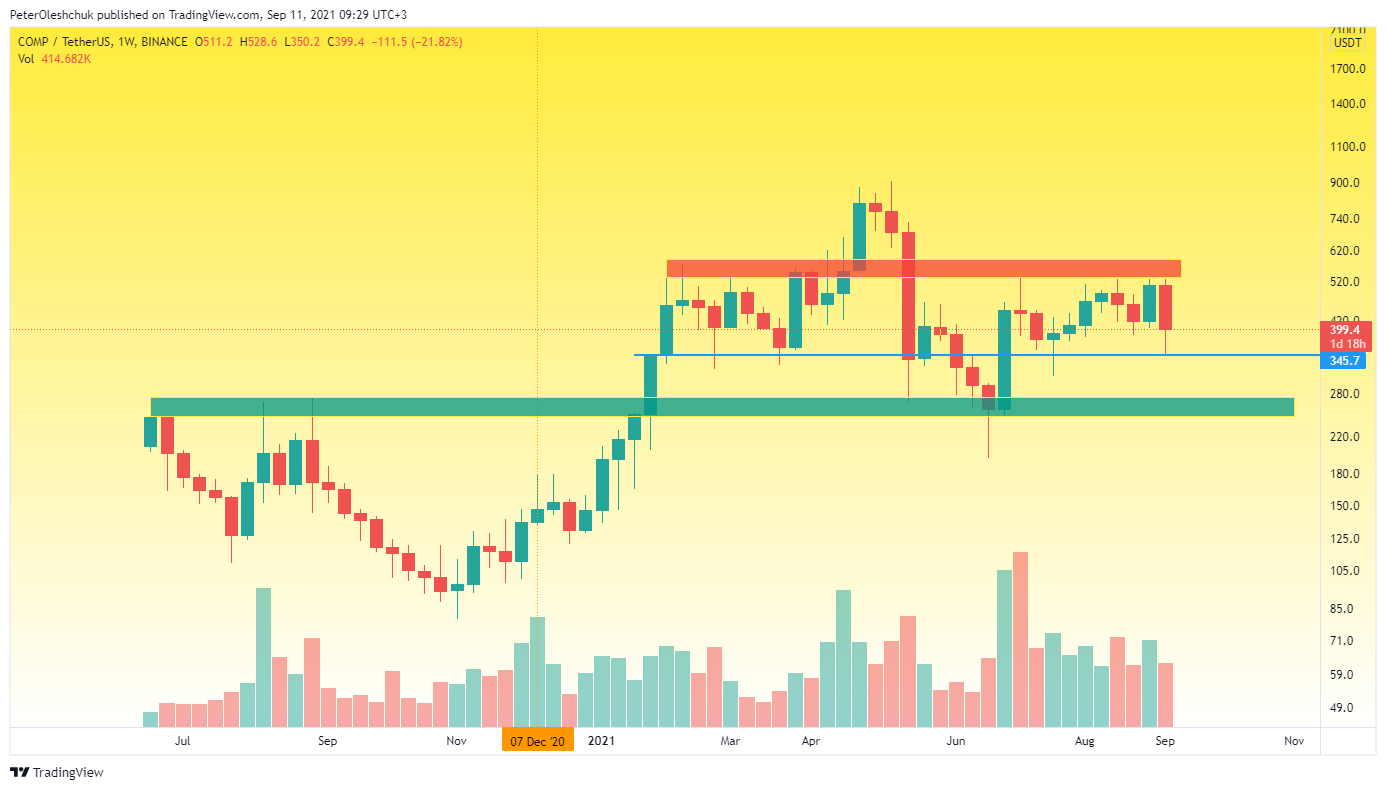 COMP cryptocurrency is one of the few that started its local growth wave back in June. However, the early start of Compound did not give any advantage and did not allow the price to break the critical range of $540-$580. This range has become a tragedy for COMP because, in May, the price fell by 75%.
The first strong growth impulse in late June gave great hope to the ambitions of buyers. By raising the COMP price by 70% for the week, buyers hinted that the liquidity range of $540-$580 is not a problem for them. Though, the next 2 months of continued active growth of COMP crypto did not happen. During this time, buyers professionally reduced the range of consolidation and pressed the price to a critical price zone. But, at the beginning of September, sellers were able to expand the range of consolidation and lowered the price by 30%.
Thus, on the COMP market, a global consolidation is in the range of $250-$580. At the moment, the COMP price has stopped at the middle line of consolidation and buyers are trying to create favorable conditions for the beginning of a new growth wave.
Technical Analysis Of COMP On The Daily Timeframe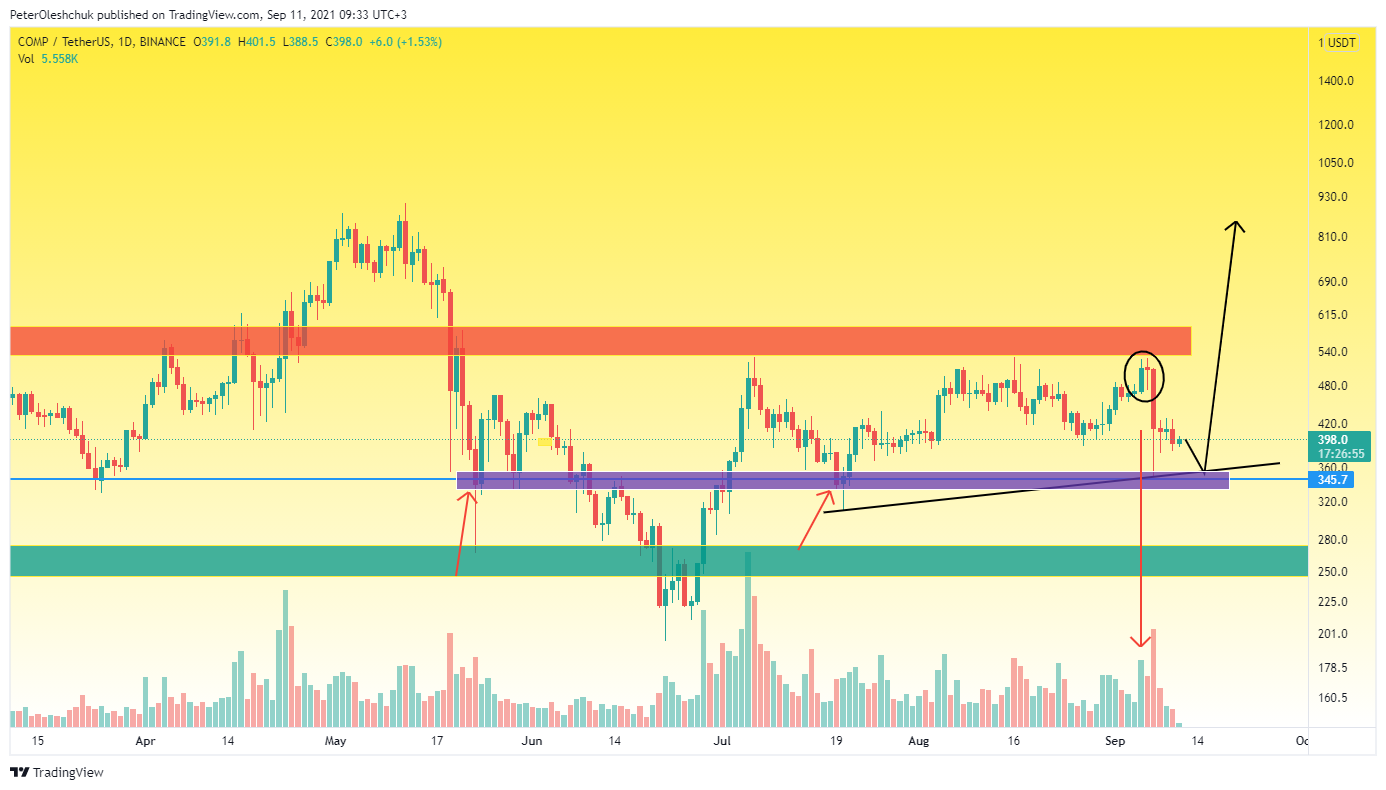 Analyzing the COMP market situation on the daily timeframe, we found a positive ray of sunshine. If you take a closer look at the $335-$355 range, you can see that it has played an important role for buyers since May. It was in this range that the first falling candle stopped on 19 May, and the final falling candle closed on 23 May. And, as a result, this range could not turn the price but stopped the fall for a while.
If during the next week buyers will be able to keep this range, we will expect a new growth wave with consolidation above the range of $540-$580. Although, the loss of this range will again force buyers to prove their strength in the range of $250.
The COMPBTC Price Completes Its Wave of Fall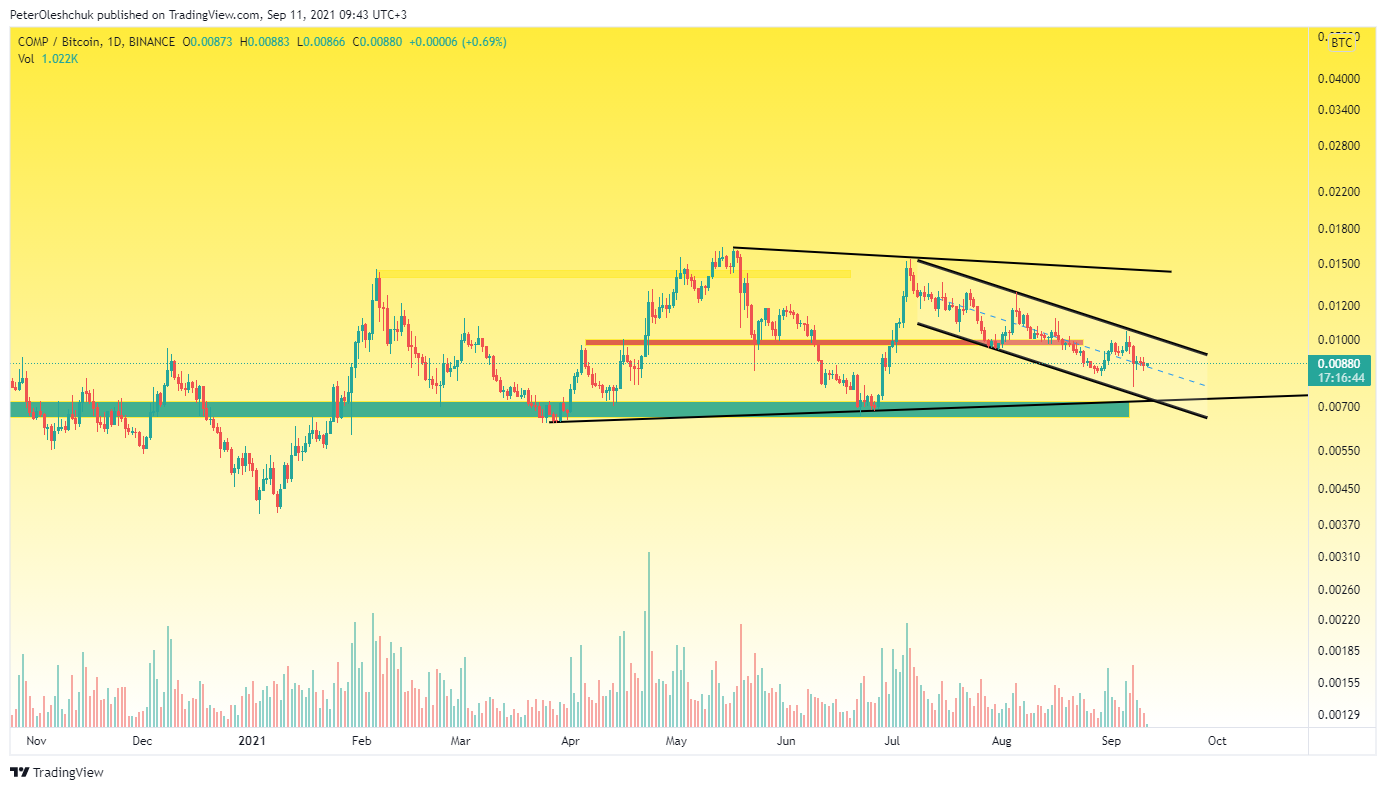 Global consolidation is also ongoing on the COMPBTC price chart. At the moment, the price is near the lower limit of consolidation. Trading volumes are starting to increase and price rebounds are starting to be deeper. These facts indicate changes in the market initiative and a possible reversal. We allow another final impulse down for the final depletion of sellers. However, globally we expect the formation of a new global growth wave, during which the COMP market will be able to realize the time lost in consolidation.