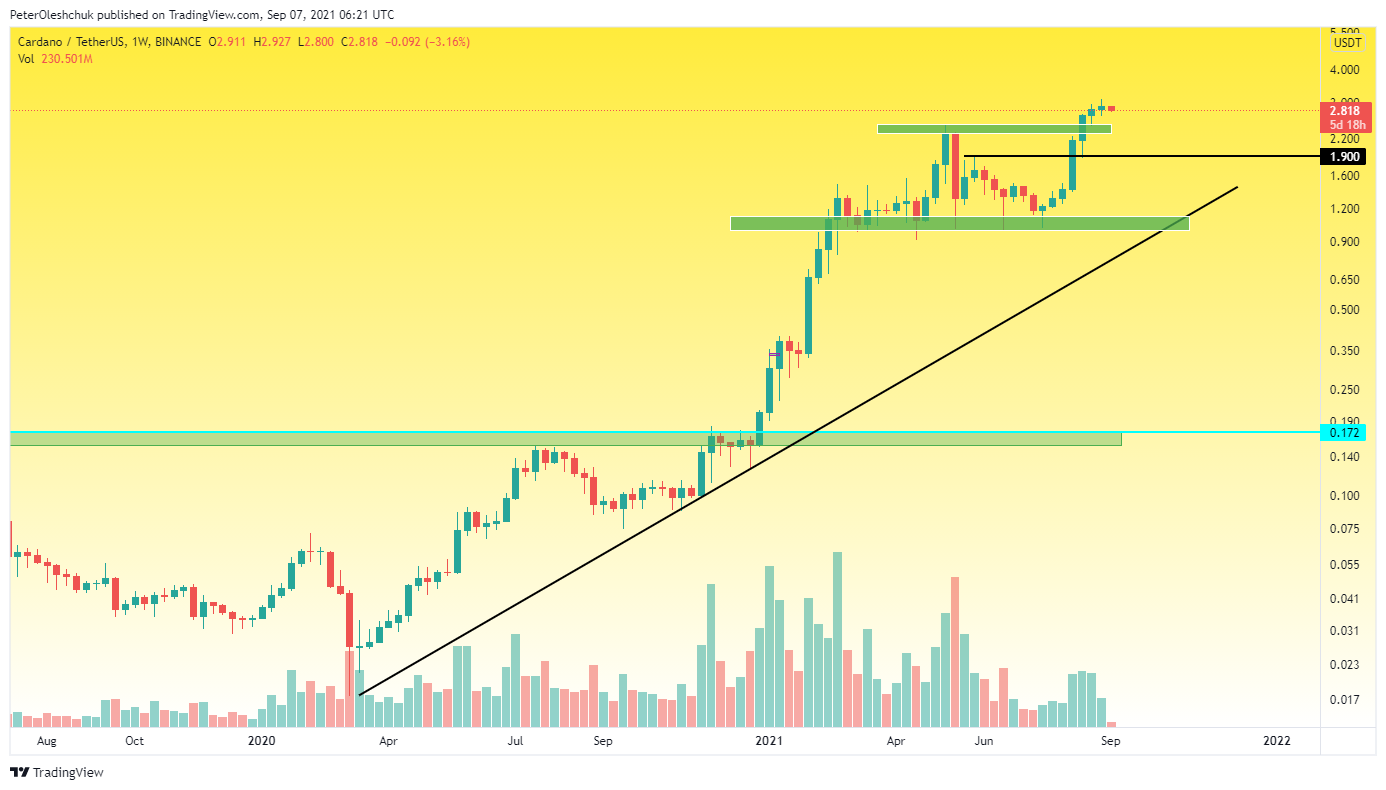 Quite dubious were the previous two trading weeks in the ADA market. Investors begin to worry and lose faith in a bright future. The joyful fact that buyers managed to update the previous high did not affect the desire of investors to increase the number of ADA in their portfolios. If by mid-August ADA weekly candles looked quite convincing, then after the high update, buyers stopped being actively interested in cryptocurrency. In addition, the high update happened at the lowest possible volumes, which makes us wary and also questions the strength of buyers and their control in the $2.3-$2.5 range. Therefore, until the ADA price re-tests this range and buyers show a willingness to keep the price high — buying ADA in the medium term is quite dangerous.
In the weekly timeframe, we see that in the scenario of a new fall wave of the entire crypto market, to maintain the growth trend, buyers need to keep the mark of $1. This fact will allow us to continue the global growth wave with the target of $5 in the near future.
However, the possibility of the ADA price fall by more than 50% from current prices should not be ruled out. An unsuccessful attempt to keep the $2.3-$2.5 range will send the Cardano price to $1.87. This mark is the last chance for buyers for a positive scenario in the ADA market. Otherwise, 2021 may end with the question of whether buyers will keep the $1 mark.
Technical Analysis of ADA on the Daily Timeframe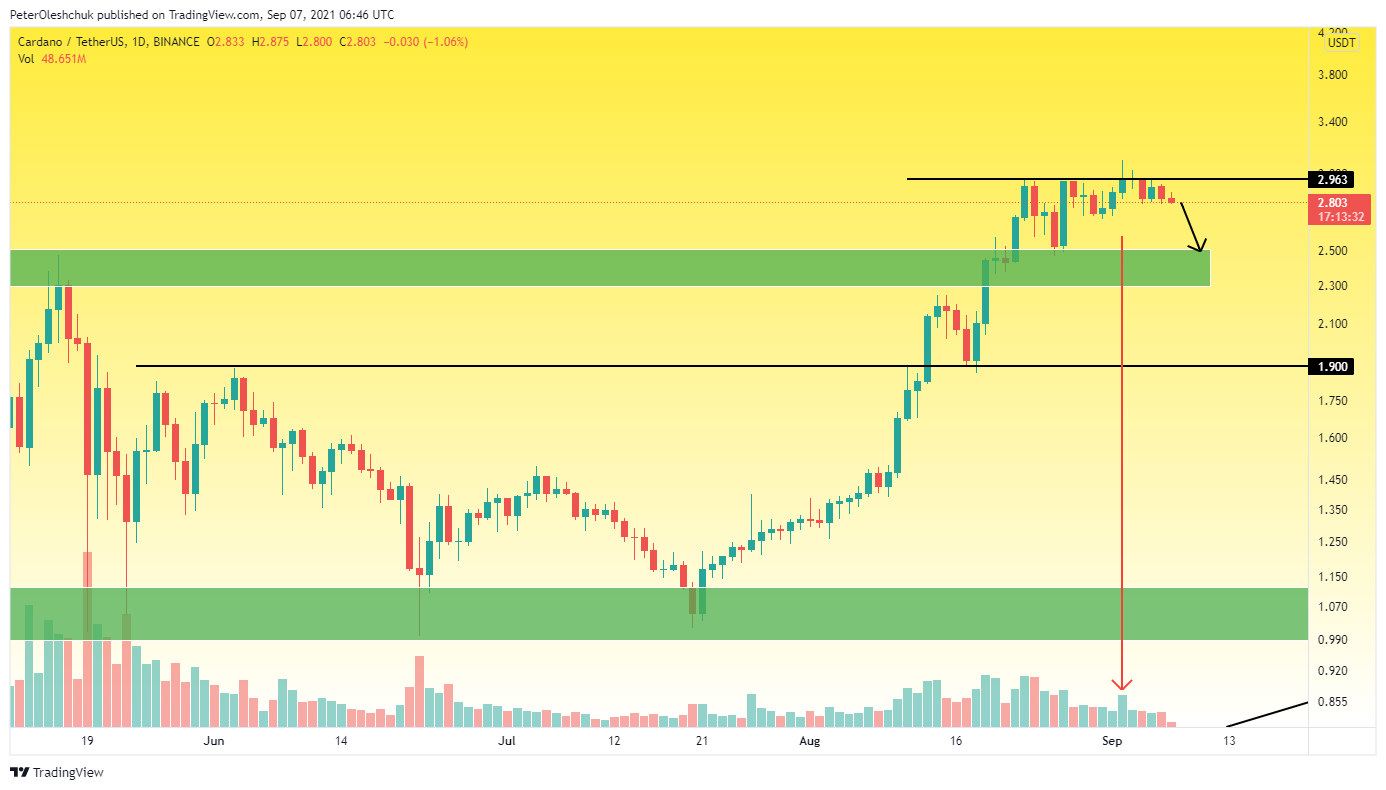 After the breakdown of the important range of $2.3-$2.5, buyers organized a consolidation, in which the ADA price moves from 22 August. The upper limit of this consolidation is $2.96. The last attempt of buyers to break the upper limit ended in a false breakdown.
Thus, the probability of a $2.5 test is quite high. If buyers keep this mark, it will be important how aggressive the next local attack will be. If it is low and uninitiated then this is the last convulsions of buyers before the collapse of the market. Active candles on the increased volumes and without pins upwards will indicate buyers' strength and readiness for the continued growth.
The ADABTC Price Did Not Reach the All-Time High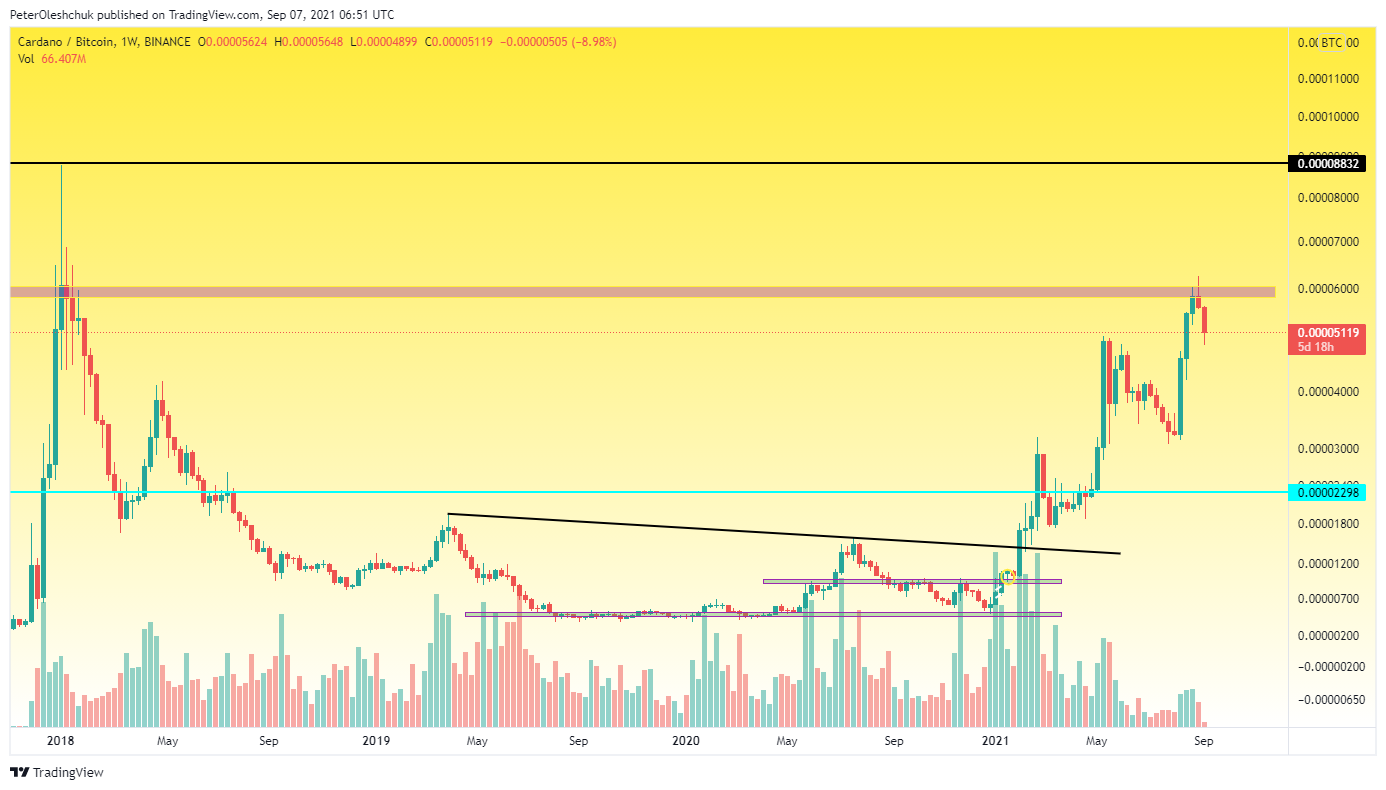 The sluggishness and lack of initiative of ADA buyers, after updating the high, refute the ADABTC price chart. In the chart, we see that the price has reached the global critical price zone, from which in 2017 began a wave of market fall. This is a very serious fact, which maximizes the correction scenario in the ADA market. Therefore, the expectation of a reaction from buyers in the range of $2.3-$2.5 is the only thing left to understand the balance of power in the Cardano market.