BNB is a token launched in 2017 by Binance, one of the biggest cryptocurrency exchanges. Binance has increased its network by including Binance Chain, Binance Academy, Trusted Wallet, and Research Reports of companies and their tokens. Let us look at the technical analysis of BNB.
Past Performance
On September 09, 2021, BNB started trading at $405.53. As of September 15, 2021, the closing price of BNB was $431.43. Thus, in the past week, the BNB price has been very less volatile. In the last 24 hours, BNB has traded between $412.83-$436.71.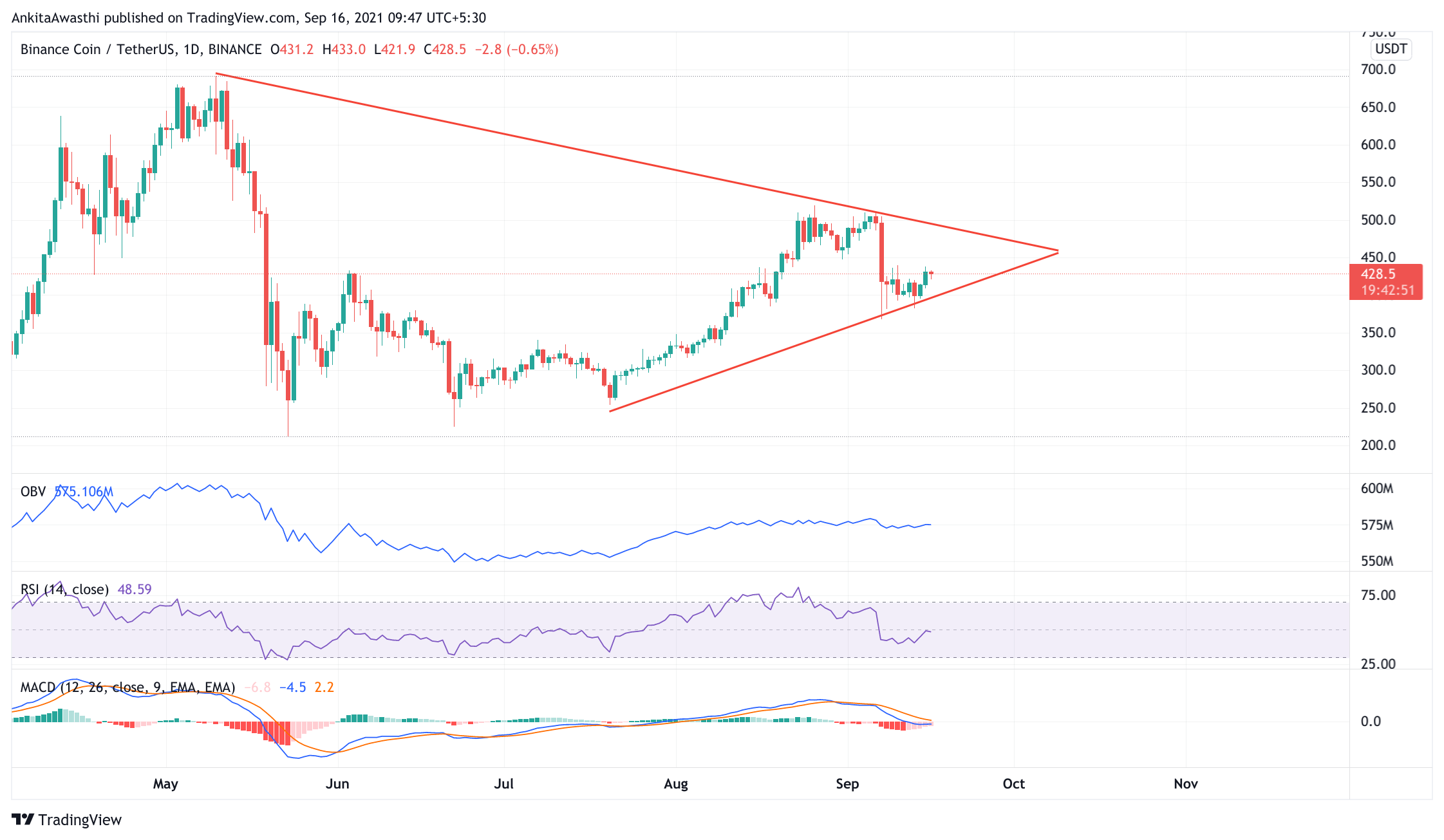 BNB Technical Analysis
Currently, BNB is trading at $429.83. The price has shown some bearish signs as it has slightly decreased from the opening price. Thus, indicating a high selling pressure in the market. However, the entire crypto market is seeing a rough time. Let us have a look at the reasoning:
The MACD lines are in the positive zone. However, since then, the price has broken a lot of resistance levels. Now, it is near the zero range, therefore, we can expect the lines to enter the positive zone on a highly volatile day.
Although, on a daily level, a bearish crossover by the MACD line over the Signal line has occurred. Indicating the bearish momentum in the market, also the selling pressure is slowly mounting.
Currently, the RSI indicator is at 47.78%. It has risen after taking support from the 38% mark, which is a strong resistance zone for the RSI. A break up from this level will eventually be a trend reversal. However, for the rest of the day, we can expect a short pullback in the price level.
Day-Ahead and Tomorrow
The current price of BNB is below the pivot point of $439.30. As the indicators are predicting bearish signals, we can expect the price to fall and test the first Fibonacci pivot support level of $396.36 soon. Once the price breaks down from the support zone, traders can go short with a target of $369.25. Traders can also try to scalp between these levels.
However, if the price starts a pump, we can expect it to break the immediate resistance level at $463. A breakout from this level can highlight the next resistance level at $513. Then, traders can take a long position accordingly.