Long-term holder supply recently hit an all-time high, but transaction volumes are stagnant.
In brief
Bitcoin's price is back near $50,000.
Long-term holder supply is at an all-time high.
However, transactions and transaction volumes are sluggish.
In less than a week, Bitcoin rose in price from $44,000 to $50,000, a 14% increase.
So, you'd expect the network to be buzzing with lots of transaction activity, which is what usually happens when there's a lot of price movement.
Not so, says blockchain data site Glassnode.
In a report today, it wrote that (entity-adjusted) transaction numbers are "at historically low levels" while "transaction volumes are similarly depressed, with the Bitcoin network setting around $18.8B in daily volume." That mark is less than half of what it was around BTC's record-high price in May. What's more, there was a "noticeable uptick" this week in older coins—which have sat unmoved in wallets for at least five months—starting to get sold.
#Bitcoin rallied towards the $50k level last week, absorbing the profits realised by spenders on-chain

This week, we assess who is spending coins, flows of coins to exchanges, and rising open interest in derivatives markets

Read More in The Week On-chainhttps://t.co/BZ9q1WyXhS

— glassnode (@glassnode) August 23, 2021
To an untrained eye, it might look like HODLers are about to cash out as the market stagnates.
Except there's another figure that, alongside Bitcoin's price, is bullish, says Glassnode: Even though older coin spending ticked up, the amount of Bitcoin in the wallets of long-term holders has increased. Long-term holder supply, classified as any coin unspent for at least 155 days (five months), has risen to an all-time high of 12.7 million BTC (67% of the coins in circulation), just months after hitting its lowest point in years.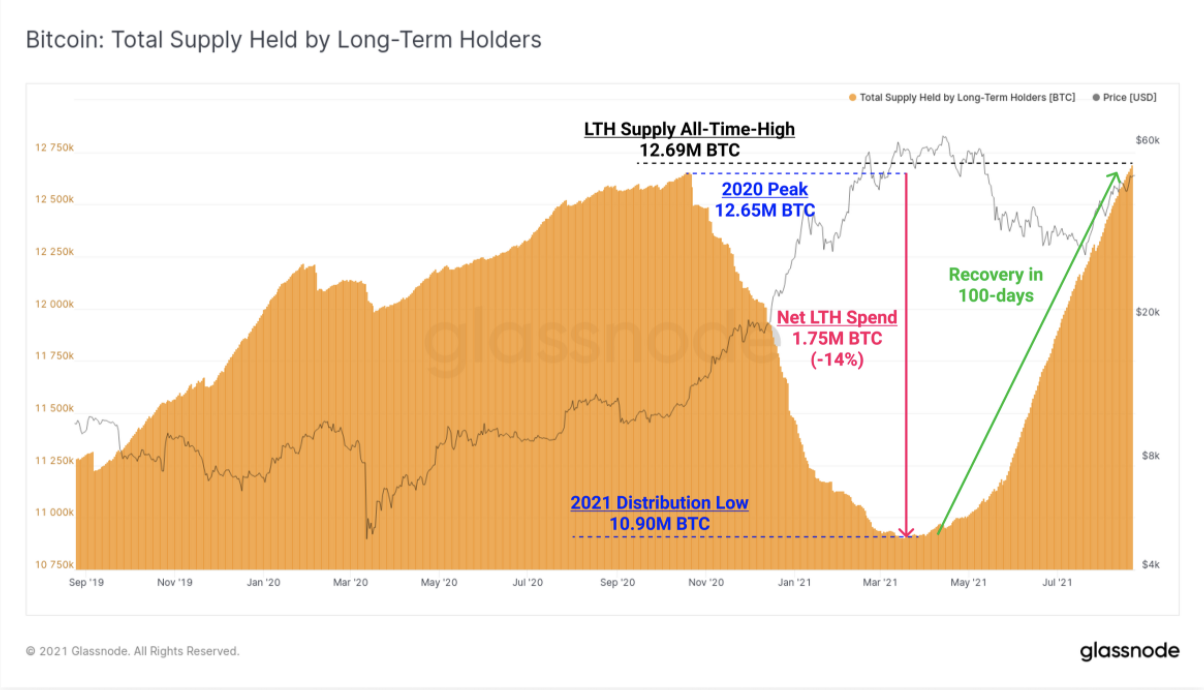 What happened is that long-term holders took advantage of high Bitcoin prices in Q1 and Q2 to cash out. But they didn't sell everything. So, when they decreased their spending (as seen with dropping transaction volumes), coins bought in December through March of Bitcoin's bull run were added to the long-term holder supply.
The recovery in long-term holder supply suggests that Bitcoin investors aren't jumping ship. On the contrary, cash-outs appear to be limited in volume—which makes sense given Bitcoin's low overall transaction volumes and counts—potentially to diversify portfolios and hedge against risk.
If true, writes Glassnode, old hands selling doesn't equate to "a loss of conviction and a mass exit." It's just investors taking a bit of easy profit when given the chance.