The Bitcoin (BTC/USD) price tumbled in the overnight session as sentiment in the industry deteriorated. The coin fell to $46,313, which was substantially lower than this week's high of more than $50,000. This decline brings its total market capitalization to more than $879 billion.
Bitcoin rally fades
Bitcoin price rallied to more than $50,000 last week as demand for the coin kept rising. This was a substantial move considering that the price declined below $30,000 in July.
The price rallied during the weekend after PayPal launched its cryptocurrency products in the UK. The launch meant that registered PayPal users in the UK could buy, store, and sell Bitcoin using PayPal. This was notable because PayPal is one of the biggest fintech products in the world.
Another catalyst for the BTC prices was the positive signs that the Securities and Exchange Commission (SEC) has showed signs that it will allow a Bitcoin ETF. In a statement early this month, Gary Gensler, the new SEC chair said that he will likely approve such a product in the form of futures.
Meanwhile, there are signs that more large investors are optimistic about the industry. This week, MicroStrategy made headlines by buying another bunch of Bitcoins. The company now owns Bitcoin worth billions of dollars. Other companies that have large BTC holdings are Coinbase, Square, and MassMutual.
In the past few days, however, the BTC price has declined substantially as investors take profit following the spectacular rally. This decline is also mostly because of technical reasons. In most cases, the price tends to decline after rising to a major resistance level. In this case, the resistance was $50,000. The same situation happened when Bitcoin crossed the $40,000 milestone.
Bitcoin price prediction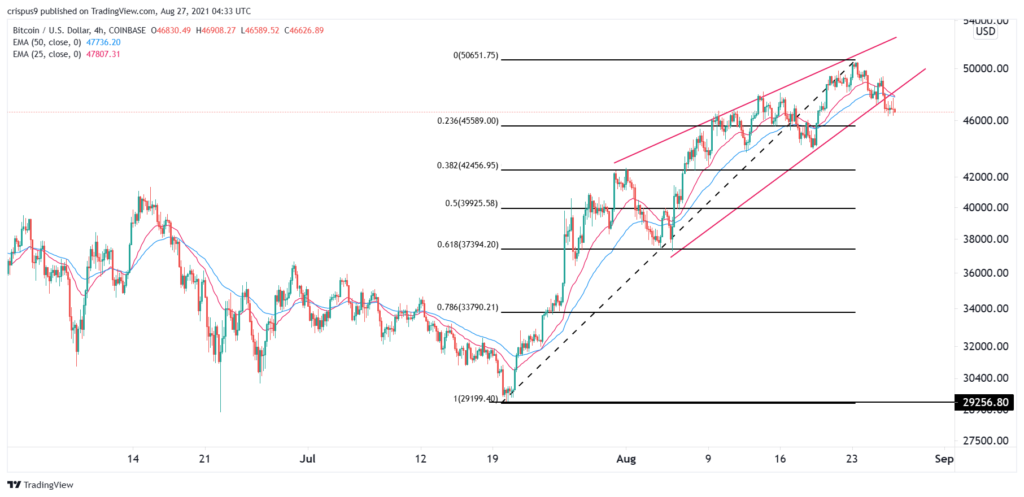 The four-hour chart shows that the BTC price has been in a strong bullish trend recently. The coin rose to a high of more than $50,000 on Sunday evening.
Still, a closer look at the chart shows that the coin formed a relatively bearish pattern. It formed a rising wedge pattern, which is usually a bearish sign. Indeed, it has fallen below the lower side of this wedge. It is also approaching the 23.6% Fibonacci retracement level.
Therefore, the pair will likely keep going lower as investors target the 38.2% retracement level at around $42,500. In the longer term, however, the price will likely bounce back higher.