Today is one of the biggest days in the history of Bitcoin, with one of the most fundamentally bullish moments unfolding: the cryptocurrency has officially become legal tender in El Salvador. But Bitcoin price isn't responding as expected.
Instead, the market has responded with an absolute bloodbath and $10,000 drop per coin. Could this mean that Bitcoin's big deal was merely a "buy the rumor, sell the news" event? Or despite the selloff will this moment have a lasting impact?
Bitcoin Price Sheds Nearly 20% In El Salvador Bloodbath
Bitcoin price is down more than 19% intraday on a day that was supposed to be its time to shine. The leading cryptocurrency by market cap before it becomes a teenager has become legal tender in the country of El Salvador.
The country itself has purchased 400 BTC to distribute to adults who use the government-run Chivo app. Other nations and individuals are buying BTC in support today of the milestone moment in the history of crypto.
Having risen from virtually worthless, being bootstrapped via the dark web, to now becoming legal tender of a nation is nothing short of incredible. There is no denying the potential implications of this move and its dramatic impact on cryptocurrency adoption and acceptance worldwide.
Yet for some reason, Bitcoin price isn't responding with the bullish momentum it has had leading up to the law going into effect, but why?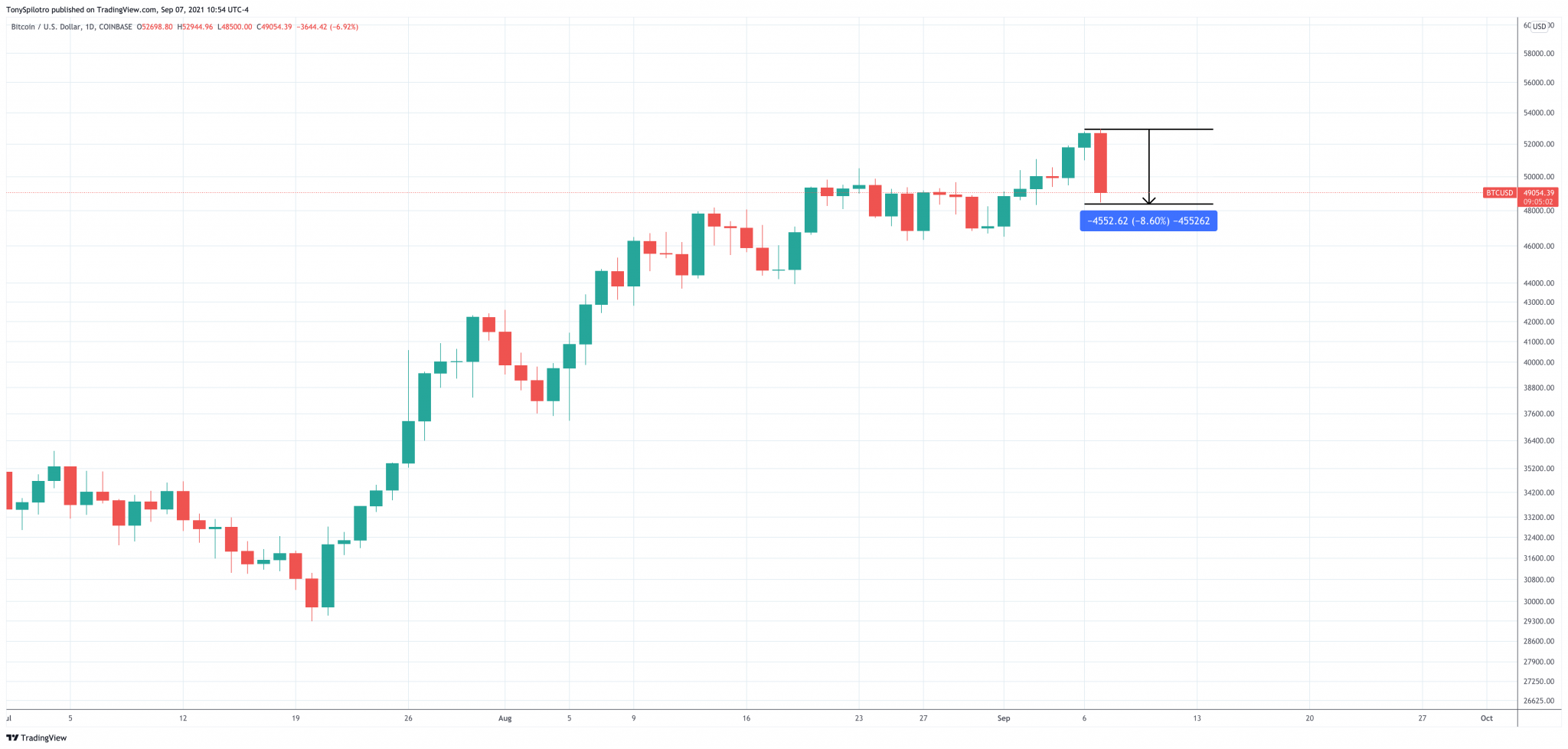 Bitcoin price plummeted almost 20% today | BTCUSD on TradingView.com
Whales Are Selling The News As BTC Drops $10,000
In finance, there's adage that says to "buy the rumor, sell the news." In the case with El Salvador, it wasn't rumors leading up to today, but rather the build up to the historic debut. Another recent example of such a scenario was the Coinbase Global debut on the stock market. Before that it was Bakkt, and prior to that it was the CME BTC Futures launch in December 2017. Big debuts haven't been kind to Bitcoin.
Smart money investors bought Bitcoin back when the blood was fresh and flowing, knowing full well this day was coming. With the day now here, profit-taking could be setting back the top cryptocurrency by market cap.
These investors or traders might not be bearish on Bitcoin, but taking profits is never a bad idea. Blasting through the level could be confirmation the bull run is back on, and smart money being smart – are more than willing to wait for such a signal.
The profit-taking might have had an unintended effect of liquidating over-leveraged long traders, which caused a cascade effect of stop losses being hit and causing the price per BTC to tank more than $10,000 as a result.