With 57% of Africa's population unbanked, cryptocurrencies are the innovation that can remedy this problem. With just a smartphone, a long-underserved people can gain access to Bitcoin, cryptocurrencies, and a possible source of income.
The World Economic Forum published an article today on the growth of cryptocurrencies in Africa. It stated that the sector had grown by $105.6 billion in the last year. It also looked at how crypto might be a good alternative to traditional banking, and the potential for crypto adoption in the continent.
Underdevelopment is cited as the main reason why Africa is ripe for cryptocurrencies. If a citizen of an African country can at least gain access to a smartphone, then all the blockchain networks are within their reach.
With Africa's share of the cryptocurrency market being the smallest across the world, there is certainly room for growth.
On the other hand, according to the World Economic Forum, Africa takes the lead in peer-to-peer payments transaction volume across the world, with Bitcoin easily the most used of all the cryptocurrencies.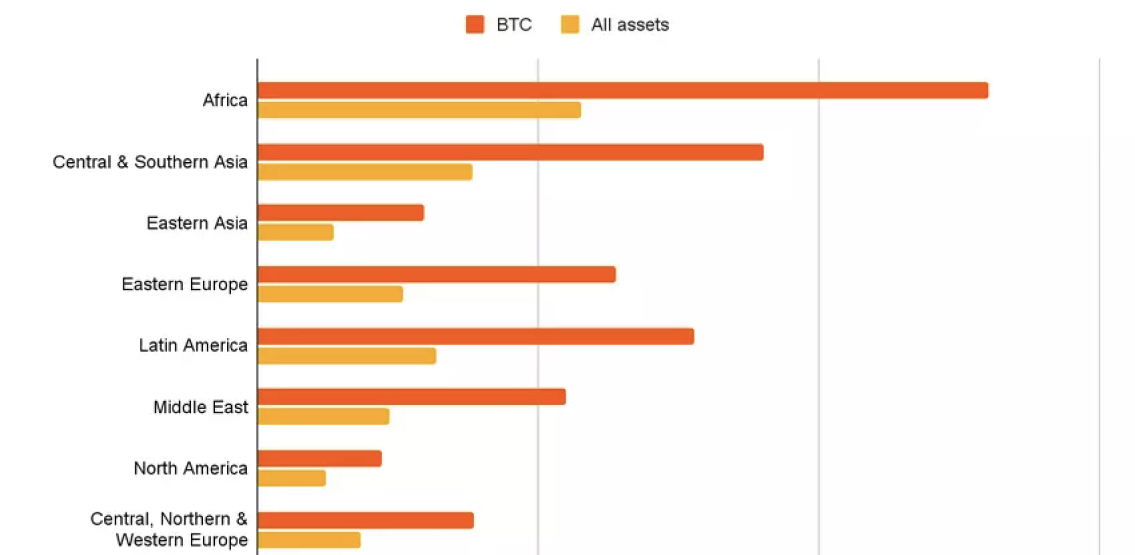 However, African governments generally harbour an anti-crypto sentiment, with many central banks warning citizens to not trade in these assets. Nevertheless, as African fiat currencies have fallen in value, Bitcoin has done completely the opposite.
For example, in 2015, both the Kenyan and Nigerian made edicts against Bitcoin trading. Since that time, Bitcoin has risen 11,000% in value, while the Kenyan Shilling has lost 7%, and the Nigerian Naira fell 52% since an anti-Bitcoin warning in 2017.
Crypto-related companies looking to get established in Africa include Twitter. Jack Dorsey, the Twitter and Square CEO, stated that a Lightning Wallet could be attached to all Twitter accounts.
Facebook dominates social media though in Africa by a country mile. The article puts this dominance at 71%. The Facebook-backed Diem project could certainly take advantage here, but given regulatory push-back, the stablecoin is set for a Q4 roll-out only in the US.