The month of September in the cryptocurrency market will be remembered as a place of correction. After a failed attempt by buyers in late August to take control of the $770 range, sellers began a local downward trend. In a previous analysis, we wrote about the importance of the $770 mark. It was taking control of this mark that opened the way for buyers for a new price jump to $1300. However, after closing the weekly candle on 6 September, buyers gave up the wrong break of this mark.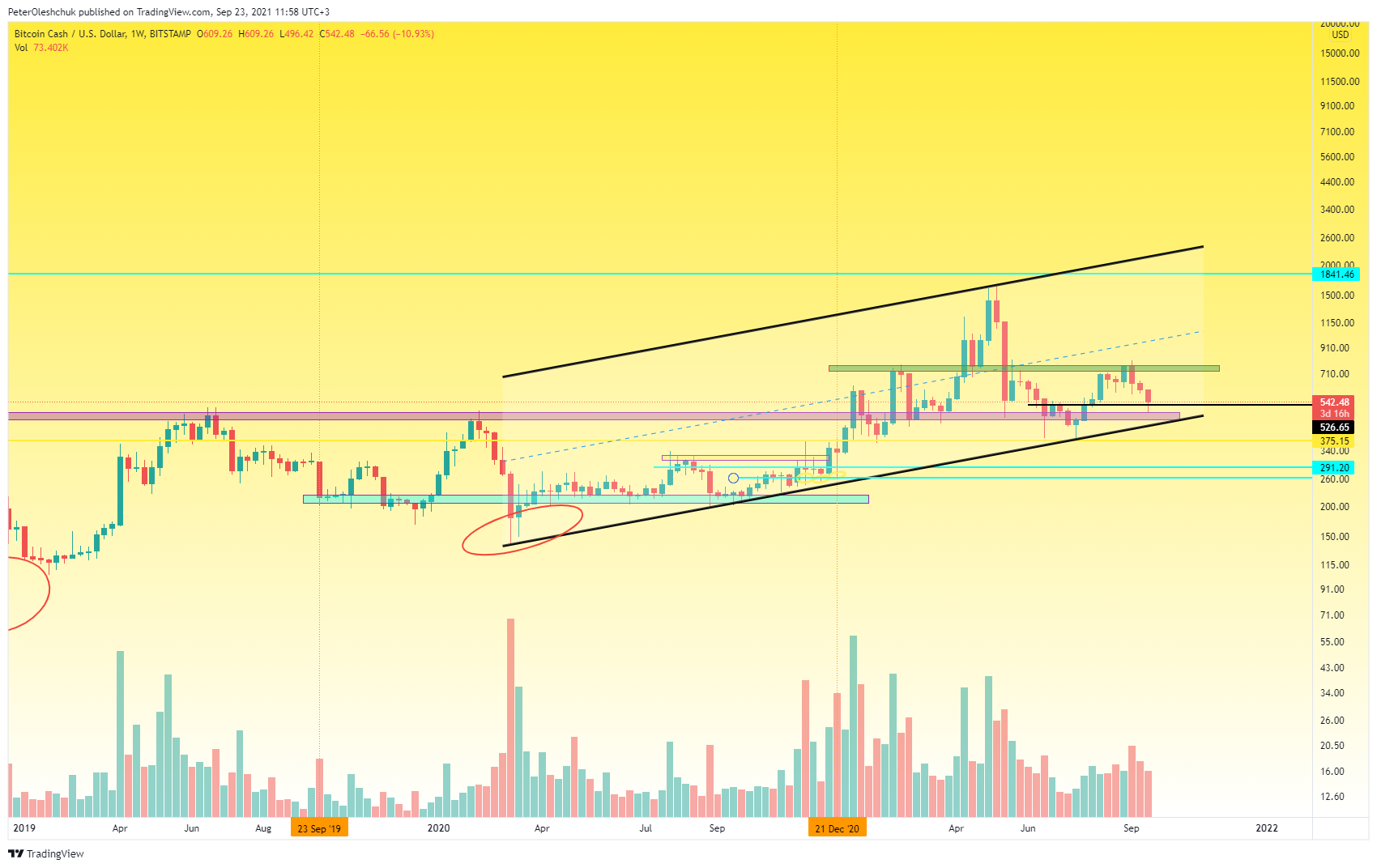 Thus, the BCH price fell by 3% in 3 weeks. The current fall wave is taking place at low volumes. So far, buyers are not showing much interest. Though, the price is within the global growth channel and is gradually approaching its lower trendline. In the weekly timeframe, we see that sellers met local resistance in the range of $460-$490. This is the main liquidity zone of the cryptocurrency BCH at the moment. It was this range that stopped the frantic fall wave in May.
Analyzing the movement of the Bitcoin price and its breaking of the $40,000 mark, we can assume that the fall wave is not yet complete. But, estimating the prospect of lowering the BTC price to $35,000, we think that BCH buyers will have enough strength to keep the liquidity zone of $460-$490. Therefore, our main scenario is the continuation of BCH price growth in the long run.
Technical Analysis of BCH on the Daily Timeframe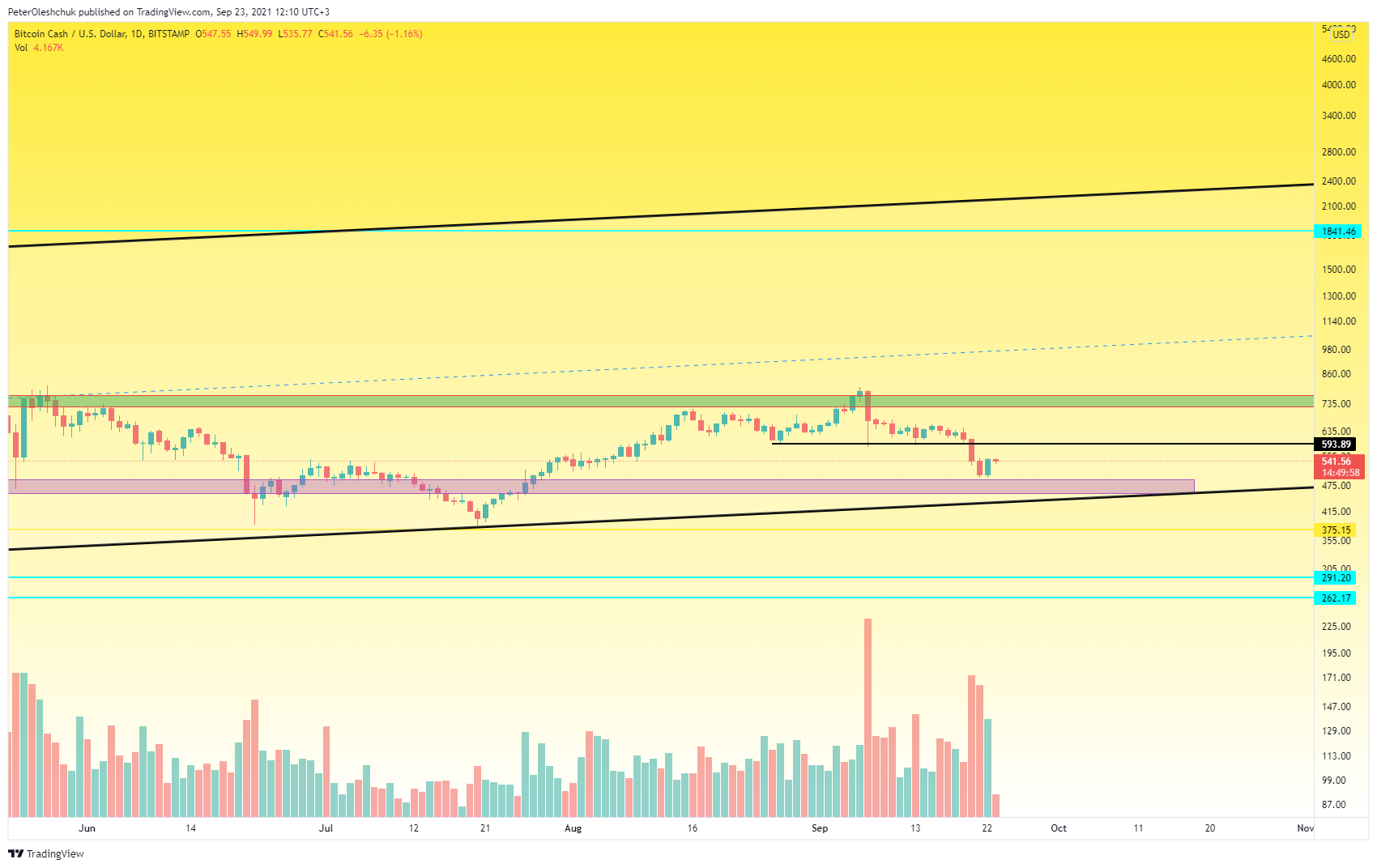 Analyzing the BCH price movement on the daily timeframe, you can see that the local fall wave is beginning to deplete. Trading volumes during 20-21 September were significantly increased. In addition, the daily candle on 22 September absorbed the previous one, which indicates the intentions of buyers to develop the BCH trend.
In the worst-case scenario, sellers will be able to go into the $460-$490 range a little deeper. However, given the clear price slowdown and the gradual depletion of sellers, the local reversal of the BCH price will be up. The first local problem for buyers on the way out of the downward trend is the $593 mark. It is in this mark that there is a large number of sellers who will not let the BCH price move higher. Taking control of this mark, we expect continued growth of the BCH price with the first serious target of $1000.
The BCHBTC Price Has Reached the Global Purchase Zone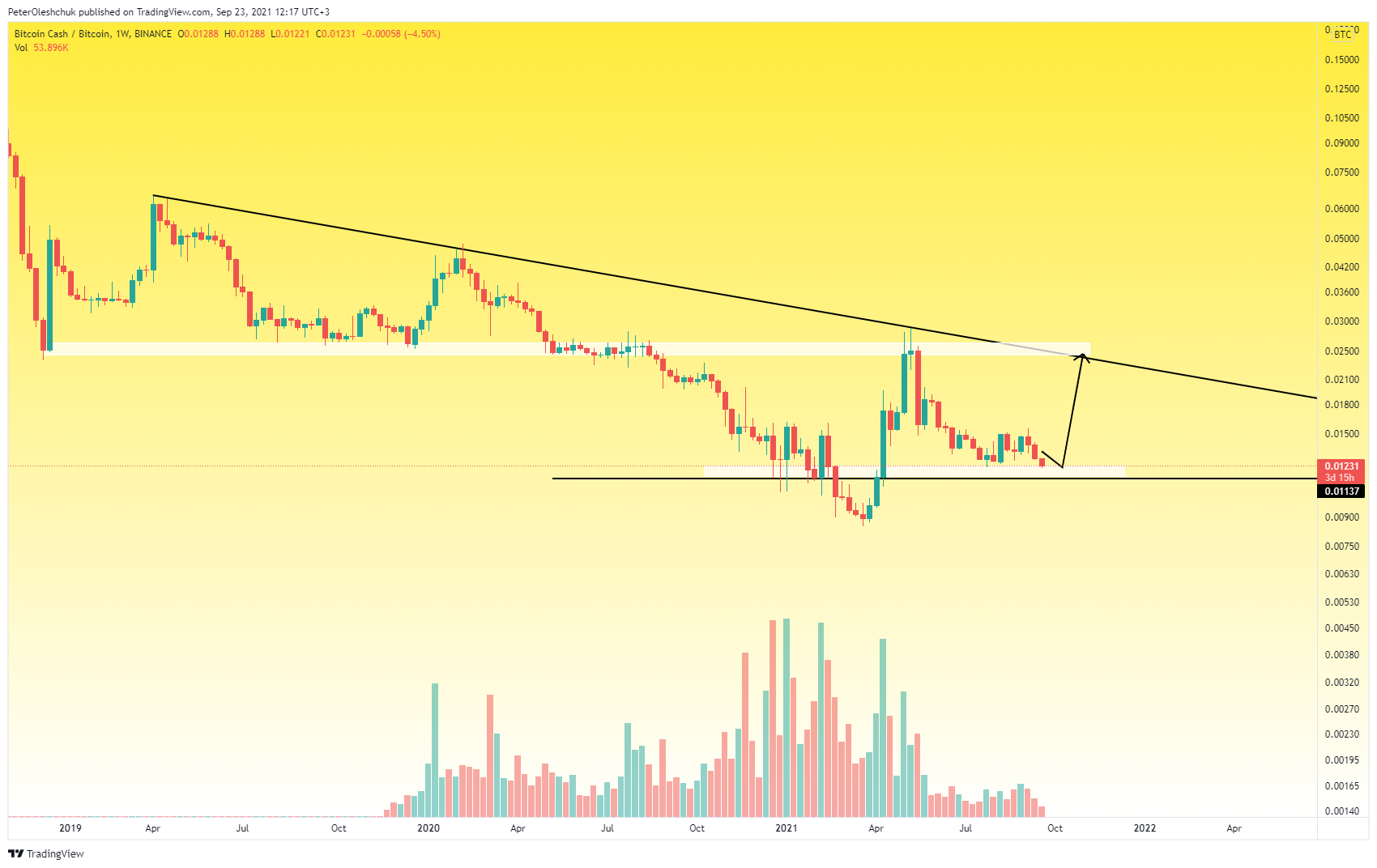 In the weekly timeframe, the BCHBTC price is testing the global price zone, which stopped falling at the end of December. Looking at the trading volumes and the nature of the price fall, we believe that buyers have every chance to keep this liquidity zone and continue the growth wave from January 2021