Bitcoin Cash (BCH) has larger blocks than Bitcoin, thus making it easier to use for transactions. Generally, BCH is preferred for transactions and BTC is preferred for holding. It is designed to be used as an electronic cash payment system, and now, it is classified as a transactional coin. Let us look at the technical analysis of BCH.
Past Performance
In the past seven days, increasing volume led to an increase in the volatility and the price traded between the range $661.14 and $639.57. In May, it created its all-time high at $1651 and is 61% (approx) down from that level. And, in the last 24 hours BCH has traded between $630.89-$645.83.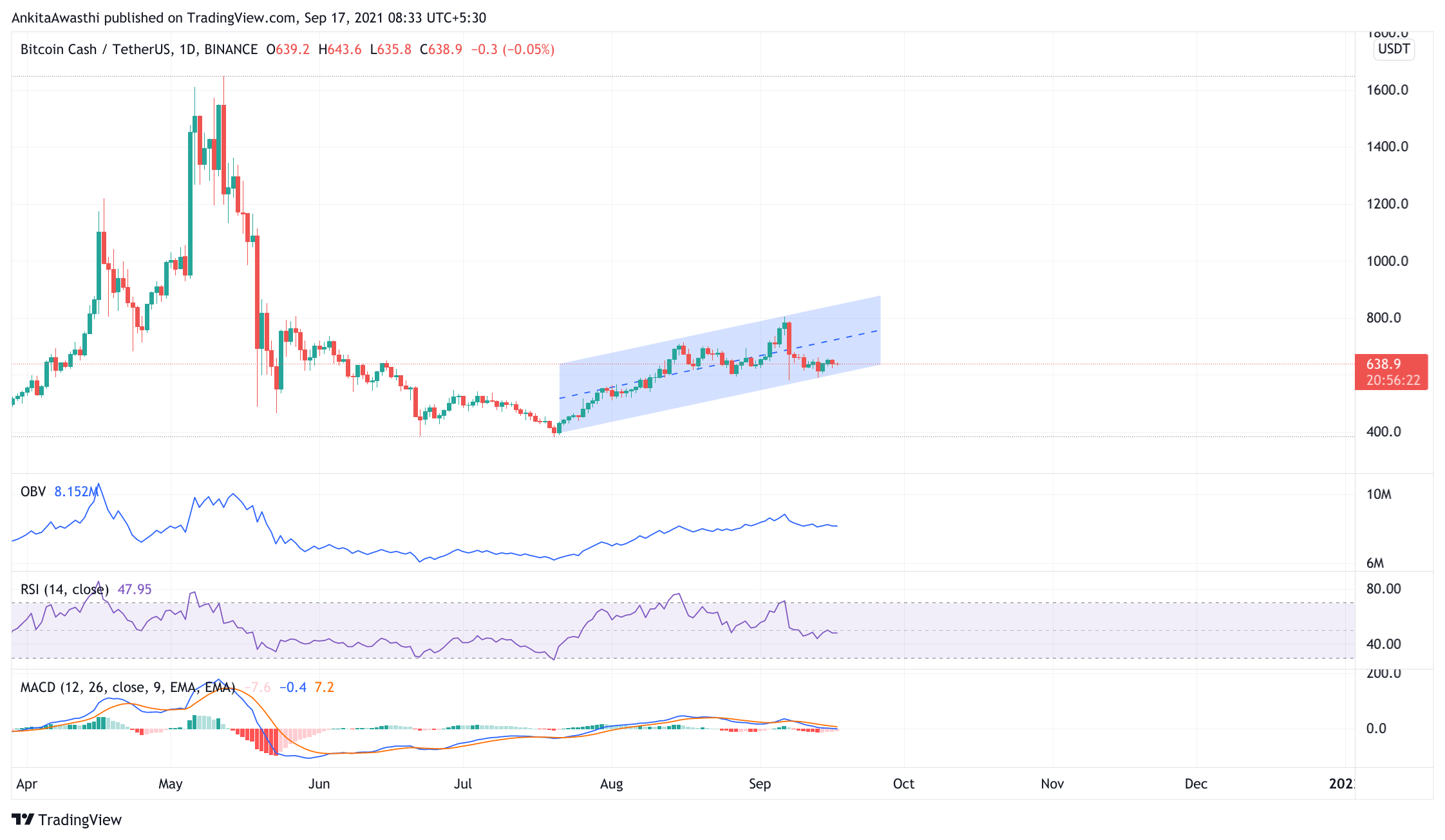 BCH Technical Analysis
BCH is trading in a rising parallel channel. It is respecting the levels of the channel. Currently, the price is at the bottom of the range, we can expect a bounce back from this level. Therefore, we have to wait and watch to see if the buying pressure increases to break the immediate resistance level.
In the last 24 hours, the price has decreased by approximately 1%. After taking support at the $589 level, BCH has reached to this level. However, now, when the BTC is trading above $48k, we can expect BCH to also break out and form new highs.
Meanwhile, according to the Relative Strength Index sellers have been dominating the trend. And, currently, it is taking support near the equilibrium zone. Currently, it is at 47%, making a bullish divergence. Therefore, we can expect it to bounce back after taking support from the trend line.
The MACD lines are in the positive zone, thus suggesting a buy signal after a long time. However, the MACD is forming a bearish pattern as on a daily level, we can see a bearish crossover. Till the time the signal line crosses the MACD line from below we will be in a bearish trend, and thus, a short pullback in the price can be expected.
Day Ahead And Tomorrow
As the majority of indicators are indicating that the price may rise for the rest of the day. Then, traders can take a long position if the price breaks the immediate resistance level of $658.1, and they can book profit at the next resistance level that is $677. However, keeping the stop loss at $624 level.
If in case, the selling pressure takes over, then the market traders can go short if the price breaks the crucial support level which is at $624. The next target would be $605, and the stop loss would be $654.