Avalanche is an open-source platform for decentralized applications and enterprise blockchain deployments in a highly scalable, interoperable ecosystem. It enables the participation of millions of independent blockchain validators as full block producers through the entire Ethereum development toolkit and confirms transactions in under one second. With over 1,000 nodes, the testnet broke the world record for most active nodes. Let us look at the technical analysis of AVAX.
Past Performance
On September 16, 2021, AVAX opened at $58.89. On September 22, 2021, AVAX closed at $74.19. Thus, in the past week, the AVAX price has increased by approximately 25.39%. In the last 24 hours, AVAX has traded between $61.92-$78.16.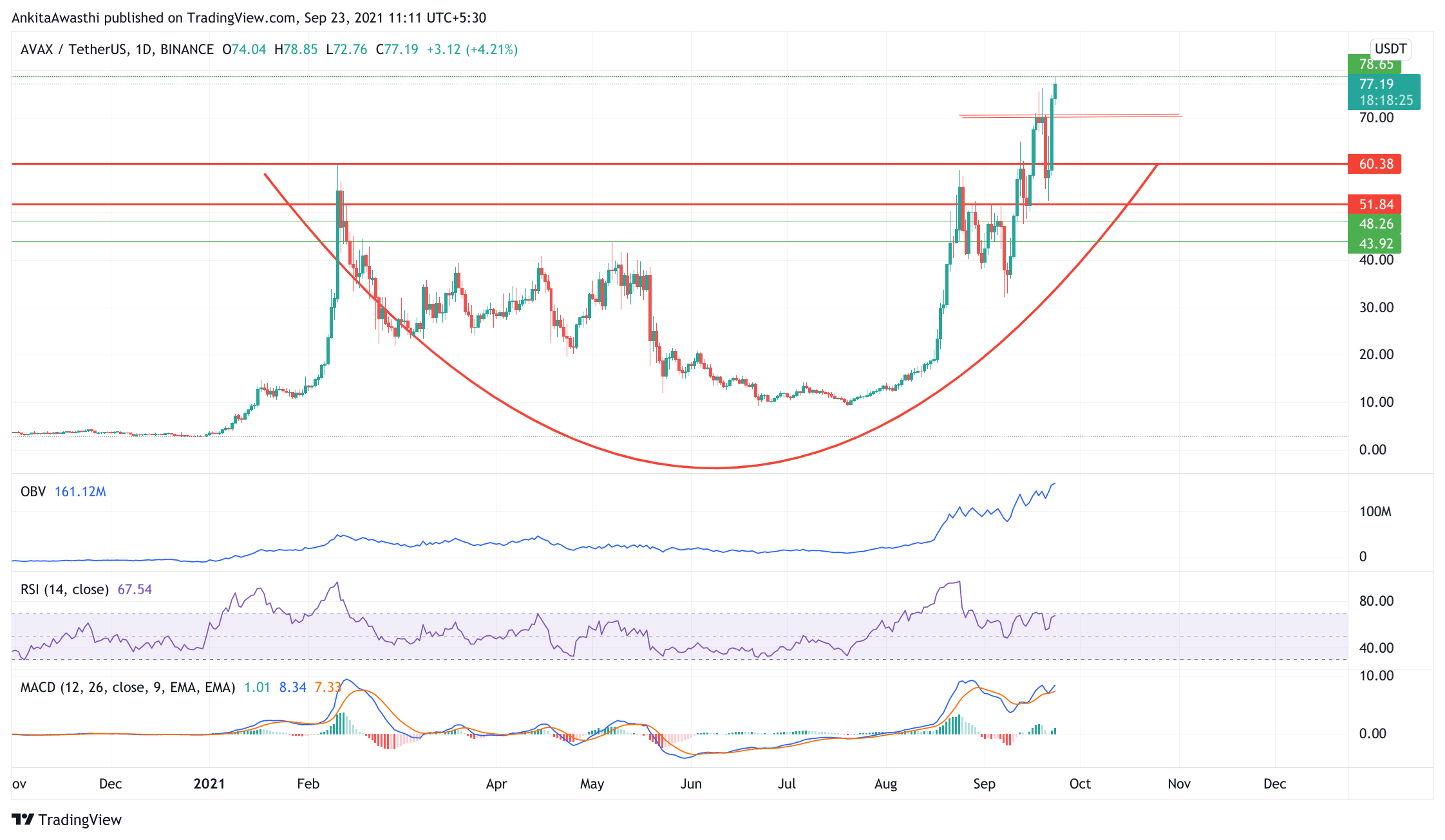 AVAX Technical Analysis
After consolidating from February 2021, AVAX has broken out from its resistance level. Moreover, AVAX broke out and retested the resistance level. Thus, it made strong support near this level. Let us see what the indicators suggest for the rest of the day:
At the time of writing, AVAX is trading at $77. The price has increased from the day's opening price. Thus, indicating a bullish day ahead.
The MACD is currently above the zero range. However, we can witness a bullish crossover by the signal line over the MACD line, near the zero range. Thus, we can expect the AVAX price to rise for a day or so.
Talking about the RSI indicator. It is near the overbought zone, currently at 48%. It is constantly facing rejection from the 49% mark, which is acting as a strong support level. However, it is making a bullish divergence. Thus, buying pressures are slowly mounting. We have to wait and watch if buying pressures become strong enough to bring about a fresh breakout.
The OBV indicator has broken its downtrend and picked up an upward trajectory.
In short, when we look at oscillators, we can say that the price may continue to rise for the rest of the day. However, we cannot rule out the possibility of a trend reversal.
Day-Ahead and Tomorrow
Currently, AVAX is trading below the second Fibonacci pivot point of $78.83. If the bulls remain strong till day end, then the price is likely to rise above the 50% FIB resistance level. Since it will enter into an uncharted zone, we can not give the price levels.
On the downside, if the price breaks the support level of $70.24, then we can expect a strong downward movement in the price. It will highlight the next support level of $60.38. Traders can take a short position accordingly.
Thereafter, we have to wait and watch if the price retests and breaks out of these levels. In that case, the price downswing is likely to continue tomorrow as well.