Sol flips XRP as price targets $250, is Ether next in line?
Solana (SOL) isn't slowing down in its journey to the top. The altcoin has been blazing through the market, sustaining significant gains and breaking its own all-time highs. The bullish wave has now successfully pushed SOL all the way up to the 6th spot, making it the sixth most valued asset by market cap.
Solana fiercely leads altcoins to the frontline
The "Ethereum rival" as many have branded it seems to be taking out weaker competitors in the market. This time, XRP had to give way for Solana to claim the 6th position, as the latter's market cap value soared past $50 billion. On the other hand, XRP is a couple of billion short of that value.
Solana (SOL) has also seen price value shoot up significantly. Interestingly, SOL imitated a trend pattern that was previously pulled by Cardano (ADA) back in May when the market plunged. While Bitcoin and other altcoins were recoding losses that went as high as 20%, ADA bulls defied the bearish trend and maintained price value all the way through. The market observed SOL doing the same this week when the market selloff sent Bitcoin and a handful of altcoins down, with the big bull losing over 11% in price value.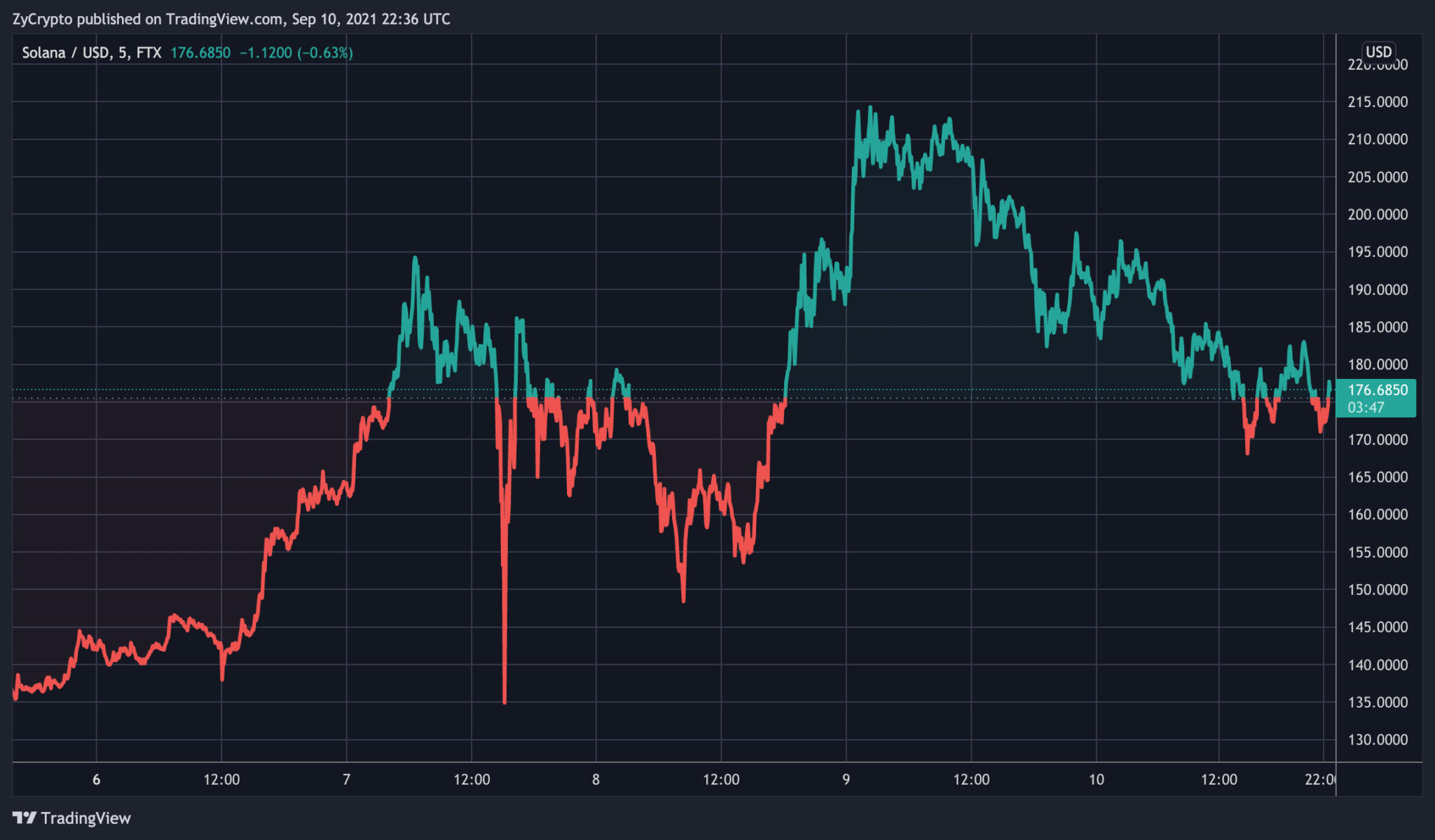 SOL bulls did not bulge, the price movement imitated analysts' prediction and smashed $200. At press time SOL emerges as the highest gainer with more than 30% sustained. Analysts' are eyeing $250 as the next price level for SOL, however, at press time, SOL sits at a price of $175.
Is SOL Coming to Oust Ether?
Market players have been throwing out think pieces of the possibility of SOL flipping Ether. Even though Ether's market cap is significantly higher than that of SOL, analysts insist the latter is worth keeping an eye on. In an exchange between technical experts and investors, one can be seeing asserting that it will be difficult for Ether to attempt to flip Bitcoin if SOL bulls manage to knock it out.
"If SOL takes over ETH it is going to be hard for ETH to take over BTC as sound money. Imagine then that there will be "SOL sound money" folks to replace them"
The assertion gained traction and popular Crypto trader CryptoDog shared his views on how Bitcoin is in a league of its own, while Ethereum currently thrives in a market that has many altcoins with similar functionality.
However, another popular investor counters the possibility. Although he doesn't rule out the possibilities, he's betting on Ether's distribution and adoption level to continue to unseat that of Solana.
"it was introduced when people were credibly BNB would flip ETH earlier in the year (iwrecall you were among them)so far that hasn't happened that said, XRP has flipped ETH twice anything is possible. also wouldn't mean it is durable. ETH has its own likely moats."
"what isn't really disputable is ETH is widely used as a programmable money-like asset with better distribution than SOL (with heavy VC interest and 75% staked) again doesn't mean it isn't possible, but that's what makes ETH a different kind of asset, at least for now."