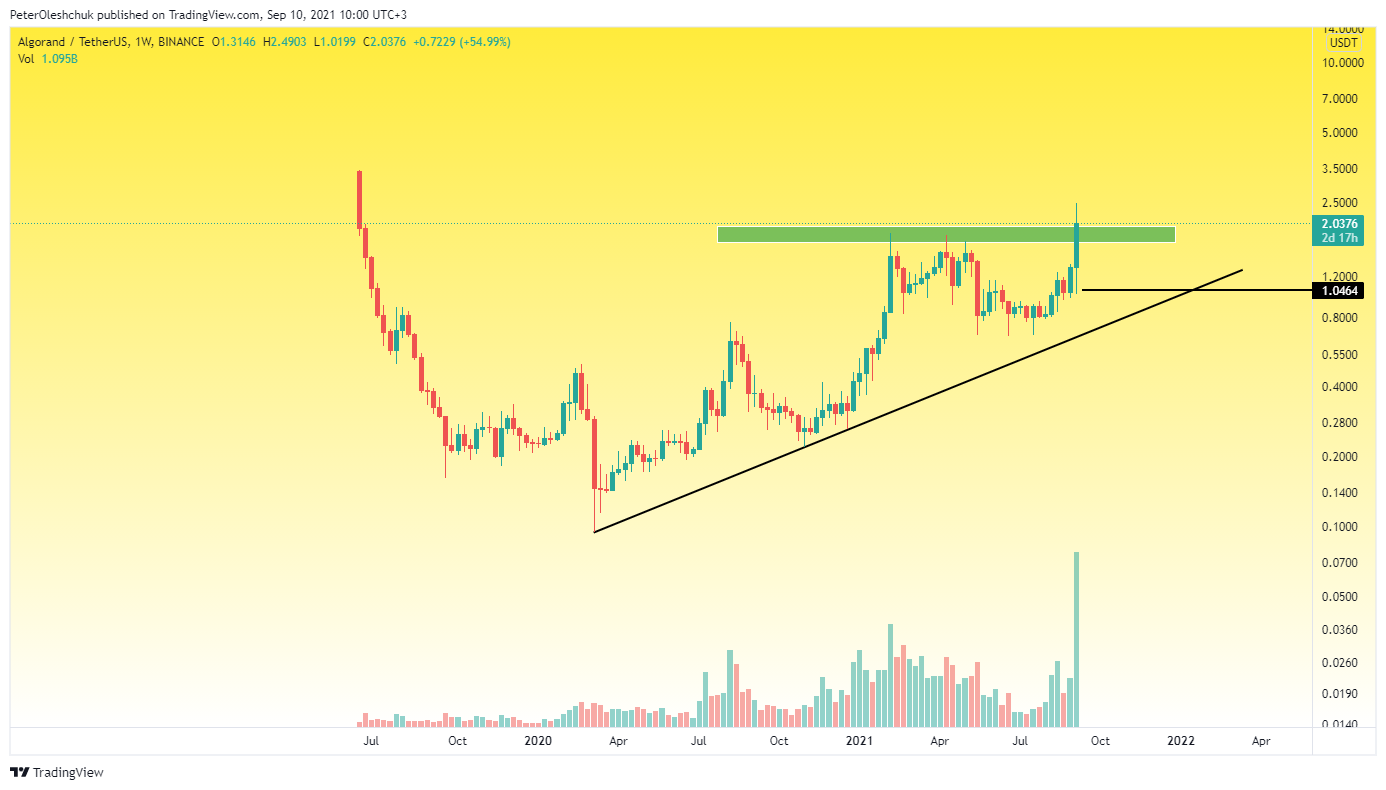 This trading week in the ALGO market will long be remembered by investors as the most bipolar. Three days of trading from 7 to 9 September were especially active. Initially, sellers in average volumes managed to sharply lower the ALGO price to $1.02. If other cryptocurrencies froze in anticipation of further trouble after a 30% fall, ALGO token buyers took the initiative.
In the last two days, due to anomalous volumes, the ALGO price rose by 100% and broke the critical price range of $1.7-$1.9. In terms of trading volumes for the week so far, this is an absolute record in the ALGO coin trading history. However, is this a good sign for the continuation of the global trend?
Technical Analysis of ALGO on the Daily Timeframe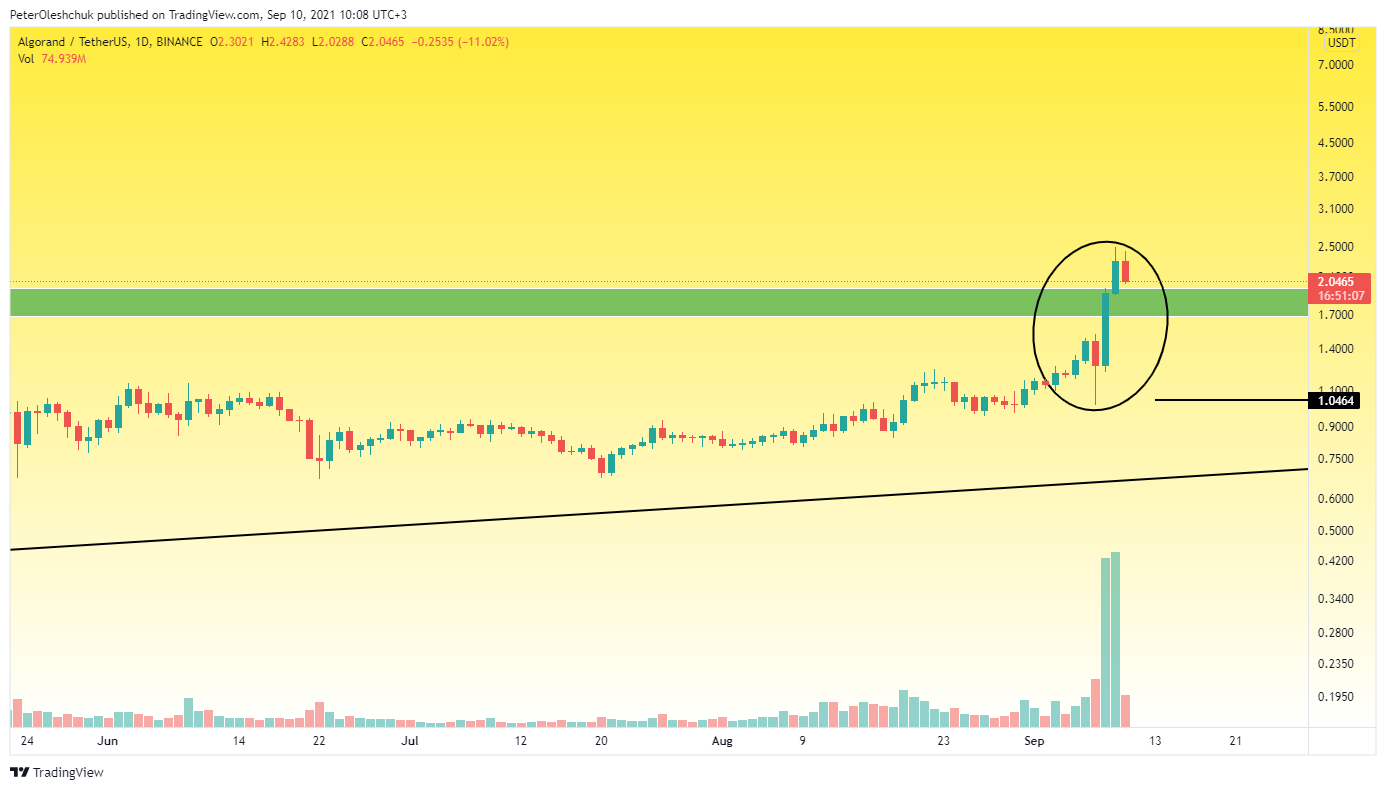 If the first powerful daily candle on 8 September was the reaction of buyers to the sharp fall of the ALGO price, then during the growth of the daily candle on 9 September, we see the same anomalous volumes, but a much lower level of aggression. This fact shows that sellers are not ready to completely give the initiative into the hands of buyers. Thanks to limit orders, sellers slow down the price and create a chance for revenge.
At the moment, the main condition for the continued growth of the ALGO crypto price is to maintain the range of $1.7-$1.9. In this range, buyers must absorb the entire offer of sellers and clear the way for the next powerful growth wave. If control over the range of $1.7-$1.9 passes to sellers – it is better to get rid of ALGO cryptocurrency for the time of correction. In this scenario, the first critical point for buyers will be around $0.85.
The ALGOBTC Chart Hints at the Possibility of Implementing a Negative Scenario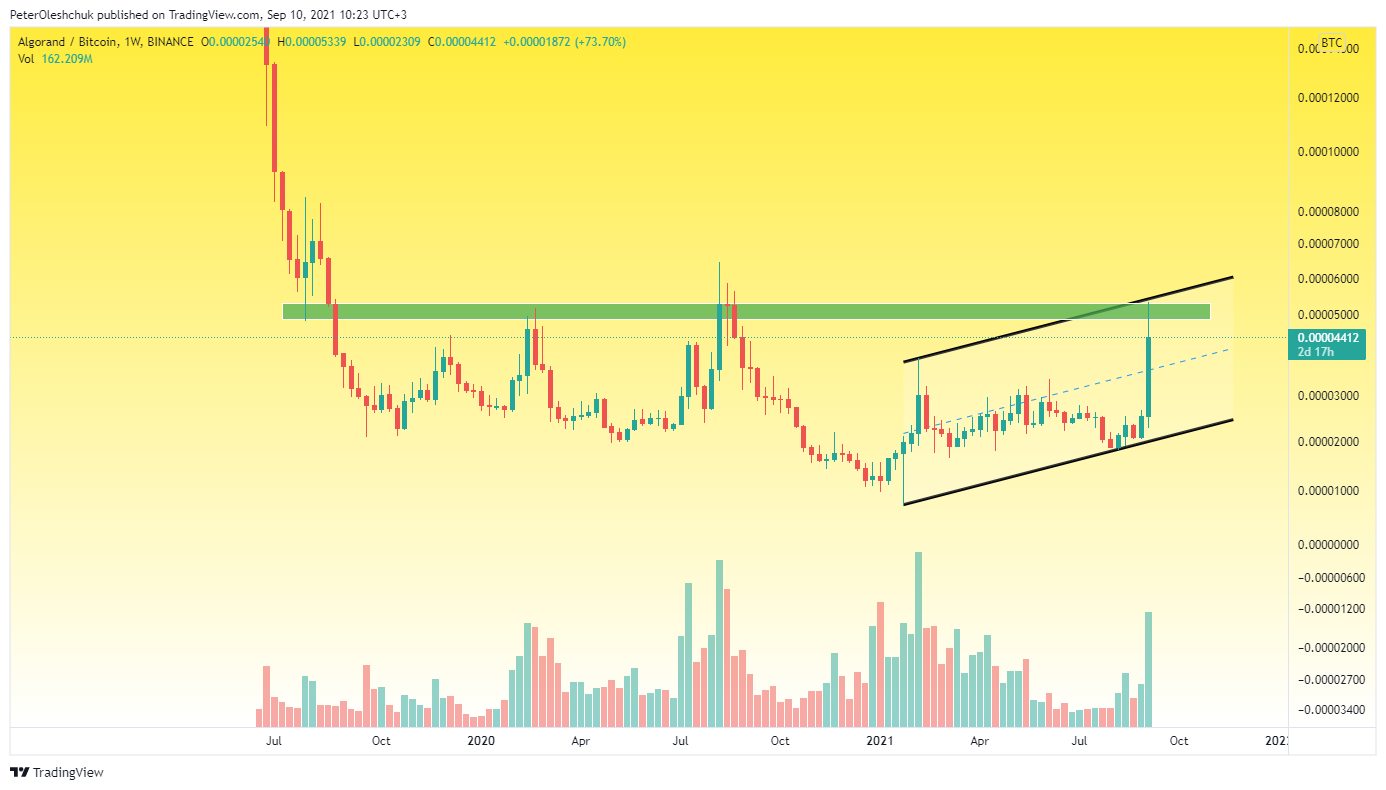 If in the pair to USDT, the ALGO market broke a critical range up, then in the pair to Bitcoin the price just tested an important critical zone. In addition, in the weekly timeframe, we see that from January 2021, the ALGOBTC price is moving in the local growth channel. At the moment, buyers have just tested its upper trend line.
Therefore, confidently buying ALGO cryptocurrency is a very dangerous game. Most likely, this cryptocurrency has fulfilled its potential. To confirm this, we should wait for the closing of the weekly candle below the range of $1.7-$1.9.