Cardano (ADA) focuses on creating a more transparent, secure, and fair society. Also, the token ADA is designed to ensure that owners of this token can participate in the operation of the network. Owners can also have voting rights on the platform. Let us look at the technical analysis of ADA.
Past Performance
On September 01, 2021, ADA opened at $2.77. As of September 7, 2021, the closing price of ADA was $2.45. Thus, in the past week, ADA has been very volatile and gave out a strong movement. However, the price decreased by almost 11%. In the last 24 hours, ADA has traded between $2.04-$2.83.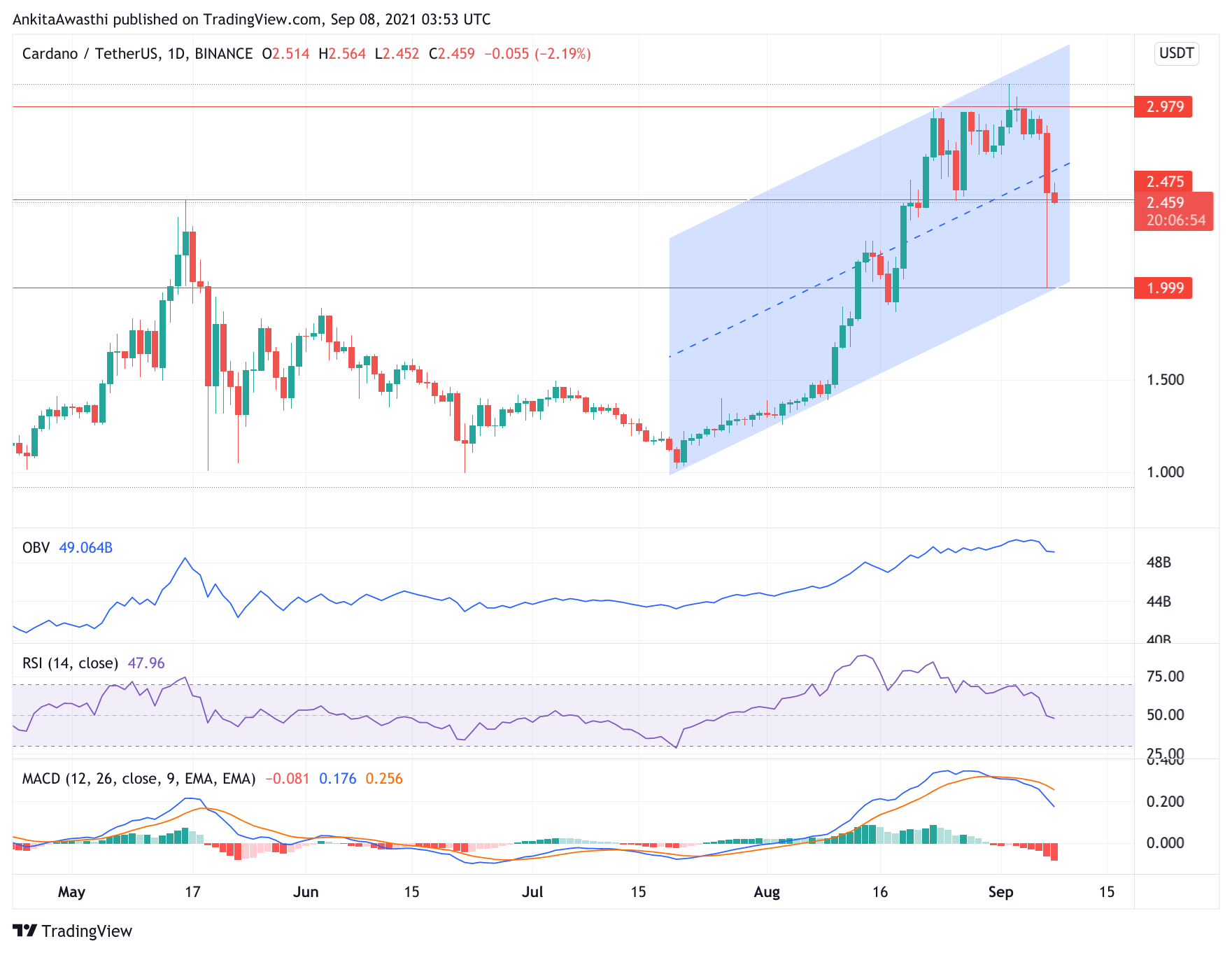 ADA Price Analysis
In the last 24 hours, bitcoin has plunged by almost 15%. It made a low of $42,500 and is currently back up to $46,456 levels. Amidst this volatility, even the altcoins saw a fall in price. ADA plunged by almost 13% in the last 24 hours. However, the long-term upward trend of ADA is still intact.
One reason for the sudden drop in the price can be the rising Dollar Index. Yesterday, the Dollar Index (DXY) increased by approximately 0.5% and broke out of its resistance level. Another reason for the drop can be, speculations around the use of stimulus payment. The new stimulus would be spent in the real economy rather than the markets.
However, this can be considered as another leg of healthy correction in the bull run. Let us have a look at the indicators;
Reasoning:
On the daily chart, the MACD and signal lines are in the positive range, thus giving a buy signal. However, a bearish crossover by both lines can be seen. Therefore, the price is expected to fall for the rest of the day.
The RSI on the daily chart has broken its support level which was formed near to the equilibrium. Currently, RSI is at 48.19%. It has fallen from the 70% mark. Which was seen as the resistance. We can expect the price to fall for the rest of the day and form a base.
Due to the high selling pressure, OBV saw a slight dip in its trajectory. However, keeping its upward movement intact OBV is near its support level.
Day Ahead And Tomorrow
From the current price levels, the immediate resistance level is at $2.97. If the price breaks out of this level, it will begin its upward movement and form new highs. Traders can take a long position accordingly.
The price has been tested and fallen from the FIB retracement level of $2.45. If the price falls below this FIB extension level in some time, this implies that the price downtrend is strong. In that case, the price downswing is likely to continue tomorrow as well. Then, traders can go short.